Hey Jesswage slavers
We are raised from birth with the intensions of becoming functioning members of society through acquiring skills that the market values. Then selling them into the market, using our mental capacity; physical capacity abs time to create valuable goods and services that people want.
If we do those things, we are rewarded with money. People will naturally try to find the opportunities that earn the most but require the least amount of effort. Still, these opportunities are short-lived and often arbitraged away pretty quickly.
The hard tasks and hard problems tend to remain, and when solved, you are meant to be rewarded in multiples for your ability to solve that problem; that's what an entrepreneur does.
I think we're all sold on that ideology that work, contributing to a business, government or institution and creating value should get a reward. I know I sure was, getting my degree, getting a job, riding the train to work every day, I was contributing to society and getting my little reward for that work.
But what is value?
Who decides what is valuable
and how should that value be rewarded?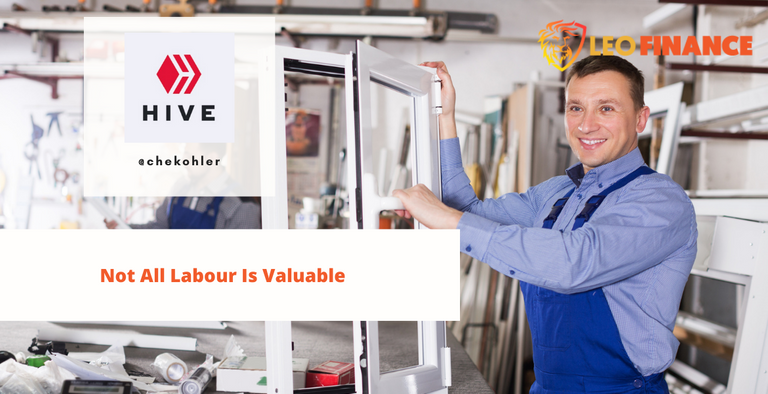 Value is already subjective
As much as we can hop on the effort it takes to make things, the hours it takes, the resources it takes, these are only guidelines to price.
Price is purely subjective, it what the people who require something are willing to pay for it. In a market where the money is a sound measuring stick, misallocation of resources can quickly be picked up through price discovery.
Price discovery helps humans understand when something is cheap, expensive, fair value based on their needs.
Now when we throw into the mix the tool we use to measure the subjective value being fiat money, it makes it even more complex.
Since supply can be manipulated and forced into different areas via government programs and taxation, this failed filter we call the government warps the ability fo the market to value tasks, objects, services, and more.
Bullshit jobs are a legacy issue
Humans have not been on this planet for long. Still, in that time, we've rapidly changed the way society works as we leverage our mental capacity; we've built technology of ever-improving magnitude to make work easier and creating goods and services cheaper.
Even though we've built all these time-saving tools, the idea of work still hangs over us. We feel we still need to do 40 hour weeks for 50 years before we can relax.
Instead of liberating ourselves and allowing deflation to give us back our time, we've developed a slew of bullshit jobs, mine included.
If I think of clerical workers, administrators, consultants, telemarketers, corporate lawyers, service personnel, and many others — who are toiling away in meaningless, unnecessary jobs, many of them even know it. But remain as the inflation race keeps them at the trough.
Our monetary policy has become antiquated, and instead of moving on, we've held onto it and patched the system with bullshit jobs to move money around. We've invented a whole universe of futile occupations that are professionally unsatisfying and spiritually empty.
Have your say
What do you good people of HIVE think?
So have at it, my Jessies! If you don't have something to comment, "I am a Jessie."
Let's connect
If you liked this post, sprinkle it with an upvote or esteem, and if you don't already, consider following me @chekohler and subscribe to my fanbase
| Safely Store Your Crypto | Deposit $100 & Earn $10 | Earn Interest On Crypto |
| --- | --- | --- |
| | | |
---

Posted Using LeoFinance Beta