Hey Jesspeculators
The growth in crypto tokens in US dollar value, lending rates, yield farming and price action, has attracted all sorts of institutional players sh institutional products into the blockchain space!
Both DE-FI snd CE-FI are using blockchain based tokens as assets to issue loans both with their own pros and cons. This new financial system is not bogged down by debt which means they can offer market interest rates. 4-6% APY sounds pretty reasonable for risking your capital.
It just seems absurd in a world of super low-interest rates and negative interest rates, that we live under today. These attractive interest rates, give speculators more room to play around, take a risk and the secure yield on attractive spreads in the market.
The crypto market is still wildly inefficient. With this kind of price discovery and volatility, liquidity issues and more, arbitrage traders and short traders find that crypto can become their new home.
Fractional to over collateralised
In traditional finance a loan can either be issued on a fractional reserve basis, you put 10% down and can loan at leverage up to 100%. In some cases, businesses can issue bonds at less than 1% and create new credit.
In a fractional reserve world when you make a loan its creation of new money. It's a system we all grew up with and never questioned until now.
In a crypto world, we work on asset-based debt, where you have to collateralise your loan OVER if I want a loan I need to provide capital before I can get the loan.
Today, Bitcoins price is $50 000; I could put in 1 BTC and get a loan of $25 000.
Alternatively, I could put in $50 000 and get a loan of 1 BTC.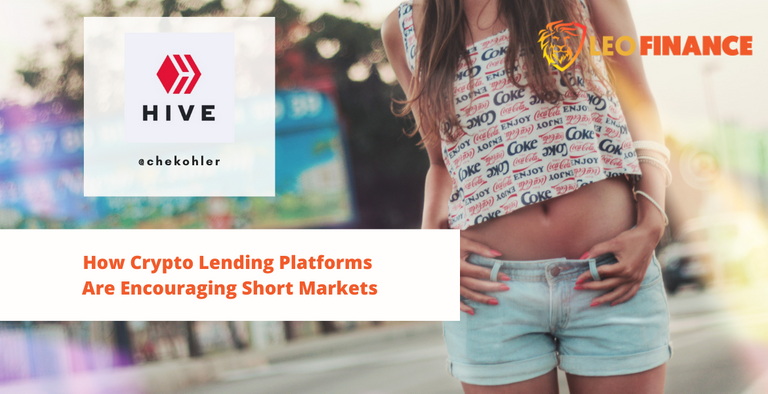 Who is grabbing over collateralized loans?
So you probably think if I have $50 000 why would I want a loan of $25 000 in another asset, that's not very smart. I already have the money, why would I need to borrow less and STILL pay a 9% interest on the loan.
A crypto loan has several benefits, if I needed capital and did not want to liquidate the crypto I could take my 1 BTC and go into the lending markets.
The tax efficiency
I secure a loan for $25 000, make the trades I need to make, or purchases I need to make and then pay back the $25 000 with a 9% interest based on the time frame I took it out I may pay a little more in nominal value.
Let's say I borrowed it for a full year to make it easier; I'd borrow $25 000 and pay back $27 250, and get my full 1 BTC back.
If I sold my BTC and got $25 000 I would have to pay 25% - 30% tax on that BTC and have even less so I'd have to sell more of my 1 BTC to get the $25 000.
The trade efficiency
I am a market maker, and I see some attractive arbitrage opportunities on a coin like BAT. I can put in $200 000, for example into a lending platform. Secure $100 000 worth of BAT, Load that up on to different exchanges and then buy and sell based on the various pairs moving around across exchanges.
If I was a short seller, I could put in $10 000 000, secure $5 million in a certain token, dump that on the market, drive the price down, then pick it up again cheaper. Pocket the spread and then get my $10 000 000 back risk-free with a fat margin to spare.
These are just some of the reasons why lending markets exist and why people are getting paid premium to lend out their assets.
A win-win for everyone
Crypto lending markets are a win for everyone involved, passive investors can put their BTC for example to work for them securing a monthly return. Market makers, liquidity providers, short-sellers or tax-savvy individuals can leverage the other side and make attractive gains or savings.
It uses the capital more effectively, reduces volatility in markets over time, and bonus, it sucks more capital into these markets making them bigger and less volatile. As long as the spreads are there to be captured, you'll be getting sweet returns in the lending market.
I think the crypto market is way too small for these yields to be arbitraged down anytime soon, so lending markets are going to be booming for many years to come.
Have your say
What do you good people of HIVE think?
So have at it my Jessies! If you don't have something to comment, "I am a Jessie."
Let's connect
If you liked this post, sprinkle it with an upvote or esteem and if you don't already, consider following me @chekohler and subscribe to my fanbase
| Safely Store Your Crypto | Deposit $100 & Earn $10 | Earn Interest On Crypto |
| --- | --- | --- |
| | | |
---

Posted Using LeoFinance Beta