It looks like the Uniswap Genie is out of the bottle and HIVE dapps and projects are starting to build bridges to leverage the power of the Ethereum blockchain, value and popularity with the help of Uniswap. This decentralised exchange has become the darling of the crypto space and with the help of smart contracts, has allowed value from other chains to be passed over to the Ethereum network via what is known as a wrapped token or representative token.
The exchange currently has billions in liquidity in its pool and thousands of trading pairs for traders to jump in and out of as they search for the best yield and returns on their Ethereum.
The decentralised finance craze has not gone unnoticed here, and it's great to see more projects extending their realm outside their native chain.
Decentralised exchanges give dapps the ability to tap into a new pool of investors, without having to bend the knee to paying for listings or meeting certain legal requirements to list as with a CEX.
This has been a game-changer, and it's probably only the beginning stages of chain interoperability. HIVE has now created several bridges with Ethereum via Uniswap, and it keeps growing, namely: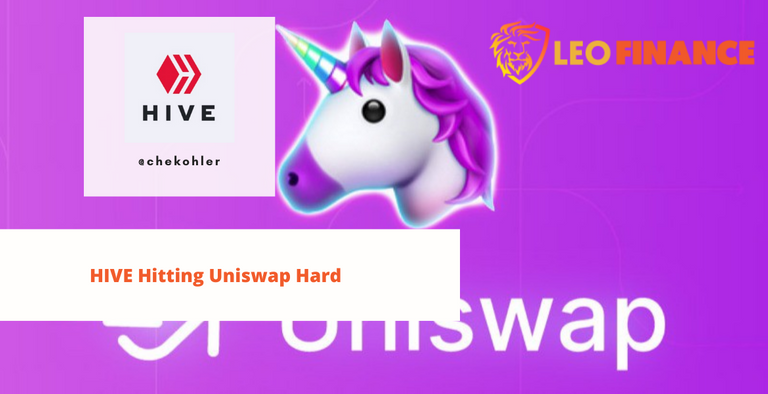 wHive
Naturally, the first to make the jump was the native token of HIVE with a ETH/wHIVE pool currently available, and users can buy in and trade in Uniswap and unwrap or wrap from there native wallet to meta mask. This pair hasn't really kicked off, but there hasn't been a real drive for people to provide liquidity yet.
wLEO
Probably the darling of the selection here, wLEO has got off to a great start moving up from pre-uniswap values of around $0.03 to a whopping $0.25 at same stages, and it keeps going. I have not jumped into this pool, and I have provided my reasons here. But for those that have, they've netted a healthy profit and continue to do so via fees and the bounty the leo team has generously provided.
DEC
Splinterlands has recently launched their DEC token on ETH and is now trading as a pair on Uniswap, and I've jumped in on this one. You can find my reasons here, but for those who don't want to read, the Splitnerlands team have added a bounty for LP providers in the form of a new in-game NFT which will be land.
The value of Land will start at around $10 pre-sale and later at $20, so you immediately gain some ROI there and who knows where land will settle once the market is established or what you can earn through land ownership within the game.
Also, you earn fees on your LP pair, so hopefully, I can break even on the fees and then be all profit with the land I get.
ACOM
I recently logged into discord, and the @adsactly team have announced they will be launching a token on the ETH blockchain. They are starting with an airdrop, and there will only be a supply of 1 million tokens.
Once the airdrop is completed a uniswap pool should be next, so if you re part of the airdrop, claim yours now and perhaps provide liquidity once the uniswap listing goes live. Adsactly does have two coins types listed on STEEM-Engie doing nothing, not sure if these will be paired, will have to wait and see, as well as if they'll set up on HIVE Engine.
HIVE Hustler (Possibly coming soon)
There has also been talk of the @hivehustlers team launching their token on Uniswap, but with so much in the works on this project, it looks to be a while off, but some to look out for in the future, perhaps time to stack some of it on the cheap while you can before the pair eventually launches.
I'm sitting on around 50,678 of these tokens right now, and it currently has a circulating supply of 180 808 000. At currency prices, 1 HIVE would net you 10 000 Hustler tokens, and 1 HBD would get you around 70 000, however with the order book as it is the slippage is real, and you'll pump the price pretty quickly with a few small orders.
Have your say
What do you good people of HIVE think?
So have at it my Jessies! If you don't have something to comment, comment "I am a Jessie."
Let's connect
If you liked this post, sprinkle it with an upvote or esteem and if you don't already, consider following me @chekohler and subscribe to my fanbase
| Browse & Earn Crypto | Stack Sats For Free | Earn Interest On Crypto |
| --- | --- | --- |
| | | |
---

Posted Using LeoFinance Beta