Hey Jessavers
BTC has finally hit the trillion-dollar market cap level; some think it's an insane bubble. Others feel it was inevitable. Regardless of what you think, the numbers indicate that it's becoming a real asset class worth having in your portfolio.
It's already outstripping the market cap of most small-cap companies that are seen as far safer bets.
As the price continues to break new all-time highs, more investors are reaping the benefits on paper and becoming wildly wealthy. The issue with wealth is governments aren't going to let you enjoy it without getting a piece of the action.
Many investors will want to cash out their returns and will be liable for the hefty tax.
Sure, if you're making your yearly salary in one trade, you're happy to give up some to tax.

Some will want the money, so they willing to accept the tax

some won't know about their tax liabilities and get caught off guard

some it will be life-changing money regardless of the tax
But for the vast majority, it will be unsophisticated investors who will be sitting with the tax burden without any plan and will pay the maximum penalty for their decisions.
It's not only in crypto; we see in any asset class that retail gets involved in, but the little guy also doesn't always get burned.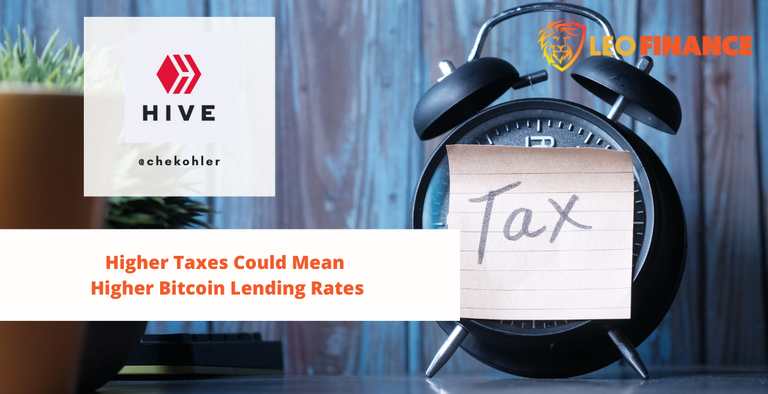 Paying for the printers
In the last year and a half, governments worldwide have been printing like never before, creating new bank reserves and lending programs as well as direct cash injections into the economy.
All that new money is backed by debt, debt that needs to be repaid by tax, or so they tell us. If governments see individuals getting rich from financial assets, they are surely going to come down hard to try and capture some of those gains for themselves.
If you think you're going to escape the taxman, good luck to you. There's no way around it, even in crypto, and while you can try moving to a low tax region, it isn't always practical, especially with lockdowns and such.
Crypto backed loans could save you on tax
Let's say I have 1 BTC valued at $50 000, And I'd like to borrow $5 000. I lock my BTC in, I get my $5 000 cash, and I can do what I want with it.
If we take a look at the lending rates today with popular platforms like the Celsius Network, we can work out the savings.
So we need $5000 right, so first we need to decide on a loan to value collateral.
| 25% | 33% | 50% |
| --- | --- | --- |
| 0.3602 | 0.2729 | 0.1801 |
If my BTC is at $50 000 and I wanted to sell, I would need to part with 0.1 BTC, so this is where most people fall into the trap; they think since loans are over collateralized, they can sell "fewer satoshis" and get more value.
But let's take a look at the end result, at the highest level of collateral which is 50%.
| Time Perod | Montly Interst Repayment | APR | Total Interest Cost |
| --- | --- | --- | --- |
| 6 months | $37.29 | 8.95% | $223.75 |
| 12 months | $37.29 | 8.95% | $447.50 |
| 24 months | $37.29 | 8.95% | $895.00 |
| 36 months | $37.29 | 8.95% | $1342.50 |
---
| Time Period | Total Monthly Payment | Total Monthly Cost |
| --- | --- | --- |
| 6 months | $870.62 | $5 223.75 |
| 12 months | $453.95 | $5 447.50 |
| 24 months | $245.62 | $5 895.00 |
| 36 months | $176.18 | $6 342.50 |
If I were to sell my Bitcoin, I would need to sell $6250 worth, pay the 20% Tax here in my country with capital gains and then have my $5000 to spend.
Remember I mentioned earlier you'd need to sell 0.1 BTC to get $5 000 if you calculate with tax; it would be around 0.125 BTC to get a full $5000 in your fiat account after tax.
Now I'm also out on a portion of my Bitcoin, which is losses I don't account for but is a potential loss in future earnings.
How does lending work out versus selling
If we work that out, your tax burden is $1250. If we use this as your baseline lets, compare it to the loan offerings we have now.
If I repay within 6 months, I only pay $223.75. So selling your BTC vs loaning for 6 months it is a 558% greater expense.
If I repay within 12 months, I only pay $223.75. So selling your BTC vs loaning for 6 months it is a 279% greater expense.
If I repay within 24 months, I only pay $223.75. So selling your BTC vs loaning for 6 months it is a 71.6% greater expense.
Only If I repay within 36 months would I incur a larger loss by paying $1342.50. Even then, the devaluation of the dollars you pay back over the 3 years means you are paying back with cheaper dollars.
This means I can effectively leverage my Bitcoin for 2 years and still be more profitable than to sell it.
Now I am no tax expert so don't take my word for this, the laws are applied differently in all parts of the world. What I am saying is have a look at the loan option, consult your local tax specialist and see if its a viable option for you.
The crypto loan capital vortex
If we consider these huge margins of savings, you can see that the harder governments come down on taxing Cryptos, the more people will borrow against it instead.
The more they borrow, the greater need for collateral, the greater need for collateral, the higher the APR to attract investors to supply liquidity.
Have your say
What do you good people of HIVE think?
So have at it, my Jessies! If you don't have something to comment, "I am a Jessie."
Let's connect
If you liked this post, sprinkle it with an upvote or esteem, and if you don't already, consider following me @chekohler and subscribe to my fanbase
| Safely Store Your Crypto | Deposit $100 & Earn $10 | Earn Interest On Crypto |
| --- | --- | --- |
| | | |
---

Posted Using LeoFinance Beta