Hey Jessincorporated
The business world and finance is probably in one of the strangest periods we've ever witnessed in recent years, we always had suspicions that the financial and corporate markets were only loosely tethered to the real economy, but now we can see it is completely decoupled. It's only about the market functioning on complete speculation and narratives.
As is the same with crypto, especially in the altcoin market, the market cap and price of a coin has very little to do with what the project has actually produced.
Since crypto is still a relatively small the effects of this madness is limited whereas in the stock market has so much liquidity and investors that its limits are almost impossible to know how far we can overvalue a specific stock.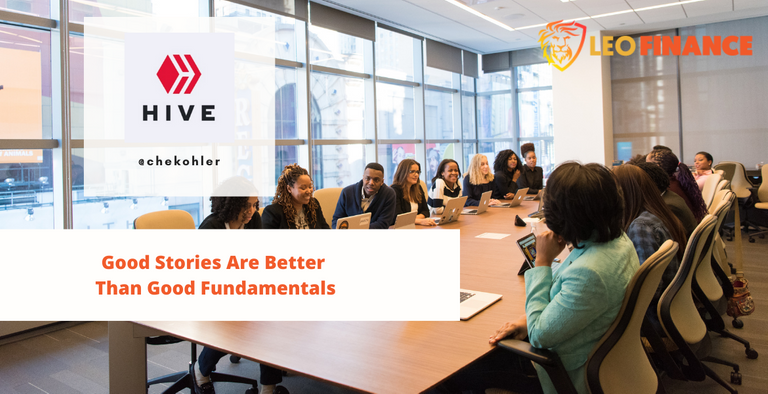 The price to earnings ratio
One of the popular metrics people use to measure the health and value of a company is their P/E ratio or price to earnings ratio.
The price-earnings ratio is the ratio of a company's share price to the company's earnings per share. The ratio is used for valuing companies and for finding out whether they are overvalued or undervalued.
In recent years a higher P/E ratio shows that investors are willing to pay a higher share price today because of growth expectations in the future.
The average P/E for the S&P 500 has historically ranged from 13 to 15. For example, a company with a current P/E of 25, above the S&P average, trades at 25 times earnings.
I looked at some of the popular names, these so-called momentum tech stocks that people love to buy lately and we can see these companies are trading well above their earnings ratio and are grossly overvalued for what they do.
| Name | Ticker | PE Ratio |
| --- | --- | --- |
| Tesla | TSLA | 1310 |
| Shopify | SHOP | 756 |
| Square | SQ | 377 |
| Zoom | ZM | 280 |
| Netflix | NFLX | 86 |
Souce: tradingview.com
However, investors see these companies as unbeatable, that they are tech companies with high margins and near inflate ability to scale and capture more of the TAM (total addressable market), yes these so-called investors are banking on companies becoming monopolies.
While trading way above earnings is not a crime, having multiples of 80/100/1000 is something we have to consider as these stocks are seriously overbought for the time value they provide in the market, yes they can bring this down with time with the help of additional capitalization, but that remains to be seen, not every company can be a Google, Facebook or Amazon.
The best of a bad bunch
Having an absurd price to earnings ratios are scary. However, we have public companies that continue to suck in the capital and no small amounts and continue to lose money. The so-called spend $20 to earn $10 companies like Uber, Airbnb, Spotify, Slack and Snapchat make having an inflated P/E ratio look like a reasonable standing for a business.
But that is a story for another day.
Fundamentals are loose, showmanship rules
When you don't have the merit to match the valuation of a company, you can always look to the things they promise. Look at the narrative they weave, look at their ability to capture more of the capital versus their competitors, if they are a bigger money drain than another they most likely to last longer, or so we assume.
Since money has become so cheap, it continues to be misallocated and thrown into anything that promises to be worth an additional multiple. It's not about the performance of companies, only about where to stuff money before it gets devalued.
Have your say
What do you good people of HIVE think?
So have at it my Jessies! If you don't have something to comment, comment "I am a Jessie."
Let's connect
If you liked this post, sprinkle it with an upvote or esteem and if you don't already, consider following me @chekohler and subscribe to my fanbase
| Safely Store Your Crypto | Deposit $100 & Earn $10 | Earn Interest On Crypto |
| --- | --- | --- |
| | | |
---

Posted Using LeoFinance Beta