I was holding this Hive for a very long time. It was over 500 then I started buying some dCity cards with it. Today after thinking for a long time I went and hit the power up button. In this month, I guess this is my second power up. You will be able to see what I currently have in my account in the below image. It has always been a dream for me to hit 10,000 HP from the day one I started here. During the early Steem days when the price of Steem was very high, 10,000 SP used to be a great thing and that used to give so much value to the votes.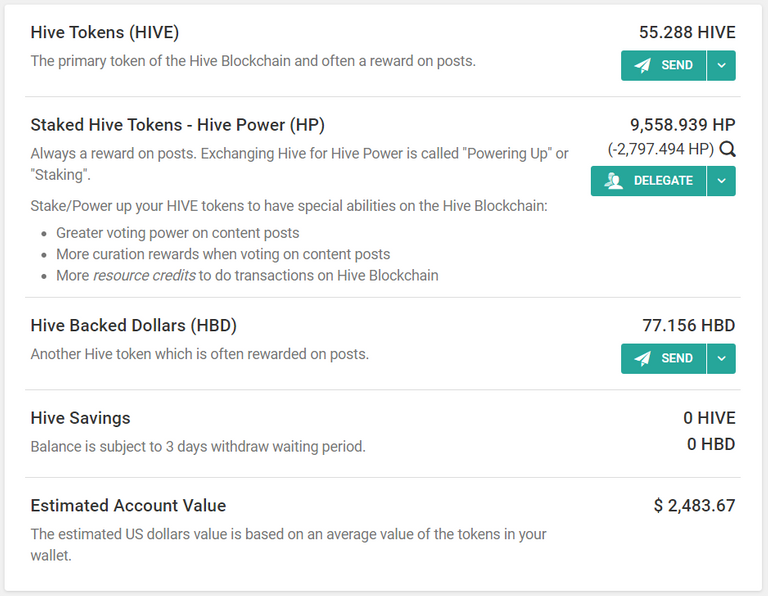 At least I wanted to achive that in terms of Hive Power if not for the value. Hope some day Hive will be one of the most used blogging platforms or a gaming platform here and that gradually pumps the price of Hive. Even if the price of Hive hits 1 dollars, my profile value would become 10,000 $. If the price of Hive hits 5 or 8 dollars like how it did 2 years back, I might achieve a financial independence and continue chasing my dreams and do things that I love the most.
But, these are just dreams and the price of Hive reaching 1$ itself can be a challenging thing again. But let's see we cannot predict anything in this crypto world. If the fortune is good, we will all be early investors getting a good profit when the price goes high. People who were dumping and cashing out now instead of staying invested would then worry about it.
I was actually holding this 500 Hive in my account waiting for a good opportunity to cash our or sell in the market for other crypto. The reason was because when the previous pump of Hive happened, I did not have enough liquid funds in my account and I missed opportunity. That is one of the reasons why I wanted to hold Hive in liquid so that when some miracle happens again, I would make better use of it instead of biting nails after that. But today I couldn't resist myself from powering up becuase there was another dream to hit 10,000 HP, that was calling me. Now I have decided that I will start holding some liquid Hive after I hit my target of 10,000 HP which I think can happen in another 1 months time.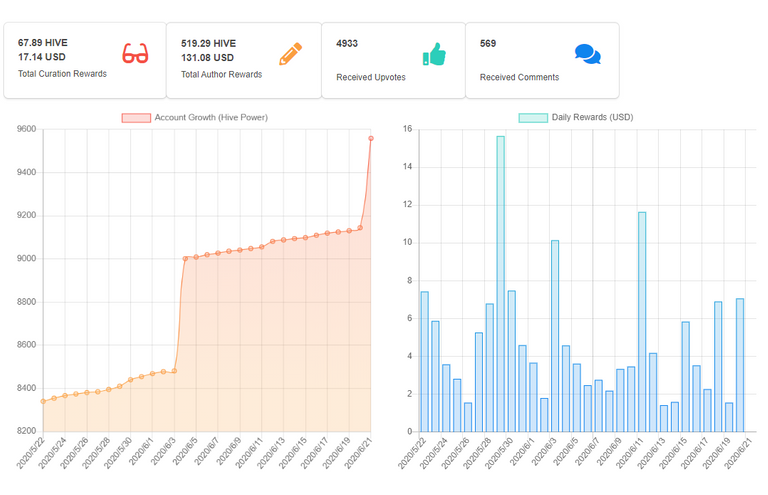 After powering up, I went to Hivestats.io to check how the graph looks like. It was indeed interesting to see the growth of my account especially in the last 30 days. I might have to do another power up or accumulate some Hive to reach my target. Recently I have also been investing really hard on dCity game. The game requries huge investment to stay on track. If we don't invest effectively, we would get pushed to the bottom and there would be any decent returns from the game. Most of the people are also doing the same thing and the competition gets tougher day by day. After reaching 10,000 HP, my focus would go more on dCity game and Splinterlands to make sure I have a good collection over there to keep the show running.
Finally while I completed drafting this post, I also came across @uyobong 's post that explains the importance of powering up. I agree with all his points. As this is a proof of stake platform, having a nice stake can only make us get rich. Staying invested is the key.
---
If you find my article interesting, please vote, share and follow. Also, please share your thoughts in the comments section.
---



---
Posted Using LeoFinance