Today it is very interesting to look at Hive price in the market. When I woke up in the morning, I noticed that the price of Hive had a sudden pump of over 60% in the past 24 hours. This was a very big thing. I was thinking that a good time for Hive has started. The reason was that the crypto market, in general, was not very great. It was all red everywhere but in spite of that Hive, pumping is definitely good news.
I couldn't figure out what could be the reason for the pump. Maybe the Defi options we are getting on Hive could be one of the reasons but can't say for sure why the pump happened. We can even suspect some discord group or trading group who usually do the pump and dump the game. Maybe there was a group operating in the background doing this. But I was very happy to see the price pump today.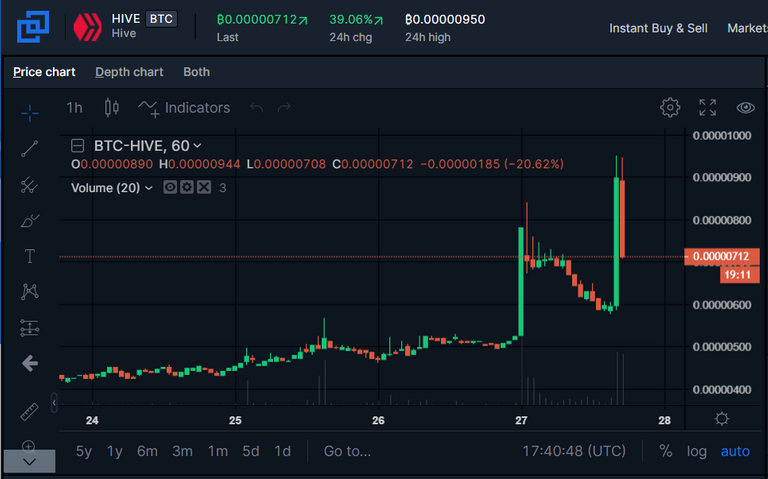 After a few hours, the price started falling down. I was observing it and noticed that the party should be over and Hive was getting back to its usual price. But just before few minutes when I looked at the graph, I noticed that there was again another pump where the price was brought to 36 cents in just a few minutes. I'm sure for people who are trading, this can be a wonderful opportunity to try their luck. Sell during pump and purchase during the dip. Of course for people who have a plan to hold Hive long term, trading can be a little risky.
We all know that Hive is so undervalued and there is campaigning happening already on Twitter and other social media platforms about Hive and the potential of Hive. If suddenly some big shots invest in Hive and what if Elon Musk talks about Hive, the price was Hive would easily cross 1$ making all the investors rich. This is one of the reasons why I wait patiently and refrain from any trading activities. But I know a few people who make use of these Zig Zag charts and book a decent profit every time Hive goes up and down.
I might give it a try to do some trading in the future even though trading is not my thing. When I see many people making use of this trading opportunity, it is really tempting for me to try my luck. Let's all hope this pump continues and the price of Hive easily hits more than 1$ providing us a huge opportunity to sell high and book a little profit.
---





---
Posted Using LeoFinance Beta