For the past one week, I have included a Brave banner in the footer of all my posts. After that, I started receiving many questions about what is Brave and how we can earn from Brave. Though there are many articles available online that can help in providing the necessary information, I thought it would be ideal to write a post from my side with details and personal experience so that it will be beneficial for everyone. I would like to start with a short introduction about Brave Browser before sharing my experience, tips, and tricks.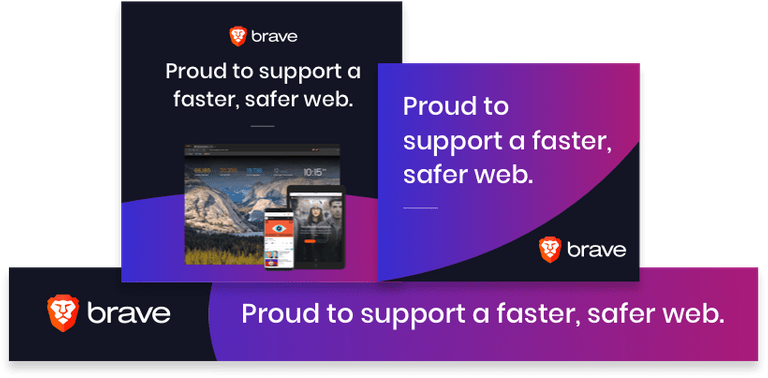 ---
What is Brave browser?
In simple terms, Brave is just another browser like Google Chrome and Mozilla Firefox with some additional capabilities to earn cryptocurrencies. Technically, the browser was built on top of the open-source Chromium web browser that we commonly see on Linux platforms. The Chromium web browser was the base for Google Chrome as well. That is one of the reasons why most of the features and functionalities on Brave will look similar to Google Chrome. The chrome web store that we have for extensions on Google Chrome will also work in the Brave browser.
Along with these, the Brave browser also comes with additional security options and also an opportunity to earn some cryptocurrencies. That is what makes Brave unique among other available browsers. Apart from these, there is also an ad-blocking feature available on Brave that makes the browsing experience smooth and secure without any spams. When we open a new tab in the browser, it also shows some interesting stats.

---
Installing the browser and setting it up
The browser installation is very simple. If you click this link, you will be directed to their website and from there you can download the installation package and install the browser. The steps are pretty simple. There is also a mobile version available as well as a desktop version.
Once we install the browser, most of the aspects will look similar to Google Chrome so, we will not be having any navigation problem or any challenges in adding our desired extensions. However, the rewards page can be a new thing. You will be able to see something like the below if you go to the reward settings page. For most of the users the Brave Rewards may not be enabled, we have to enable it to use that feature.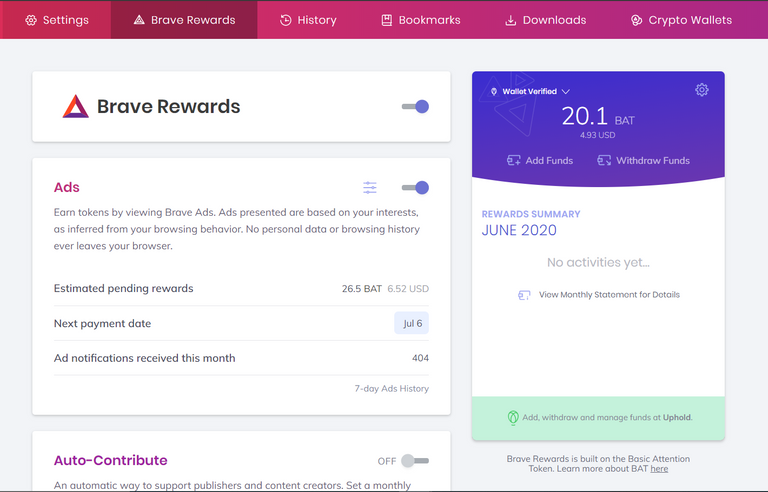 After enabling Brave rewards, there will be an internal wallet created in the browser. You can check that in the above screenshot. Along with enabling brave rewards on the above page, we should also ensure that we have enabled Ads to start receiving ads and get rewarded.
Verifying the wallet is the next step. The wallet is integrated with the Uphold account to receive the rewards and use the rewards. It is ideal to do a KYC on uphold wallet so that we can use all the features of the wallet.
---
How to earn by using Brave browser
Though the browser comes with an inbuilt feature to block the ads on sites we browse, there are ads sent by the browser itself. Earning option is not available for all the countries in the world. For some countries, this is just a browser with good ad-blocking features. But for countries where earning is an option, earning by using the Brave browser is quite simple, all we have to do is just enable the ads in the browser and click on the ads when it comes as a notification. When we enable notifications, we will be able to see the ads popping up like below.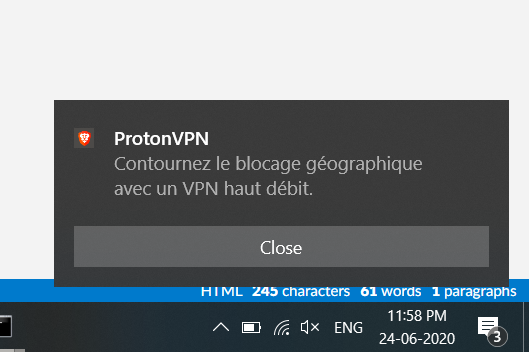 This is just an example as to how it will look in a windows machine. When we click those ads, it will be collected in the form of BAT tokens in the browser. These BAT tokens will be sent to our wallet once in a month. Until then the value keeps increasing based on the ads we click. The number of ads received during the month and the BAT tokens we received can be viewed either from the new tab page or from the reward settings.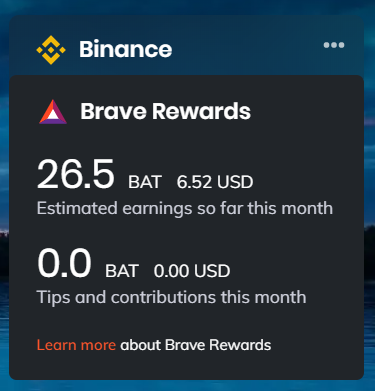 Once we receive the tokens to the wallet, it can be moved to uphold account and can be withdrawn as our local currency or can be exchanged for other cryptocurrencies in the exchanges as well.
---
Some useful tips and tricks
It actually took me some time to figure out some basic things. I thought I would share it in an article so that it becomes easier for people who are just getting started with Brave. Like I mentioned in one of the previous paragraphs, Brave rewards may not be enabled by default for all the users. Enabling it will create a wallet and provides the earning opportunity.
Clicking the notifications
Desktop notifications are too easy to miss. Sometimes even if we click the notifications late, it will not be considered for rewards. I'm not sure how exactly it works but for some people, rewards are generated even without clicking the ads, and for some people earning is too low even if they click every single ad.
Ads settings
There is an ads settings page inside Brave rewards. Most people can miss that because it is not self-explanatory. This ads settings page helps us set the number of ads that we are ready to view in one hour. By default, the value is set to 3 ads per hour. But we can change it to 5 ads per hour to increase the earning opportunity.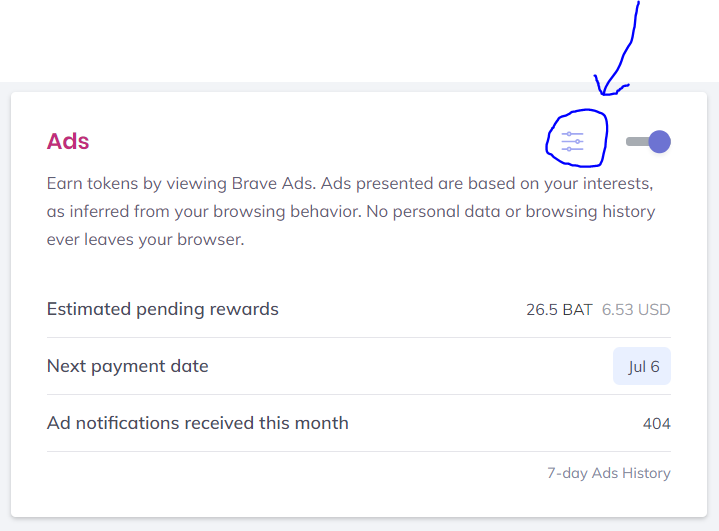 At first, I did not know about these settings. After using brave from several months, I found this option inside the settings and changed it from 3 ads to 5 ads per hour.
Taking a backup of the wallet
Taking a wallet backup is very important. I have seen notifications sent in the browser itself to take a backup of the wallet but it is ideal to take a backup and keep the recovery key somewhere safe.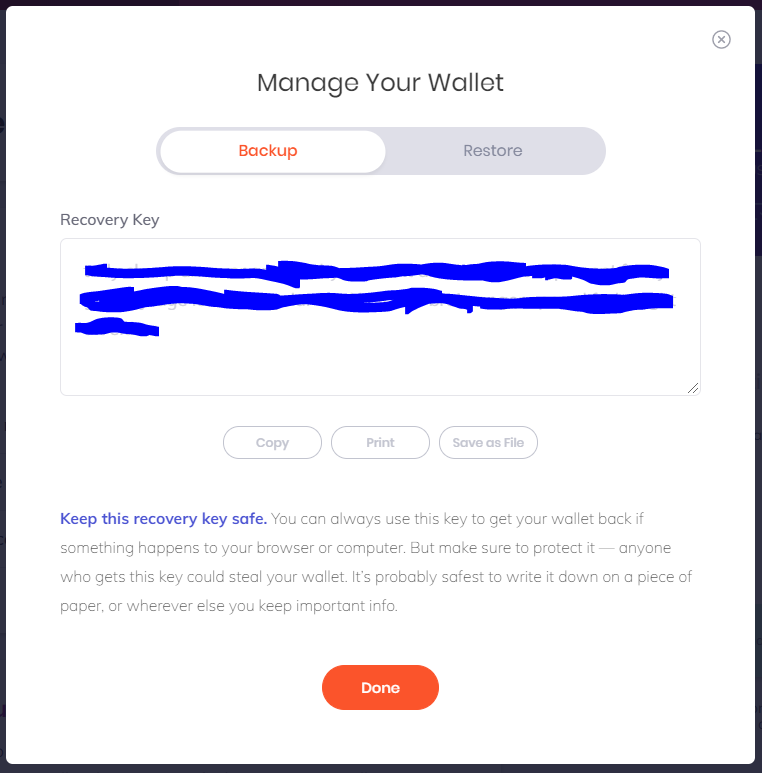 ---
Referral bonus
The browser provides an additional earning opportunity for publishers and content creators. If we have a twitch account, twitter account, Youtube channels, website, Github account, etc, we can link it with our brave account and start monitoring it. People who wish to send us some BAT token tips can visit our content platforms and tip with the help of a brave browser.
Additionally, there is also a referral bonus available. There is a calculation as to how much bonus for each referral we can get. The math is also based on the country we live in. I have shared my referral link below. If you would like to get started, please consider using my referral link.
I hope this article was useful to you. There are some more aspects of brave browsers but I'm sure there would be articles available online explaining each one of the features.
---



---
Posted Using LeoFinance