If you have heard about reflect.finance, you probably know that early hodlers made almost x400 gains! The contract rewards holders from the 1% fee that is taken from every transaction. It means, if you bought, for example, 1000 RFI at the start, you would see your RFI increasing with every transaction that any user makes. It is super easy and everything is done thanks to the smart contract.
But as we know, Uniswap fees are ridiculously high! Luckily, the Binance Smart Chain has been doing a wonderful job and the fees there are about 100x times lower than Uniswap. In the last couple of days, I have been exploring the web for the newest projects on Binance Smart Chain.
Then I found hodlearn.net which works in a similar way to reflect finance but instead of having only a 1% fee, hodlearn applies a 3% fee to each and every transaction and instantly splits that fee among all holders of the token. The ticker is HODL but you won't this coin on CoinGecko or CoinMarketCap not yet.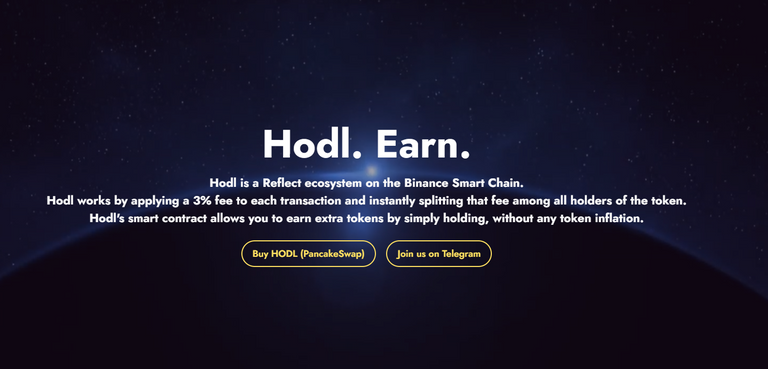 High Risk But a Possibly Great Reward
There's always a high risk when you participate in new projects but if things go the right way, the reward can be really juicy. Luckily, with Binance Smart Chain, you can experiment with small amounts. And that's exactly what I did.
---
BSCSCAN
If you visit BSCScan, you can see that there are less than a thousand hodlers right now.

---
6 Month Liquidity Lock
Here's a liquidity lock contract.

They're also saying that the token launch was fair and there are no dev or team wallets. There's a wallet with 7% of the hodl, though, but for such a small coin like this, I think it's normal.
---
Price on Astrotools
Here's the Astrotools link where you can check the price of one HODL. Right now, it's $0.0039 and although it has doubled in the last couple of days, it's still relatively cheap. And the coin is less than a week old. If nobody rugs (which shouldn't be possible for 6 months), then many things can happen!

---
Buy on PancakeSwap
Pancakeswap is the only place where you can buy HODL. If you haven't used PancakeSwap, you will need to add Binance Smart Chain to your MetaMask wallet. After that, you can send BNB to your wallet and start making trades with super low fees.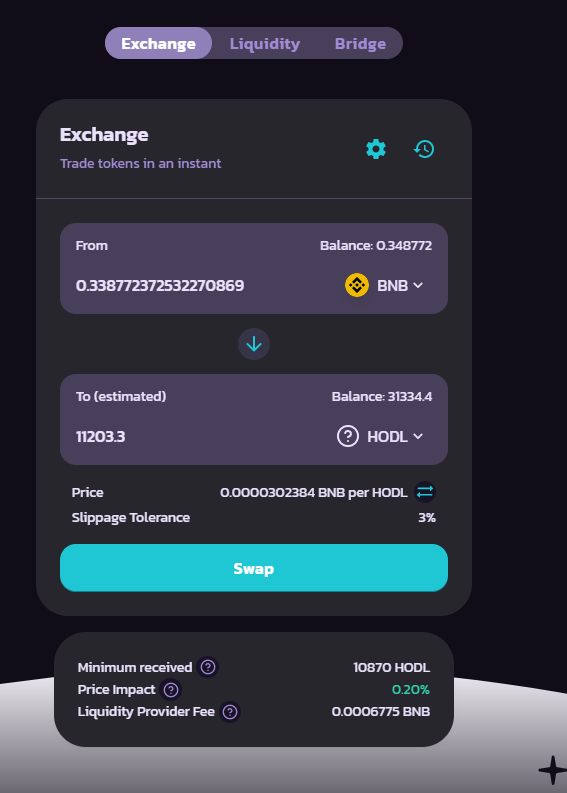 My fees
Here's my purchase on bscscan. As you can see, I paid $0.21 in fees. In comparison, one Uniswap transaction can cost you up to $200. And if it fails, you lose your money. On Binance Smart Chain, these transactions have never failed for me. And even if they did, I wouldn't be angry about losing 20 cents.

---
Community on Telegram
If you're using Telegram, you can join hodlearn community. It's really small right now and how less than 900 members but you and me, we can get it going!
---
Thanks for reading!
ps. this is not financial advice. Boi here is ready to lose his investment and that's why it was a small amount to experiment with. Always do your own research and invest only what you can afford to lose.
---
HODL!
---
Read some of my other stuff:
Social Media Platform that Connects Blockchain People and Projects Together - Torum Review
Must Read - 33 Reasons Why You Should Be Using HIVE Blockchain!
Crypto Faucets That Really Pay - Browse Here
SwissBorg Lottery With a Guaranteed Bitcoin Prize - Look Here
---
Or press on the banner below and browse boi's website.
---
Photo by Vincent van Zalinge on Unsplash
Posted Using LeoFinance Beta