Good evening to everyone , a couple of days ago I had promised that I will post about this .
Due to the confusion of actual reward split and the taxes of POB I have to delay it .
Now since that is cleared out , I decided to gather the data again and run the simulation .
What does it mean ?
It means that I have gathered the data from the beginning for POB and I have converted the actual rewards to 75% 25% .
Let us go through the data and then we shall discuss what it means -
1. Rewards daily -
Here -
Blue line = Author reward
Red = Curation
Sky blue = token benefactor ( which means tax goes here )
Yellow = Comment benefactor ( which means you have set someone else as beneficiary )
Well the first graph ( above ) is actual rewards and below is the simulated .
If you see now , the actual rewards and the curation rewards are sticking to each other meaning that both are almost equal ( not equal , they can't be because of the taxes but almost equal )
But in simulated ( 75% author and 25% curation ) , there is a huge gap in between author rewards and curation rewards on a daily basis .
This shouldn't come as a surprise to anyone since this is the expected pattern .
2. Average rewards of Author and curation
For simplicity purpose , I have remove the token benefactor and comment benefactor rewards .
Now if we take a look at Average author rewards and curation rewards -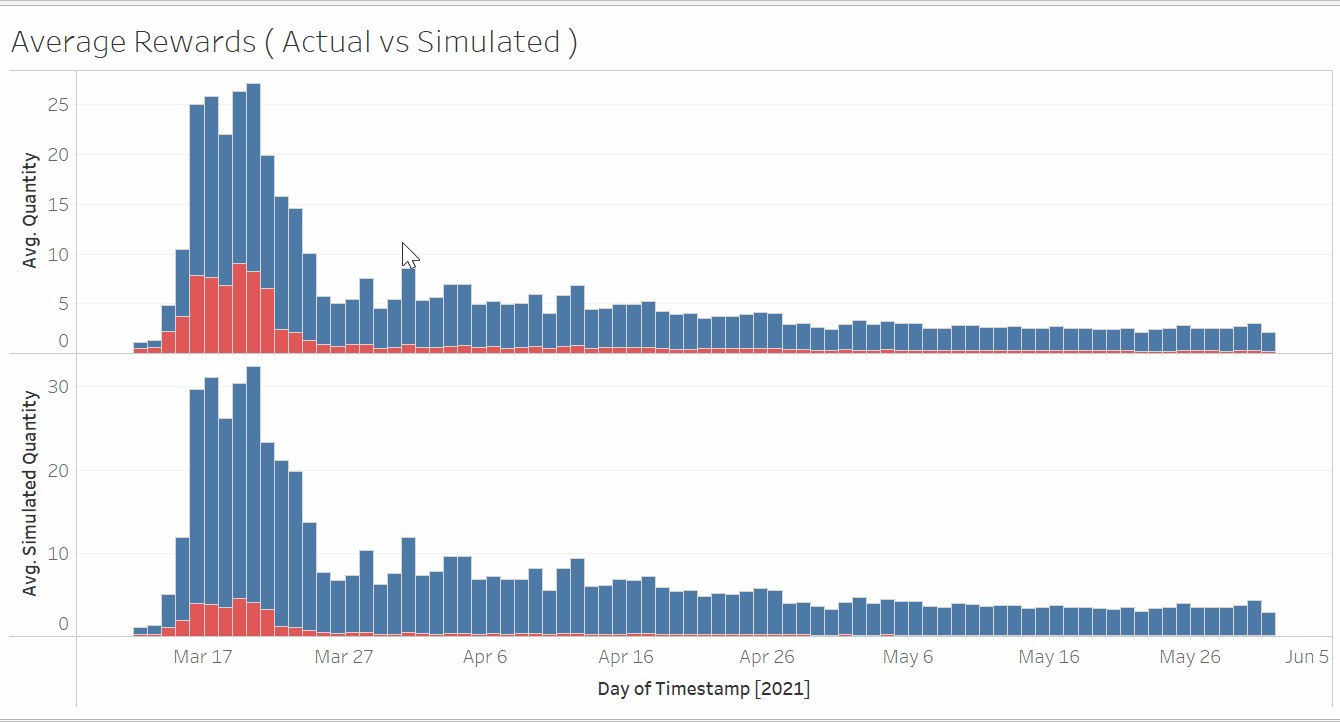 If you observe this , you can tell that
In the initial days when POB was launched both average author rewards and curation rewards was high ( as expected ) but then average author rewards have been consistent ( around 3-4 POB per post and comment ) but average curation reward is around 0.3-0.4 .

The simulated version tells that author rewards ( average ) increase ( obviously ) and the curation is almost negligible .
What insight does this provide us ? This tells us that there are numerous users who are earning way too less curation rewards right now ( since the average is too low compared to author rewards ) and that would reduce further if 75-25 is implemented .
3. How would the richlist appear ?
Well considering only author and curation rewards ( this excludes buying and selling too )
The richlist would appear like this -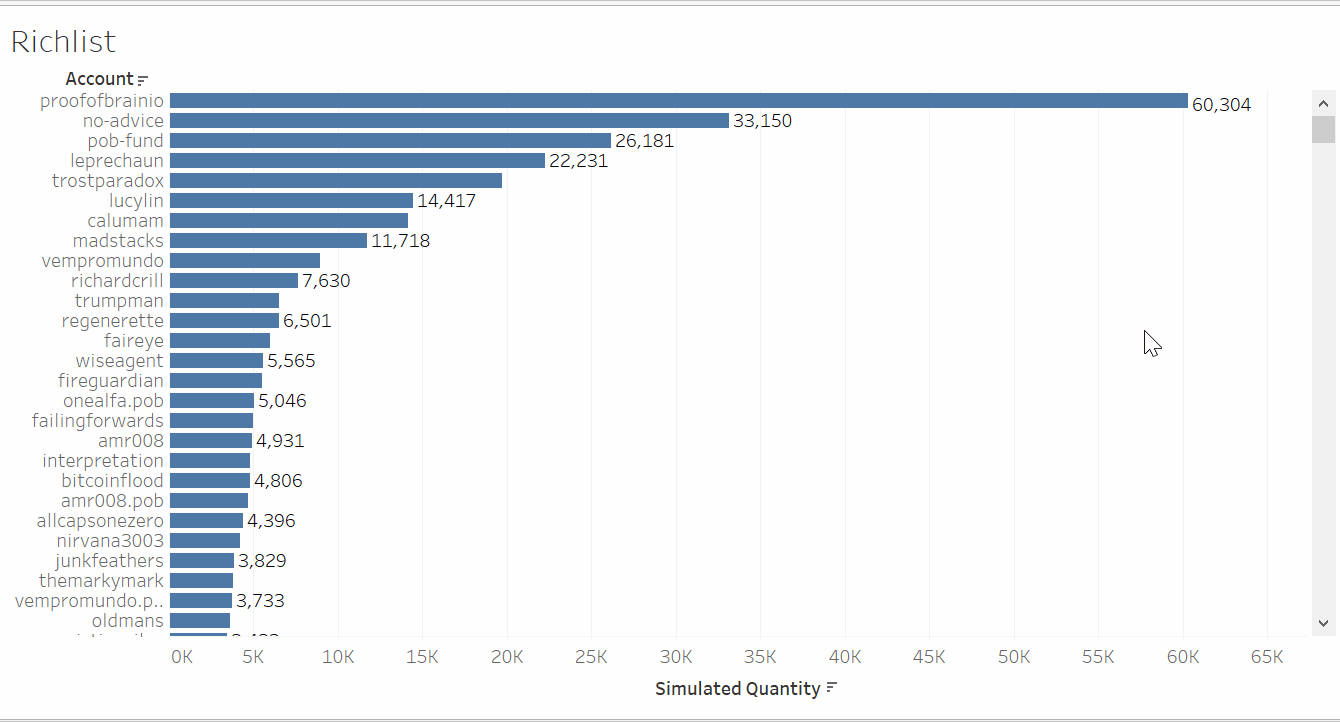 4. The total reward distribution would seem like this -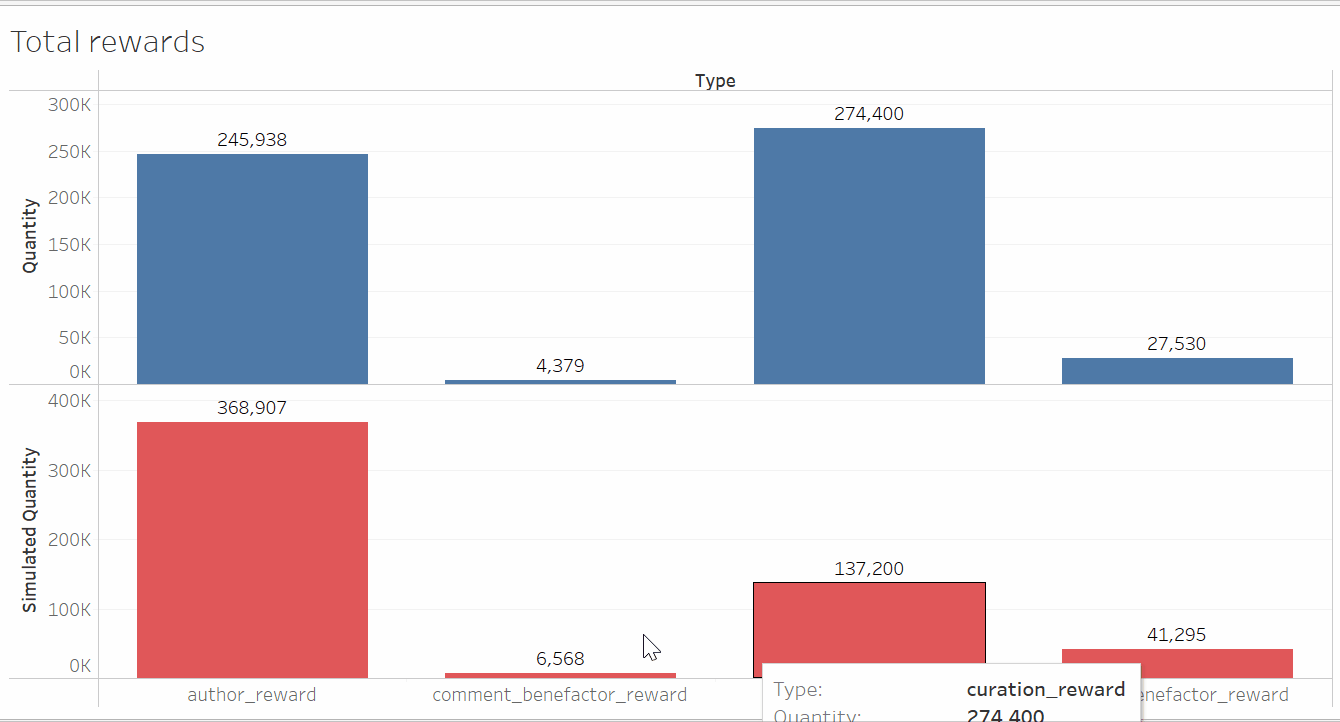 ---
Why you shouldn't consider these data too seriously ?
Because this is not the most accurate representation of 75/25 . It takes more than a simple script to simulate everything , all I can do is the conversion from 50/50 to 75/25 but
I can't change the actual vote value because of the less curation reward which result in further decrease in curation rewards .
I can't change the buying and selling of POB tokens here . There are many users who bought POB and earned curation rewards , now if 75/25 pattern was there they wouldn't have bought POB at all most probably ?
If there was no buying of POB ( because of less curation rewards ) then ofcourse the price of POB would have been less and inturn the activity would have been less and inturn the average author rewards would have been more .
So all these things can just be imagined but can't be simulated using a simple script .
Oh well I can't even write a script which can take the 2nd point into factor , how can I determine if people would have bought POB or not if it was 75/25 ?
So don't take this too seriously , this is just for fun that's all .
What do I favour ? 50/50 or 75/25 ?
I actually support 50/50 because it takes a lot of time to accumulate the tokens which isn't easy at all .
We either have to invest time or invest money to gain sufficient tokens to earn good amount of curation rewards so I actually support 50/50 .
45/5/50
But actually right now we are 45/5/50 on POB . That means of the overall rewards a post gets , 45% goes to author , 5% goes to null , 50% goes to curators .
Couple of days ago I posted about it , you can check it out here. It can be also put as -
10% tax is removed from the total rewards and then out of that 47.36% goes to author and 52.64% goes to curator .
Both are same - both calculations provides the same answer so right now if we leave tax out - we are left with 45/50 author/ curation rewards .
My proposal / suggestion / advice
Well right now , we have taxes for both native and non-native posts and comments and the tax is as I mentioned 5% of total rewards or 10% of author rewards ( both are one and the same ) .
This provides no incentive to use the particular front-end at all ( maybe because of contests or engagement project people might be using the front-end) . If I post from some other front-end then also there is a tax and if I hop on to POB front-end then also there is a tax so my suggestion is actually to change this .
What to change it for ? - 20% tax for non-native posts / comments and NO tax for native posts/comments sounds good to me .
We gotto provide the users who are hopping on to the front-end more rewards than those who aren't using the front-end .
While some are discussing about 75/25 , we don't even have 50/50 yet . With the tax in picture , there is 0 possibility for an author to receive 50% of the rewards which doesn't seem fair to me .
---
Let me know in the comments if you vote for or against changing the existing 10% tax to 20% tax for non-native and 0% tax for native posts/comments.
That's it from me today , I will be back tomorrow with another data analysis .
Regards ,

MR.
Posted Using LeoFinance Beta