In the video tutorial below I would like to present you the upvote service rewarding.app and how you can set automated upvotes on the hive blockchain using this app.
Why use an upvote service?
I use rewarding.app when my voting power is close to 100%. If I'm away and my voting power goes over 95% for example, the rules on rewarding.app are setting in and my account starts to give automated upvotes on selected authors. This prevents my account from reaching 100% voting power which would mean that I actually loose upvotes and the corresponding curation rewards.
Hive.vote vs. rewarding.app
Hive.vote is probably the most popular upvote service and I like it a lot. Rewarding.app is more complex to use but also offers some features that you won't find on Hive.vote. What I find great on rewarding.app is that you can define the tags on which upvotes will be given or on the contrary tags that you can exclude from your votes. This is especially helpful if you want to vote on hive-engine tokens like LEO, PAL, CTP or all the others.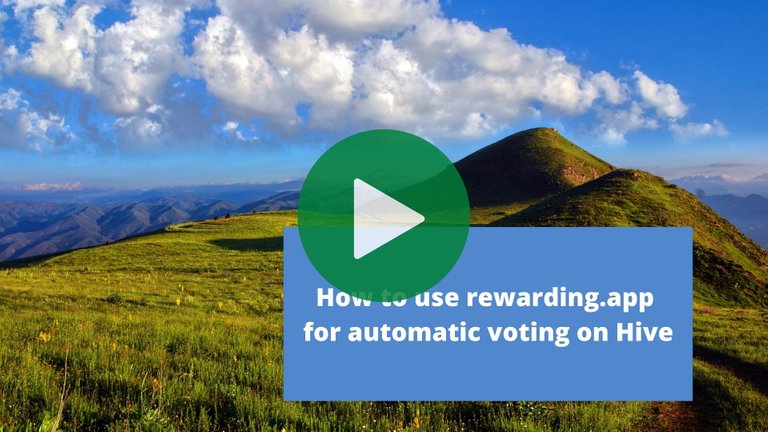 Watch the video on Lbry
Create Rules
In the video I try to show you how you can set up a voting rule on rewarding.app. If you want more detailed information about how to fill the form, I suggest you read this post by holger80, the creator of the tool.
P.S: I created this post because I promised it to Garrey C. Dunn (@theroad2freedom). Thanks Garrey for the inspiration ;-)
---
Let's connect ! You can find me on these platforms:
Posted Using LeoFinance Beta