I know that lately I've been more of an advocate for fundamentals over price when it comes to crypto rather than price over fundamentals and the volatility around it, and I still consider that the ones sticking with fundamentals and taking their eyes off the charts are not gonna be shaken out easily and are the best positioned long term.
There has been a lot of uncertainty lately in the crypto markets and as you might have read on social media there were quite a few so called influencers calling for a bear market already.
I don't consider we've entered a bear market and neither do I believe we're close to entering one. My personal opinion is that we've got ourselves a replica of the 2013 bull cycle with the smell of a super cycle. My gut feeling tells me that we might be half way to the peak of this cycle.
A bit over a month ago Bitcoin was valued at over $60,000 and everybody was already talking about a $100,000 BTC. Almost nobody was looking down, but that's exactly where the whole crypto market went and still is. The fall from $52,000 to $30,000 has taken many of us by surprise and it happened so fast.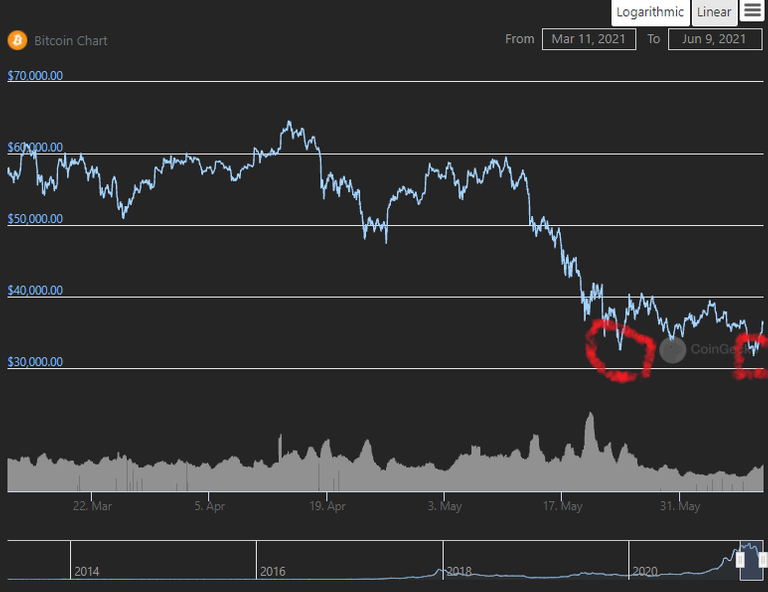 That was the Elon FUD. One that imo got eaten alive as in the same exact day bulls have managed to push Bitcoin up by $10,000 from around $30,000 to $40,000+. Nevertheless it has been a painful day and ever since Bitcoin is struggling to recover.
We've had China FUD, FBI FUD, etc etc. At this point it seems that traders and investors are already accustomed with the volatility and look like not falling for bear traps anymore. Recent bullish news regarding El Salvador and Bitcoin have changed the vibe in the crypto space for a bit and looks like we're heading upwards once again.
I am wondering though, and asking you guys as well: is the bottom in? Has Bitcoin and the rest of the market found a bottom and is ready to continue its track towards a peak this year? I guess nobody knows for sure, but I'd say we have bottomed. Considering that we're in a bull market and the trend for such a cycle is upwards I doubt we will spend much time consolidating and correcting.
As highlighted on my screenshot of the 90 day chart of Bitcoin's price my amateur eyes sees a double bottom over there at around $30,000 level and my intuition and almost four years in crypto experience tells me we're on the cusp of continuing our path to a $100,000 Bitcoin and above. What do you think, have we bottomed? Are we ready to continue the upwards trend?
Thanks for attention,
Adrian
Posted Using LeoFinance Beta