As I mentioned in the post Lottery Talk - You can win more than 100 delegation, the 10th edition would be the last in the contest to win delegation.
At first, the delegations would only last 1 month, but I will leave it to the 10 winners indefinitely. Those 1,000 POB make a big difference for you.
And looking to deliver a bigger prize for those who interact with the community that I created the Loteria de Engagement, until now having 17 unique participants in 4 days.
Up to the date of this publication, more than 130 liquid POB have already been delivered to those who decided to compete for one of the awards.
Tomorrow I will deliver a report of the 10 Win contests with statistics of what it has added to the community.
Now let's go to the draw.
Last week's theme was: Governance in POB
And we had 2 participants, and the number drawn was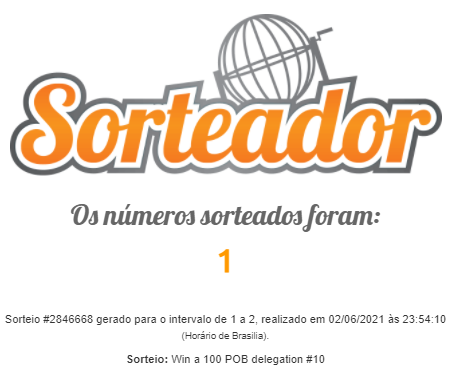 Congratulations @wiseagent
Click here to participate in the Daily Lottery Talk
in 3 minutes the link will be on
---
Posted via proofofbrain.io