hello friends.
Today I realized that I have talked a lot about rising star and it is because I am very excited about this project, as long as they keep making updates, I will keep talking about this game because I like to support 😁 and wow today I have been lucky, even though I sold the "S21 Cow Horn" very cheap, at 2$ then I found out that this NFTs could be worth 100$ and chubb149 user is right, he opened my eyes regarding the values of the NFTs and I found out that the NFTs according to their scarcity are valued a lot, but this is a post for a future post about how I will calculate the price of a NFTs and its values.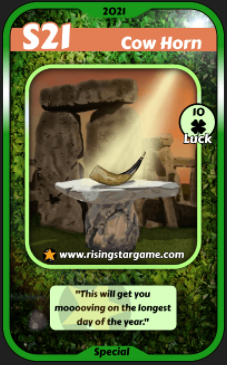 I was telling you that now I have obtained 2 "S22 Pan Pipes" and 1 "S21 Cow Horn" this was achieved in 2 days, let's say it has not been easy, but I got them and with the strategy of more pizza now I could manage to maintain the income of starbits and I managed to have the "S22 Pan Pipes" and "S21 Cow Horn", I have to tell you that the ego scared me when I see it rise 1% I applied the strategy that I explained in previous publications on the collaborative economy and now I can control the ego I feel that everything is in peace.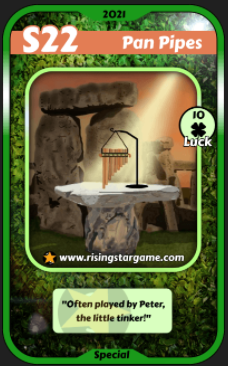 For now I am calm, I will sell my S22 for 80 vibes is very cheap, because vibes is very cheap and I feel that I am giving away my card, but it will be the last time from now on I will sell it at its real price that I will explain in another post and is that I have realized that the VIBES currency has dropped its value in dollars from 0.20$ to 0.09$ I thought I was defending the price, but I am really defending the price in hive, not in dollars.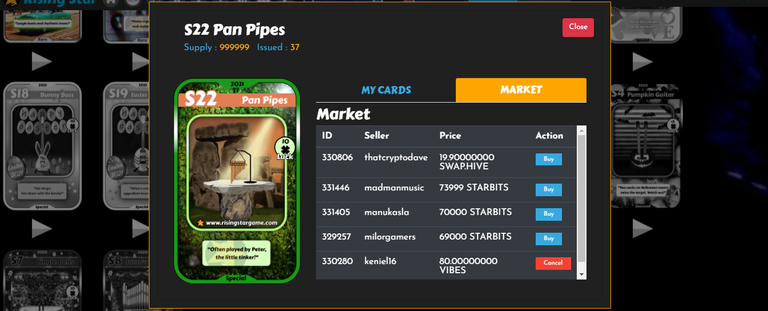 Also as I already found out that the starbits coin is very cheap, I will not sell it, I have been several days without selling anything starbits to help the market to go up to its real value, I still don't understand why people sell everything so cheap 😢😢, every time they sell cheap someone new rank up very easy, buy NFTs very cheap and sell them more expensive, do staking to earn more starbits and do staking to earn VFT and buy Starpro very cheap, but i think that's how the market works, patience and strategy is the key 😎.
Because I will not sell my Starbits, I will keep buying NFTs to see if I get a legendary that those if valued at 200$.
🤗,
Regarding the mission I will not do it for a few days, because I'm doing some tests in my small youtube channel in spanish, to publish rising star stuff there although I still can't find a good keyword to make more visible the rising star videos 🤔.
And as usual I show you some of the cards that I got in the packs with no novelty when an epic comes out I get excited 😂😂


Note: I try to make quality content, so if you want to add something I read you.
Translated with www.DeepL.com/Translator (free version)


Link: MUSIC4LIFE


Link: RISING STAR


Link: SPLINTERLANDS

hola amigos
Hoy me he dado cuenta que he hablado mucho de rising star y es porque estoy muy emocionado con este proyecto, mientras sigan haciendo actualizaciones, seguiré hablando de este juego porque me gusta apoyar 😁 y vaya que hoy he tenido suerte, a pesar de que vendí el "S21 Cow Horn" muy barato, a 2$ luego me entere que ese NFTs podría valer 100$ y tiene razón el usuario chubb149 me abrió los ojos con respecto a los valores de los NFTs y es que investigando el mercado de wax descubrí que los NFTs según su escasez se valoran muchísimo, pero esto es tema para una próxima publicación el como calculare el precio de un NFTs y sus valores.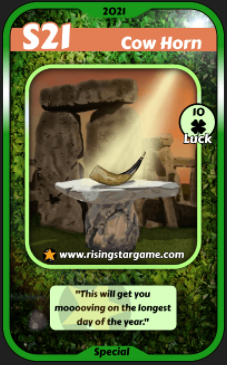 Les contaba que ahora he obtenido 2 "S22 Pan Pipes" y 1 "S21 Cow Horn" esto fue logrado en 2 días, digamos que no ha sido fácil, pero las he conseguido y con la estrategia de mas pizza ahora pude lograr mantener el ingreso de starbits y logre tener los "S22 Pan Pipes" y "S21 Cow Horn", tengo que decirles que el ego me quería matar cuando lo vi subir 1% aplique la estrategia que explique en publicaciones anteriores sobre la economía colaborativa y ahora puedo controlar el ego siento que todo esta en paz.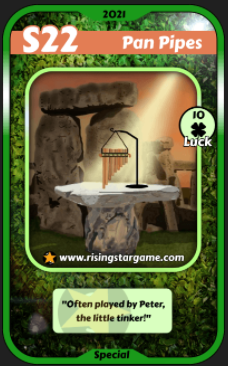 Por ahora estoy tranquilo, venderé mi S22 por 80 vibes es muy barato, porque vibes esta muy barato y siento que estoy regalando mi tarjeta, pero será la ultima vez de ahora en adelante la venderé a su precio reales que explicare en otra publicación y es que me he dado cuenta de que la moneda VIBES a bajado su valor en dólares de 0,20$ a 0,09$ pensé que yo estaba defendiendo el precio, pero realmente estoy defendiendo el precio en hive, no en dólares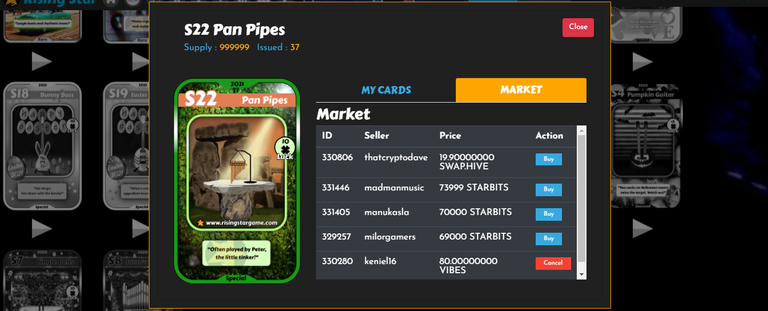 También como ya descubrí que la moneda starbits esta muy barata, no la venderé, llevo varios días sin vender nada de starbits para ayudar al mercado a subir a su valor real, aun no entiendo porque las personas venden todo tan barato 😢😢, cada vez que venden barato alguien nuevo sube de ranking muy fácil, compra NFTs muy barato y los vende mas caro, realiza staking para ganar mas starbits y hacen staking para ganar VFT y compran Starpro muy barato, pero creo que así funciona el mercado, la paciencia y la estrategia es la clave 😎.
Debido a que no venderé mis Starbits, seguiré comprando NFTs a ver si consigo una legendaria que esas si están valoradas en 200$
🤗,
Con respecto a la misión ya no la hare durante unos días, debido a que estoy haciendo unas pruebas en mi canal pequeño de youtube en español, para publicar cosas de rising star por allí aunque aun no encuentro una buena palabra clave que haga mas visible los videos de rising star.🤔
Y como es de costumbre les muestro alguna de las tarjetas que me has salido en los paquetes sin novedad cuando salga una épica me emociono 😂😂


Nota: Intento hacer contenido de calidad, así que si quieres añadir algo te leo, si te gusta este contenido ✨sígueme y simplemente comparte esta información.


Link: MUSIC4LIFE


Link: RISING STAR


Link: SPLINTERLANDS