Hello friends.
I have seen something new in rising star, "Festival World Tour, there is only the announcement and it says coming soon, I know that the programmer always brings us many surprises and he doesn't like to tell us anything until it is ready, I think it is a very good decision on his part, you always have to give results and that is one of the things that keeps me active and motivated on this platform.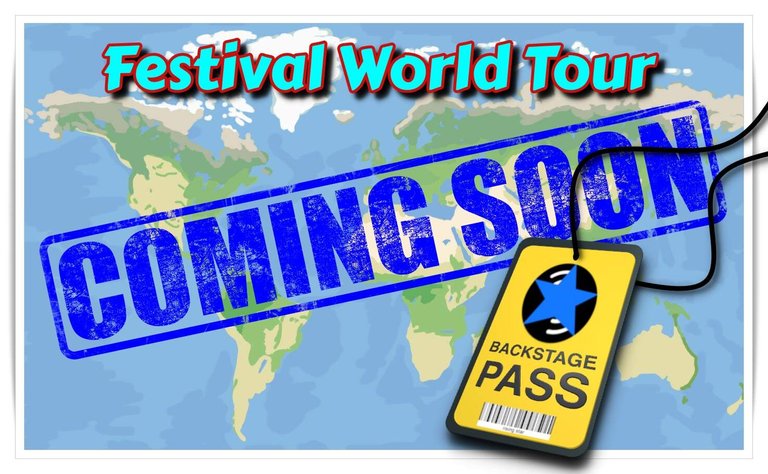 Buy the backstage pass, I don't know how many will be needed but as it is in the image, we imagine we need it, to use in this new world, I bought 2 just in case 🤣🤣, it has only the price of 1 Starpro, very cheap in my opinion.😏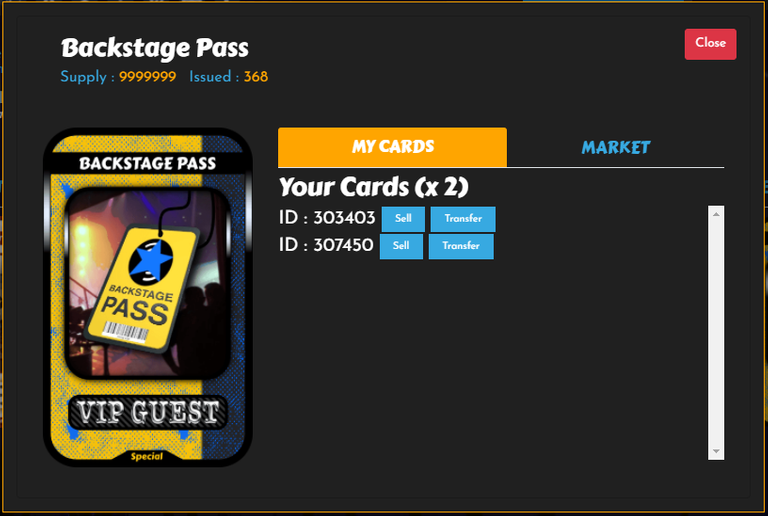 It's very interesting we know absolutely nothing about this feature, but you can see a blue star inside the card looks a lot like starpro I should get some, to see what happens, but I can't decide I'm trying to accumulate starbits, now I want starpro and special NFTs I can't do everything 🤣🤣.
Meanwhile, we wait I'm giving myself the task of leveling up starbits earn, while looking for more special cards, it's crazy now ego wants to show up 🤣🤣.
I have seen S21 and S22 cards sell like hotcakes, for good prices:
S21 - 20 vibes sold
S22 - 50000 starbits sold
S22 - 80000 starbits sold
S21 - 18,9 hive sold
and now another S22 is on sale:
I hope these prices show that these NFTs are worth a lot, so don't sell them cheap 😢, because maybe in the future they will cost more.
Also it is interesting because at the price they have placed it on the market they buy it 🤣🤣,and S21 has nothing to sell.
If you have read this far I want to tell you that some time ago we had problems with high inflation in rising star, but we managed to bring the starpro currency a limited currency, so that people could buy and sell with that currency, we removed the attention on that currency because the price of starbits rose against the dollar, but now that we are returning to our starting point, maybe it is time to pay attention to the starpro currency, also the situation has improved a lot, there are only cards that are sold in starpro and as you can see, there is more functionality around the currency, it would not be bad to get a few, in my case I already accumulated 41, but I will accumulate more NFTs before starting to accumulate Starpro, I think it is the best possible strategy so far because the starbits can push you much easier to reach the goal of getting more starpro, remember that the starpro are a competition of who pays more wins more,
As usual I will show you some cards of my packages, see you in another publication.



Note: I try to make quality content, so if you want to add something I read you, if you like this content ✨ follow me and just share this information.
Translated with www.DeepL.com/Translator (free version)


Link: MUSIC4LIFE


Link: RISING STAR


Link: SPLINTERLANDS

Hola amigos.
He visto algo nuevo en rising star, "Festival World Tour, solo esta el anuncio y dice próximamente, se que el programador siempre nos trae muchas sorpresas y no le gusta decirnos nada hasta que este listo, me parece una decisión muy sabia por su parte, siempre hay que dar resultados y esa es una de las cosas que me mantiene activo y motivado en esta plataforma.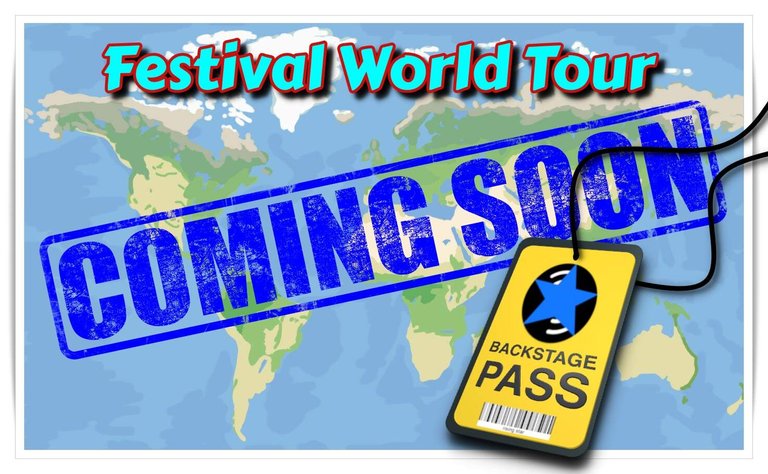 Compre el backstage pass no se cuantos se necesitaran pero al salir en la imagen, imaginamos que lo necesitamos, para usar en este nuevo mundo yo compre 2 por si acaso 🤣🤣, tiene tan solo el precio de 1 Starpro, muy barato en mi opinión.😏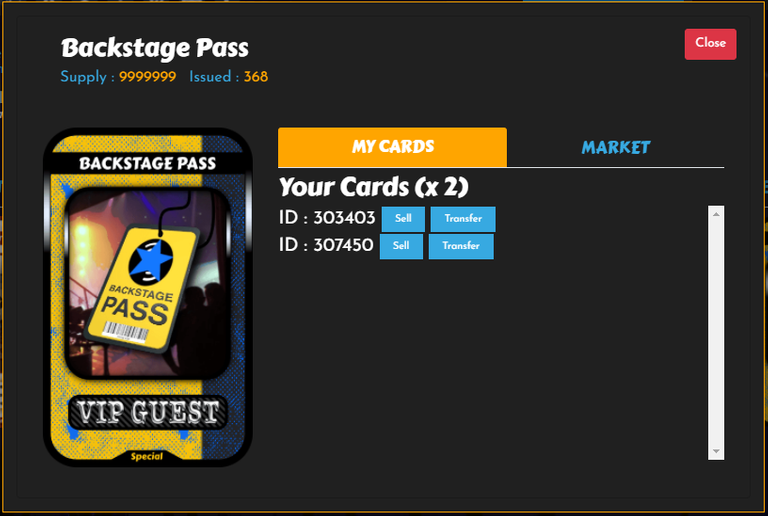 Es muy interesante no sabemos absolutamente nada sobre esta función, pero pueden ver una estrella azul dentro de la tarjeta se parece mucho a starpro debería de obtener algunos, para ver que sucede, pero no me decido estoy tratando de acumular starbits, ahora quiero starpro y NFTs especial no puedo hacer todo 🤣🤣.
Mientras, esperamos me estoy dando la tarea de nivelar la ganancia de starbits, mientras busco mas tarjetas especiales, es una locura ahora el ego quiere aparecer 🤣🤣.
He visto que las tarjetas S21 y S22 se venden como pan caliente, por buenos precios:
S21 - 20 vibes vendida
S22 - 50000 starbits vendida
S22 - 80000 starbits vendida
S21 - 18,9 hive vendida
y ahora están a la venta otras S22:
Espero que estos precios muestren que estos NFTs valen mucho, así que no los vendan baratos 😢, porque tal vez en un futuro cuesten mas.
Además es interesante porque al precio que la han colocado en el mercado la compran 🤣🤣,y S21 no tiene nada para vender.
Si has leído hasta aquí te regalo información aun mas valiosa quiero decirles, que hace tiempo teniamos problemas de inflación fuerte en rising star, pero se logro traer la moneda starpro una moneda limitada, para que las personas pudieran comprar y vender con esa moneda, quitamos la atención sobre esa moneda porque el precio de starbits subió frente al dólar, pero ahora que estamos volviendo a nuestro punto inicial, tal vez es momento d volver a prestarle atención a la moneda starpro, ademas la situación a mejorado mucho hay solo tarjetas que se venden en starpro y por lo que se ve, hay mas funcionalidad entorno a la moneda, no estaria mal hacerse con unas cuantas, en mi caso ya acumule 41, pero voy acumaular mas NFTs antes de empezar a acumular Starpro, creo que es la mejor estrategia posible hasta los momentos porque los starbits te pueden impulsar mucho mas fácil a llegar a la meta de obtener mas starpro recuerden que los starpro son una competencia de quien pague mas gana mas,
Como es de costumbre les mostrare algunas tarjetas de mis paquetes, nos vemos en otra publicación.



Nota: Intento hacer contenido de calidad, así que si quieres añadir algo te leo, si te gusta este contenido ✨sígueme y simplemente comparte esta información.


Link: MUSIC4LIFE


Link: RISING STAR


Link: SPLINTERLANDS