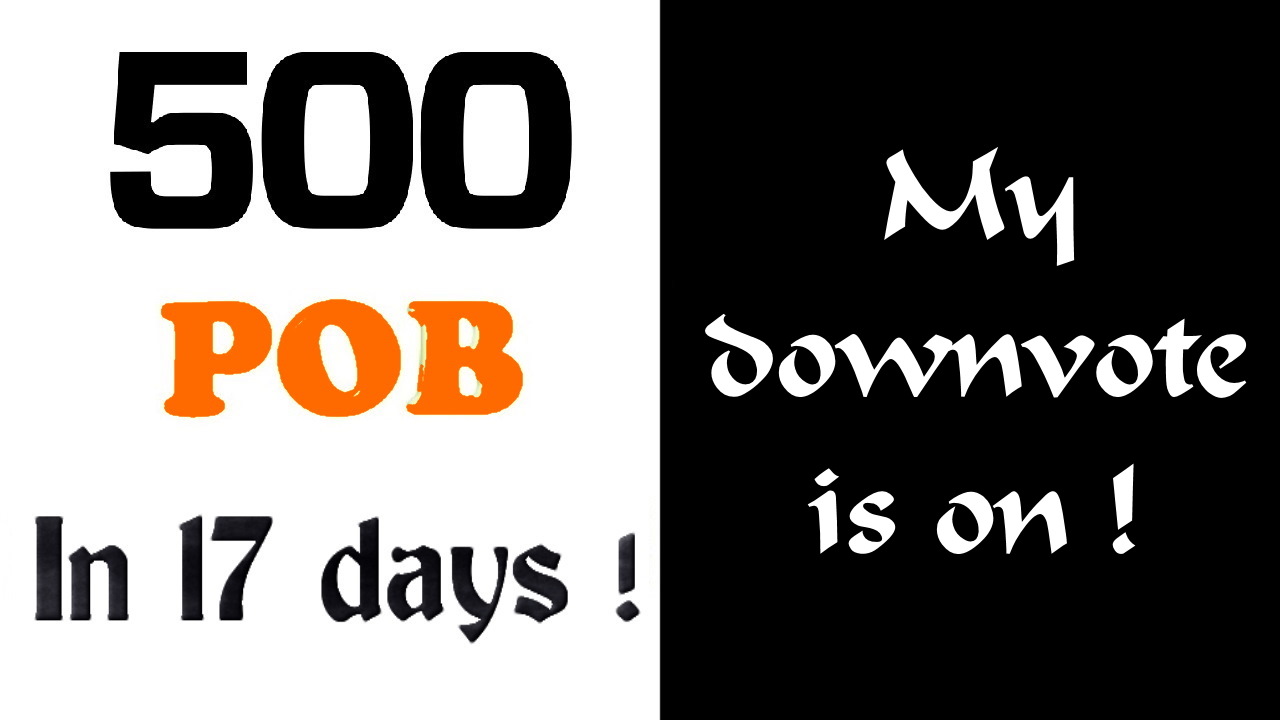 This is a little celebration post I'm writing here to motivate the community to power up.
I worked hard in these 17 days and I respect my investment.
The investment could be in form of tokens you earn or in form of time you spent.
When I hit 400 POB in two weeks I decided to share some strict tips to grow here : 400 POB in 2 weeks - Strict tips !.
I'm not kidding and I will let my dark side a bit on. Because I hate spam, plagiarism and any abuse !
We need to fight that all together to have a healthy platform. That's why my downvote will be on !
In Proof Of Brain my upvote is about 0.8 , that could be removed easially from a spammer.
In hive I have an upvote of $0.5 , so be ready to lose $0.5 from your hive post if you are a spammer !
I will not miss any post by the way. Because I always check the new page and there are many people doing the same.
So, if the spammer decide to post from an other account, we will find him/her anyway !
I'm also reposting plagiarism in Proof of Brain channel. I even found some already muted in other tribes.
Today I started downvoting and I will expose those spammers not only to discord server, but in the blockchain so everyone will be aware about that !
Here is what I downvoted today : https://www.proofofbrain.io/hive-150329/@barder102/albinisim
I use https://www.duplichecker.com/ to check plagiarims. I guess what, this guy have 97% !
I also told him/her in the comment :
Adding References doesn't mean it's not plagiarism. Unless you are the creator of those websites and you can prove that !
But he seems replying me so, he claim that's an original work.
He said :
Why this?
Go and ask @scholaris and @onealfa.
It's not plagiarism.
I said :
Check it here : https://www.duplichecker.com/
And please prove me that the websites in References are yours.
In case you prove that, I will remove the downvote, and upvote back with 0.8 POB and $0.5 in hive !
I'm serious about that. If I did a mistake I will correct it !
But, my downvote will be on in case I find plagiarims. I was sure that the content is plagiarism unless he/she will prove me the opposite.
I'm sorry to be strict in this post. But, I don't think we have an other way to fight the abuse !
I will not trust someone just because he said that his content is original !
Let me know in the comments if I'm doing it right !
I'm here to support quality content and to not let abusers profit from us !
---
I'm always ready to say sorry if I did a mistake. I'm a human being !
---
Posted via proofofbrain.io