Today celebrates an important Topical event to the British people, as we all enjoyed watching "Trooping The Colour" on UK TV.
Join us in celebrating the official birthday of the British Sovereign for over 260 years as we go Buckingham Palace annually on the second Saturday of June with the Trooping the Colour ceremony (12th June 2021).
This two-century-old impressive display of pageantry is a grandiose parade with the Queen's troops, The Household Division, on Horse Guards and Her Majesty the Queen herself attending and taking the salute.
Over 1400 officers and men are on parade, together with 200 horses, and over 400 musicians playing as one. The Queen travels down The Mall from Buckingham Palace in a royal procession with a sovereign's escort of the Household Cavalry.
For those wishing to witness it, the parade is broadcast live on the BBC TV Channel in the United Kingdom.


Above "Text Source" Info from [here]
The National Calendar Website Link [here] (for even more INFO).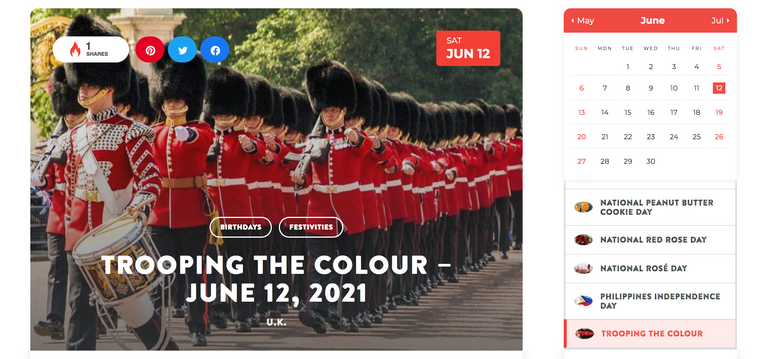 Above "Screen Shot" Image sourced from [here]
Now for some appropriate Music...
The celebration ceremony (this year 2021) has been reduced due to the Covid-19 public restrictions. However, you can watch and listen to the marching band music in the Video below. Mostly filmed around and inside the famous Windsor Castle.
My Song Selection For Today is: "Trooping The Colour" by ©The "Marching Band' on ©YouTube 2021.
(Specifically, performed by the Massed Bands of the Household Division).
Above Music Video Source: ©YouTube [Here]
Also notice that the special Twitter "hash tag" #TroopingTheColour is currently trending!
So you can start interacting with many others on Today's topical event, by Tweeting there NOW!...
Many Thanks for reading and listening, I hope that you all learned something new and were entertained. As we all need to keep our brains active!
see you all again very soon... 👋