Most of this week has been so hot, that it is great to know that TODAY is curiously "National Iced Tea Day" 🥤 I will most definitely be indulging in this Topical event! Especially after watching so many drink adverts on UK TV recently.
Tea has been around forever, but iced tea didn't burst onto the scene and win over America's hearts and minds until 1904. In that year, visitors to the St. Louis World's Fair were greeted by exceedingly hot weather.
Tea plantation owner and merchant Richard Blechynden, who was present at the fair, took advantage of the situation by selling chilled tea drinks (instead of hot tea) as a cold refreshment. The rest is history.
On June 10, we fill our glasses with iced tea (sweetened or unsweetened (that's your call) and celebrate National Iced Tea Day.
Below is some more INFO about Today's event...
Did you know that tea has between 800% and 1,000% more antioxidants than fruits and vegetables? Scientists unanimously agree that tea is mega full of antioxidants, which help fight disease. And it doesn't matter whether you choose green, black, or oolong ~ all three come from the same plant and contain equal amounts of good stuff.
If you're trying to kick a soda habit or just looking for a healthier alternative to carbonated beverages, unsweetened iced tea is a great choice. It's naturally low in calories ~ helping you lose weight and consume less sugar. However, if you load your iced tea with sugar, you'll defeat the purpose.
Above "Text Source" Info from [here]
The National Calendar Website Link [here] (for even more INFO).
Now for some appropriate Music...
It might surprise you to learn that this song: "Ice Ice Baby" was actually written by "David Bowie". Perhaps a "one hit wonder" when first released, but definitely a cool song for the UK Summer season. Enjoy!
My Song Selection For Today is: "Ice Ice Baby" by ©Vanilla Ice on ©YouTube
Above Music Video Source: ©YouTube [Here]
Below "Screen Shot" Image sourced from [here]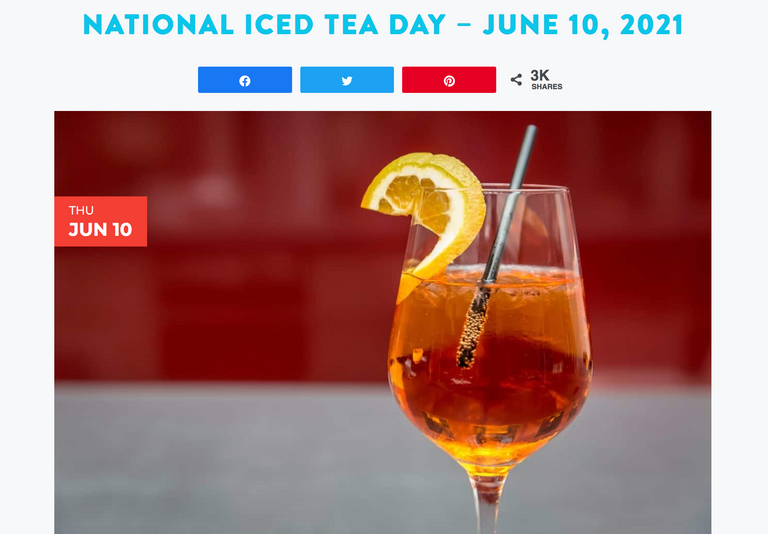 Also notice that the special Twitter "hash tag" #NationalIcedTeaDay is currently trending!
So you can start interacting with many others on Today's topical event, by Tweeting there NOW!...
Many Thanks for reading and listening, I hope that you all learned something new and were entertained. As we all need to keep our brains active!
see you all again very soon... 👋