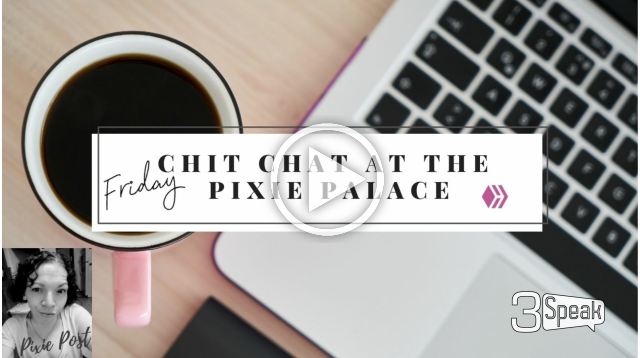 ---
#PixiePost #FridayChitChat #PixiePalace
Before taking a break from online duties for the weekend, I decided to put a mish mosh of topics in one video…
It is time for Friday Chit Chat at the Pixie Palace! Now, there IS a small challenge in this adventure…
Can you watch it without getting confused??? It can be quite a task to partake in but I have ever confidence you can do it!
Confused already? Then watch for more fun!
Have a great weekend, guys! ;)
Today's Music: Electro Swing - Jamie Berry ft. Octavia Rose
─── ・ 。゚☆: .☽ . :☆゚. ───
Feeling stuck in your life's endeavors & not sure how to reboot? Get unstuck with this 30 Day plan & e-book: https://plus1success.com/pixiepost
Coffee, Cards & Pixie Dust podcast https://anchor.fm/pixiepost
Give this a like if you enjoy this kind of content. It lets me know what videos give YOU value. Don't forget to subscribe & hit the notification bell so you don't miss the next video.
💜 To know thyself is to know thy truth. 💜
─── ・ 。゚☆: .☽ . :☆゚. ───
Music:
Oliver - Cospe
Get a 30 Day Free Trial of Epidemic Sound https://www.epidemicsound.com/referral/cgrnmi/
A Must Have Tool To Grow Your Channel
https://www.tubebuddy.com/pixiepost
💜 This video is not sponsored - affiliate links above are products I fully believe in and use 💜
─── ・ 。゚☆: .☽ . :☆゚. ───
Connect with me on the following social media sites:
Instagram: @pixie_post_dreams (Jenn Nieto)
@timmytheangelkitty (Timmy)
Twitter: https://twitter.com/ThePixiePost
LBRY: https://lbry.tv/$/invite/@ThePixiePost:9
My NEW Store: https://www.zazzle.com/store/pixie_po...
The Pixie Post - http://www.trker.com/go/96848
Pixie Post Facebook Page: http://fb.me/pixiepostwithjennnieto
Hive: https://hive.blog/@pixiepost
PeakD: https://peakd.com/@pixiepost
─── ・ 。゚☆: .☽ . :☆゚. ───
---
▶️ 3Speak