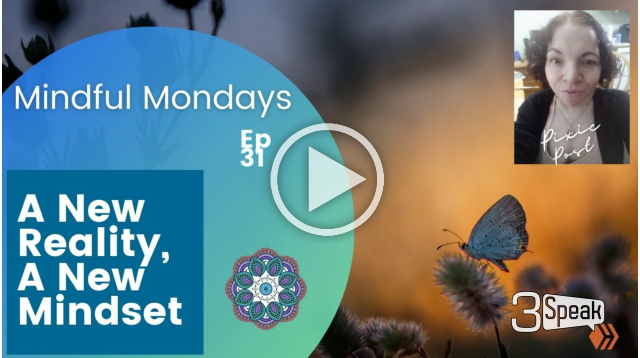 ---
#PixiePost #MindfulMondays #NewRealityMindset
As a content creator, my journey has been one of ups & downs, so full of lessons & joys. All of it has helped me grow into the person I am today. Looking back in hindsight, it astounds me how much I have truly learned...
Seeing my first video I had created for my YouTube channel really showed me that. Then, I came across my friend (& fellow content creator) Ade Torrent with his latest vlog...
And wow, it resonated with me a lot...so much so I knew exactly what my Mindful Mondays video would focus on...
So, with this vlog, I sit down & share with you my path & how important it is for others to tell their stories....
Big shout out also to Brandyn (aka Freedom Fighter), whom I had vlogged about last year. He also had a big impact on my path last year. He even inspired one of my best Mindful Mondays vlogs where I shared some of his story in "Seek Your Freedom".
There are so many of you who have helped me in one way or another. I thank you for that. You know who you are! ;)
Until the next time... ;)
+:+:+:+:+:+:+:+:+:+:+:+:+:+:+:+:+:+:+:+:+:+:+:+:+:+:+:+:+:+:+:+:+:+
Today's Music: Your Eyes - Who Knew (Instrumental) - Milva
─── ・ 。゚☆: .☽ . :☆゚. ───
Coffee, Cards & Pixie Dust podcast https://anchor.fm/pixiepost
Give this a like or an upvote if you enjoy this kind of content. It lets me know what videos give YOU value. Don't forget to subscribe & hit the notification bell so you don't miss the next video.
💜 To know thyself is to know thy truth. 💜
─── ・ 。゚☆: .☽ . :☆゚. ───
Get a 30 Day Free Trial of Epidemic Sound https://www.epidemicsound.com/referral/cgrnmi/
A Must Have Tool To Grow Your Channel
https://www.tubebuddy.com/pixiepost
💜 This video is not sponsored - affiliate links above are products I fully believe in and use 💜
─── ・ 。゚☆: .☽ . :☆゚. ───
Connect with me on the following social media sites:
LBRY: https://lbry.tv/$/invite/@ThePixiePost:9
Instagram: https://www.instagram.com/pixie_post_dreams/
https://www.instagram.com/timmytheangelkitty
Twitter: https://twitter.com/ThePixiePost
My NEW Store: https://www.zazzle.com/store/pixie_po...
The Pixie Post - http://www.trker.com/go/96848
Pixie Post Facebook Page: http://fb.me/pixiepostwithjennnieto
Hive: https://hive.blog/@pixiepost
PeakD: https://peakd.com/@pixiepost
─── ・ 。゚☆: .☽ . :☆゚. ───
---
▶️ 3Speak