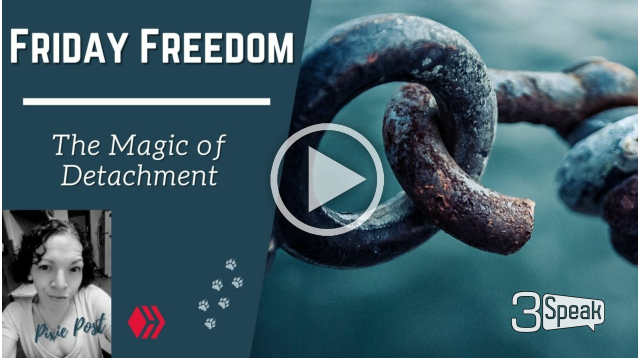 ---
#PixiePost #FridayFreedom #MagicOfDetachment
Buddha once said the root of all suffering is from attachment. As I read this earlier today, this really stuck with me & really made me reflect on my own belief systems. I am not the only one who struggles with this concept & it can be a really destructive thing sometimes.
Here, as we close out another work week, I dive a bit into this topic & show you how you can let go of this mentality & have fun so you can be on the energy frequency of what you want to attract in your life…
Also, someone makes their comeback in their true style in this video so be sure to catch it here… you won't want to miss this ;)
Today's Music: Delight - Who Knew (Instrumental) - Milva & Cool Cat Stumble - T. Morri
─── ・ 。゚☆: .☽ . :☆゚. ───
Coffee, Cards & Pixie Dust podcast https://anchor.fm/pixiepost
Give this a like if you enjoy this kind of content. It lets me know what videos give YOU value. Don't forget to subscribe & hit the notification bell so you don't miss the next video.
💜 To know thyself is to know thy truth. 💜
─── ・ 。゚☆: .☽ . :☆゚. ───
Get a 30 Day Free Trial of Epidemic Sound https://www.epidemicsound.com/referral/cgrnmi/
A Must Have Tool To Grow Your Channel
https://www.tubebuddy.com/pixiepost
💜 This video is not sponsored - affiliate links above are products I fully believe in and use 💜
─── ・ 。゚☆: .☽ . :☆゚. ───
Connect with me on the following social media sites:
Instagram: https://www.instagram.com/pixie_post_dreams/
https://www.instagram.com/timmytheangelkitty
Twitter: https://twitter.com/ThePixiePost
My NEW Store: https://www.zazzle.com/store/pixie_po...
The Pixie Post - http://www.trker.com/go/96848
Pixie Post Facebook Page: http://fb.me/pixiepostwithjennnieto
Hive: https://hive.blog/@pixiepost
PeakD: https://peakd.com/@pixiepost
─── ・ 。゚☆: .☽ . :☆゚. ───
---
▶️ 3Speak