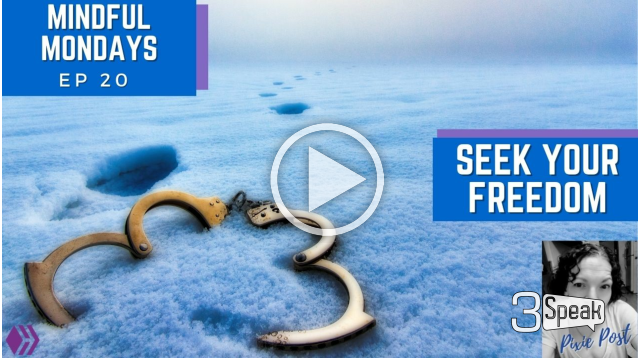 ---
#PixiePost #MindfulMondays #SeekYourFreedom
As we go through life, we have many people who inspire us & keep us going in our own path. Sometimes they appear in your life for a short time as you both learn the lessons you need to learn. Others stay as you build strong bonds & relationships of various forms…
I am constantly inspired by people in my community, both online & offline. It encourages me to keep going in my own own truth & be supportive to others…
However, a month ago, I came across someone that really impacted my life as well as many others. His name is Freedom Seeker aka Brandyn & he has been telling his story on YouTube. As he goes along, it becomes more than that….
It also does away with the excuses that people have when they choose NOT to persevere in life & business...
In today's 20th episode of Mindful Monday, I highlight him as well as others. If you have never watched any of my videos before, do yourself a favor - watch this one & watch his. It will empower you...and maybe allow you to walk away somehow renewed...
Zoltan @ph1102 video:
You Support Me, I Support You .:. The Secret of Engagement
Freedom seeker's video:
Homeless in Las Vegas 2020. My story.
You need to watch this right now. click now. This one is for you...
Infinite Waters (Ralph Smart):
🔴 Infinite Waters - LIVE - The Worldwide Great Awakening
Today's Music: Homeless Soul - Fleurs Douces
─── ・ 。゚☆: .☽ . :☆゚. ───
Coffee, Cards & Pixie Dust podcast https://anchor.fm/pixiepost
Give this a like if you enjoy this kind of content. It lets me know what videos give YOU value. Don't forget to subscribe & hit the notification bell so you don't miss the next video.
💜 To know thyself is to know thy truth. 💜
─── ・ 。゚☆: .☽ . :☆゚. ───
Get a 30 Day Free Trial of Epidemic Sound https://www.epidemicsound.com/referral/cgrnmi/
A Must Have Tool To Grow Your Channel
https://www.tubebuddy.com/pixiepost
💜 This video is not sponsored - affiliate links above are products I fully believe in and use 💜
─── ・ 。゚☆: .☽ . :☆゚. ───
Connect with me on the following social media sites:
Instagram: https://www.instagram.com/pixie_post_dreams/
https://www.instagram.com/timmytheangelkitty
Twitter: https://twitter.com/ThePixiePost
My NEW Store: https://www.zazzle.com/store/pixie_po...
The Pixie Post - http://www.trker.com/go/96848
Pixie Post Facebook Page: http://fb.me/pixiepostwithjennnieto
Hive: https://hive.blog/@pixiepost
PeakD: https://peakd.com/@pixiepost
─── ・ 。゚☆: .☽ . :☆゚. ───
---
▶️ 3Speak