D.Buzz is a microblogging interface on #HIVE! It recently got into Top 10 most popular Hive apps! Microblogging by nature incentives brief messages with as much information in as less words as possible.
All of D.Buzz posts are short microblogs with a maximum of 280 characters per post. It's a HIVE-based Twitter. I read a lot of posts on latest section. Meet me there as I'm using the sub account: @ahmadmangazap!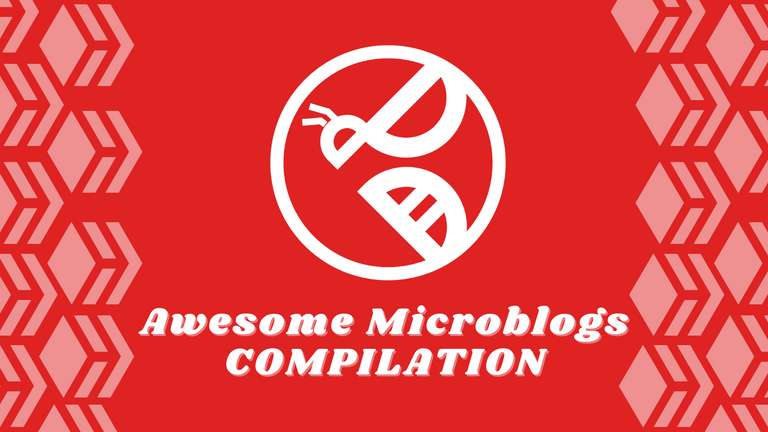 Today's Topic: General/Random Stuff
For the past couple of days, people were more active than ever on D.Buzz that I couldn't keep up, I still read a lot of them and found many amazing posts that are short & informative. Loved seeing Hivians who share a video or article they like.
With my new workflow system. I'm taking Buzzes for future articles as I go, so this compilation is collected over three days and features general stuff/microblogs that don't fit in the #finance compilation I did a couple of days ago.
So as usual: There's won't be a minimum quality for these posts. I just found them interesting or informative. In some way, they stood-out to me enough to compile together:
---
---

When most of the people will understand this picture that time will be the change what we are waiting for.
I love how deep that image is. A group of small fish is working together to overthrow a shark. Kinda like #Hive is brought to life, isn't it?
---

#EmotionSeries Chapter 04: #REGRET

One of the worst emotions there is. This is one of the few negative emotions that haunts us for life. Most of our regrets creep into our minds deep in to our subconscious about what happened in our past.
I believe regret is one of the biggest motivators in life. You regret something, you try to make up for it. As long as you don't fall into a self-destructive spiral, A healthy regret might be one of the best things that will ever happen to you.
---
I'm having trouble claiming my rewards tokens from @neoxian, #palnet, #leo, and others...

Anyone else facing the same problem?... Anyone know a solution?
Sharing this here in case anyone could help. @theb0red1 commented on the issue:
Right, all those tokens are hive-engine tokens so it's probably having issues. I would say don't worry the rewards are still there for you to claim and give it a try tomorrow. I think hive-engine autoclaims now once ever 24hrs too but not 100% sure on that
If someone knows anything, please add to the conversation!
---

Cool! D.Buzz is one of the top 10 now! #DBuzz
Happy to be part of this at this moment!
---
These two are coupled together. Two comments on my buzz. I loved them. I asked "We can spread Knowledge, but do you think we can spread Wisdom?" These two were lovely answers:
Hmmmm, sometimes wisdom must be gained through experience..
And I tend to think that suffering is one of the greatest teachers of wisdom
The truth hurts, but the wisdom gained from it can actually heal.
Miles Kington said, "Knowledge is knowing that a tomato is a fruit. Wisdom is not putting it in a fruit salad." In this way, he taught people to not put tomatoes in their fruit salad. So, yes, wisdom can be spread. :)
---
Ok, this #Dbuzz integration in #3speak is awesome. I just relized that uploading video in 3speak now much easier, thi 2.5GB video only need 10 minute to upload.
This buzz served two things for me:
It made me aware that @threeSpeak embedded DBuzz button & that would lead to many video shares on the platform.
It also reminded me that I have to check 3speak again. With my (relatively) slow internet connection, last time I tested the platform it barely worked. Now I can watch videos at least...
---
---
I'm going to test #3Speak now~ Wish you all a blessed day/night!