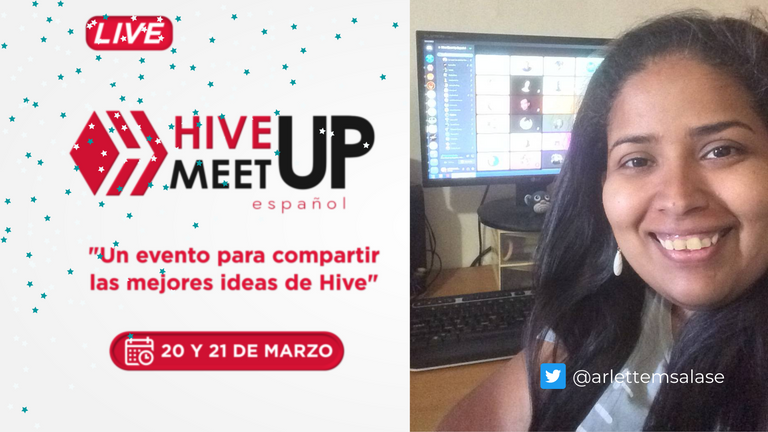 Image owned by @HiveMeetUp and edited by me in Canva
---
El nivel de energía y buena vibra alcanzado por todos nosotros en este #HiveMeetUp fue sencillamente épico, no se imaginan lo muy orgullosa que estoy por estar en el primer cumpleaños de la plataforma y a pocos días de cumplir mi primer año en blockchain, especialmente acá en #Hive. Este se ha convertido en mi hogar, acá conseguí a los seres humanos más geniales que hoy considero mi nueva familia, acá puedo considerar que soy feliz por ser quién soy pero la publicación de hoy está más dirigida a mis impresiones personales sobre el evento y lo haré desde el ojo de espectadora, como lo fui y todo lo hermoso que sentí al ver a mis amigos triunfando cuando les tocó ser ponentes. Sin mucho más que agregar ¡Comencemos!
The level of energy and good vibes reached by all of us in this #HiveMeetUp was simply epic, you can't imagine how proud I am to be on the first birthday of the platform and a few days away from my first year in blockchain, especially here in #Hive. This has become my home, here I got the coolest human beings that today I consider my new family, here I can consider that I am happy for being who I am but today's post is more directed to my personal impressions about the event and I will do it from the eye of a spectator, as I was and all the beautiful thing I felt to see my friends succeeding when it was their turn to be speakers. Without much more to add, let's begin!
---

---
Day 1 - The beginning
---
Ciertamente de este día no tomé captura de pantalla de la abrumadora participación pero fue muy grandioso ver cómo todos los integrantes nos uníamos para participar en este evento. Desde el inicio, mi hermano @ilazramusic nos sorprendió a todos con esa traducción en simultaneo de su español a inglés y viceversa, realmente cada día me sorprende más lo mucho que puede llegar a lograr este genio.
Tuvimos las grandiosas ponencias de nuestro witness de habla hispana @cervantes, de nuestro multifacetico @ylich, el siempre aclamado @fermionico pero sobre todo de nuestras amadas @tripode y @elizabeths14 que se robaron el show y nuestros corazones.
I certainly didn't take a screenshot of the overwhelming participation on this day but it was great to see how all the members joined together to participate in this event. From the beginning, my brother @ilazramusic surprised us all with his simultaneous translation from Spanish to English and vice versa, it really amazes me every day how much this genius can achieve.
We had the great presentations of our Spanish speaking witness @cervantes, our multifaceted @ylich, the always acclaimed @fermionico but above all our beloved @tripode and @elizabeths14 who stole the show and our hearts.
---
1373388275734478854 twitter metadata:YXJsZXR0ZW1zYWxhc2V8fGh0dHBzOi8vdHdpdHRlci5jb20vYXJsZXR0ZW1zYWxhc2Uvc3RhdHVzLzEzNzMzODgyNzU3MzQ0Nzg4NTQgfA== ~~~
---
Luego vino lo que yo llamaría el plato fuerte del día con las participaciones de @blocktrades, @clayborn de #Palnet, @juliakpondsford de NFTShowRoom que nos enamoró a todos locamente con su voz y su personalidad; @eturnex, @nathanmars que es nuestro adorado witness pero también literalmente el jefe de campaña de #HiveTwitter; y para finalizar conocimos sobre el nuevo juego que me explotó la cabeza al conocerlo gracias a @gr33nm4ster que es nada más y nada menos que @hashkings el cual ya él, yo y mi amigo Ilaz compramos terreno, pronto nos verán como altos capos allá.
Excelente charlas de inicio a fin del primer día, todo un movimiento gigantesco para lograr que todo esto sucediera, un equipo súper genial.
Then came what I would call the highlight of the day with the participations of @blocktrades, @clayborn from #Palnet, @juliakpondsford from NFTShowRoom who made us all fall madly in love with her voice and personality; @eturnex, @nathanmars who is our adored witness but also literally the campaign manager of #HiveTwitter; and to finish we learned about the new game that exploded my head when I met him thanks to @gr33nm4ster who is nothing more and nothing less than @hashkings which he, me and my friend Ilaz already bought land, soon you will see us as high capos there.
Excellent talks from start to finish of the first day, a whole gigantic movement to make it all happen, a super cool team.
---

---
Day 2 - Block 2 - The happy ending
---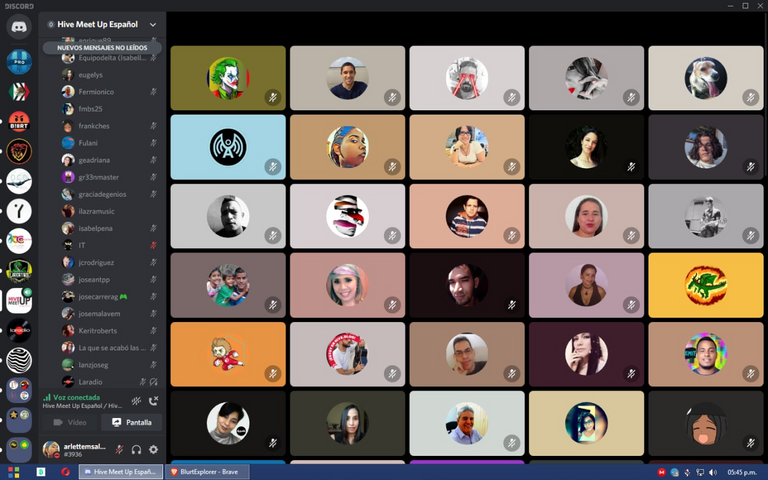 ---
Por motivos personales, no pude estar en el bloque de la mañana pero según me contaron los que sí pudieron participar pues me dijeron que fue tan épico como el bloque del día anterior, una lástima que me lo perdí pero no me permití perderme el bloque de la tarde que comenzó a las 5pm (GTM -4).
For personal reasons, I could not be in the morning block but according to those who were able to participate told me that it was as epic as the previous day's block, a pity that I missed it but I did not allow myself to miss the afternoon block that started at 5pm (GMT -4).
---
Siguiendo el nivel de epicidad del día anterior y de la mañana, comenzó a exponer el amigo @roadstories que nos habló sobre todo lo relacionado al proyecto de curación de @ocd, sobre el token #posh que ya todos usamos y tenemos, también nos habló un poco sobre el alcance que tiene la curación en el lado hispano y sobre las comunidades que OCD está ayudando en su proyecto de incubación en las cuales yo he participado en algunas y espero participar en otras como lo es Hive Pets. Luego de esa explicación y aclaratoria de dudas, entre las cuales estuvo una mía sobre un caso de una amiga cercana, pasamos ahora sí a hablar de la que es la comunidad que más nos enamora y es nada más y nada menos que Hive Pets de la mano de @josecarrerag. Ambas ponencias fueron traducidas al inglés por la increíble voz de @gaeljosser que también lo hizo para el siguiente segmento donde @jauregui98 nos habló un poco del programa "Exprésate con los 5 a las 4" en Pal Net.
Following the level of epicity of the previous day and of the morning, our friend @roadstories began to speak about everything related to the @ocd curation project, about the #posh token that we all use and have, he also told us a little about the scope of curation on the Hispanic side and about the communities that OCD is helping in its incubation project in which I have participated in some and I hope to participate in others such as Hive Pets. After this explanation and clarification of doubts, among which was one of mine about a case of a close friend, we now move on to talk about what is the community that we love the most and is nothing more and nothing less than Hive Pets by the hand of @josecarrerag. Both presentations were translated into English by the incredible voice of @gaeljosser who also did it for the next segment where @jauregui98 told us a little about the program "Exprésate con los 5 a las 4" in Pal Net.
---
1373743969323081728 twitter metadata:YXJsZXR0ZW1zYWxhc2V8fGh0dHBzOi8vdHdpdHRlci5jb20vYXJsZXR0ZW1zYWxhc2Uvc3RhdHVzLzEzNzM3NDM5NjkzMjMwODE3MjggfA== ~~~
---
Siguiendo con estas maravillosas ponencias, le tocó el turno a nuestros amigos de @threespeak, momento en el cual todos deseábamos que apareciera el mismismo @theycallmedan pero @eddiespino llegó a rompernos el corazón con la noticia de que por motivos personales no pudo asistir pero en su lugar apareció el increíble @starkerz que nos explicó todo lo nuevo que traerán, de lo cual creo que sólo entendí la mitad pero esperaré que saquen toda la documentación pertinente para leerla con calma y así poder entender mucho mejor.
Continuing with these wonderful presentations, it was the turn of our friends from @threespeak, moment in which we all wished that @theycallmedan himself would appear but @eddiespino came to break our hearts with the news that for personal reasons he could not attend but in his place appeared the incredible @starkerz who explained everything new they will bring, of which I think I only understood half but I will wait for them to bring out all the relevant documentation to read it calmly so I can understand much better.
---
Casi de forma inmediata apareció el witness @arcange para contarnos un poco sobre su proyecto de recuperación de cuentas llamado @hive.recovery debido a que últimamente la blockchain se ha visto atacada por mucho spam pero principalmente por una fuerte motiva de robo de cuentas y esto se debe también a que muchos han emigrado a Hive pero no han realizado la migración completa de cambio de claves + cambio de cuenta recovery y él nos recalcó lo importante de hacerlo para evitar principalmente este tipo de situaciones. También nos habló de un regalo sumamente especial que es un badge que sólo se le otorgará a todos los asistentes que se queden hasta el final del día.
Almost immediately appeared the witness @arcange to tell us a little about his account recovery project called @hive.recovery because lately the blockchain has been attacked by a lot of spam but mainly by a strong motive of account theft and this is also because many have migrated to Hive but have not made the complete migration of key change + recovery account change and he stressed how important it is to do so to avoid such situations. He also told us about a very special gift which is a badge that will only be given to all attendees who stay until the end of the day.
---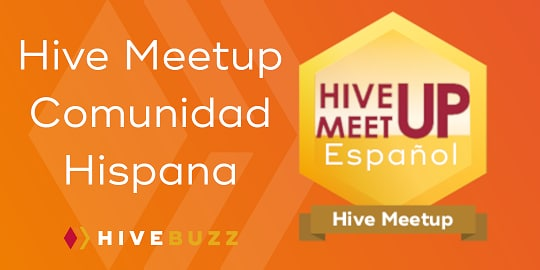 Image property of @HiveBuzz
---
Después de la excelente pausa musical que nos brindó @eugelys e @ilazramusic, nos dirigimos a la siguiente parte del evento donde hablaron @eddiespino por el equipo de @hivemexico, @fuerza-hispana también nos habló un poco de su proyecto y no pudo faltar tampoco @hispapro. Estuve muy atenta y orgullosa porque de estos equipos soy parte desde el año pasado y me da mucho orgullo verlos triunfar. Luego nos deleitó el amigo @garybilbao hablando sobre el proyecto @elcomentador y para terminar este bloque nos habló @josuemonterola sobre una comunidad que nació hace poco llamada Hive Motors.
After the excellent musical break provided by @eugelys and @ilazramusic, we headed to the next part of the event where @eddiespino spoke for the @hivemexico team, @fuerza-hispana also spoke a little about their project and @hispapro couldn't miss it either. I was very attentive and proud because I have been part of these teams since last year and I am very proud to see them succeed. Then we were delighted by our friend @garybilbao talking about the @elcomentador project and to finish this block @josuemonterola told us about a community that was born recently called Hive Motors.
---
Creo a nivel muy personal que este evento no pudeo terminar mejor que como lo hizo con la maravillosa participación de nuestra witness @crimsonclad que es parte de proyectos como Palnet, NFTShowRoom y gracias a su maravillosa sapiencia nos aclaró muchas dudas referente a muchas cosas. También nos enamoró con su maravillosa voz, lo cual hizo que todos los hombres y mujer (admito que yo me aloqué) estuvieran como fan girls todo el rato que estuvo hablando. Entre las preguntas que estuvieron, a mí se me ocurrió preguntarle cómo se llamaba, cosa que admito nunca pensé que respondería y resultó que sí lo hizo, lo cual nos permitió conocer un easter egg de Hive y de ella que es sobre que la primera ilustración creada para GINAbot fue creada basada en una fotografía de ella, lo cual volvió a todos locos (más de lo que ya estabamos) y nos encantó tener esta primicia para cerrar esta maravillosa velada.
I think on a very personal level that this event could not end better than it did with the wonderful participation of our witness @crimsonclad who is part of projects such as Palnet, NFTShowRoom and thanks to her wonderful wisdom she clarified many doubts about many things. She also made us fall in love with her wonderful voice, which made all the men and women (I admit that I was a fan girl the whole time she was talking. Among the questions that were there, it occurred to me to ask her what was her name, which I admit I never thought she would answer and it turned out that she did, which allowed us to know a easter egg of Hive and her which is that the first illustration created for GINAbot was created based on a photograph of her, which drove everyone crazy (more than we already were) and we were delighted to have this scoop to close this wonderful evening.
---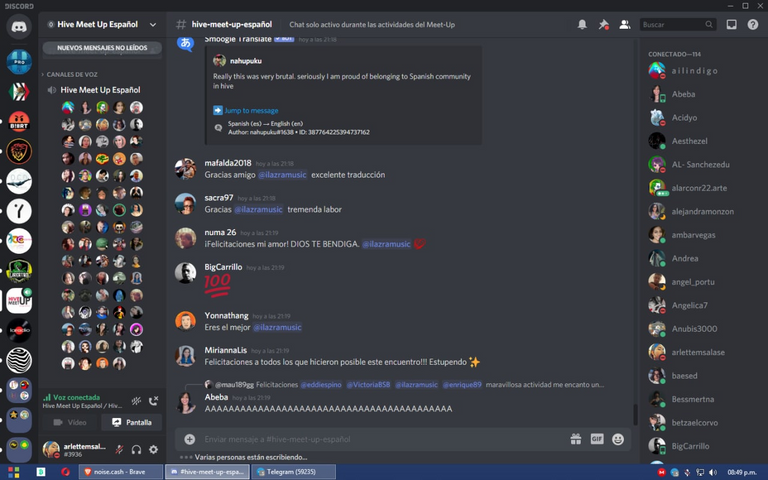 ---

---
Final words
---
El equipo organizador representado, para mí, por el grandioso @ilazramusic seguido de la querida @victoriabsb, el siempre adorado @eddiespino y de último, pero jamás menos importante, @enrique89. Le doy un aplauso de pie a todos ustedes por la labor titánica que realizaron al organizar todo lo necesario para hacer realidad este evento. Me quedo sin palabra ante la majestuosidad de su team work y cuando sea grande, quiero ser como ustedes.
The organizing team represented, for me, by the great @ilazramusic followed by the beloved @victoriabsb, the always adored @eddiespino and last but never least, @enrique89. I give a standing ovation to all of you for the titanic work you did in organizing everything necessary to make this event a reality. I am speechless before the majesty of your team work and when I grow up, I want to be like you.
---
Al team work al que pertenezco que son mis amigos de @hivemexico y de @hispapro comandado por @yonnathang, muchas gracias por participar en el evento, gracias por representar a la comunidad hispana como lo hacen y muchas gracias por tomar en cuenta mi trabajo dentro de sus filas como lo hicieron, se los agradezco.
To the team work I belong to, my friends from @hivemexico and @hispapro led by @yonnathang, thank you very much for participating in the event, thank you for representing the Hispanic community as you do and thank you very much for taking into account my work within your ranks as you did, I appreciate it.
---
A todos los ponentes de ambos días, a los que pude y a los que no pude oir, les agradezco muchísimo por invertir su tiempo en nosotros, en este evento y por notar, por hacer parte y por querer hacernos parte porque Hive somos todos, este evento me lo comprobó con creces.
To all the speakers of both days, those I could and those I could not hear, I thank you very much for investing your time in us, in this event and for noticing, for being part of it and for wanting to be part of it because Hive is all of us, this event proved it to me.
---
Agradecida también con todos y cada uno de los usuarios que hicieron parte del eventos ambos días, por hacer un espacio en sus agendas para festejar todos juntos ser parte de la misma blockchain, de la misma familia.
I am also grateful to each and every one of the users who were part of the event both days, for making a space in their agendas to celebrate all together being part of the same blockchain, of the same family.
@malomi, @Daniel2001, @lanzjoseg, @mayllerlys, @edwing357, @keritroberts, @Nathyortiz, @byercatire, @dimeshana, @frankches, @Andrewmusic, @fmbs25, @Soyunasantacruz, @zullyscott, @samgiset, @alarconr22.arte, @cibersk8, @bigcarrillo, @paultactico2, @fragozar01, @abeba, @dracrow, @Leticiapereira, @Nahupuku, @jurbinaper, @xandra79, @ochitoalreves, @chaodietas, @geadriana, @garybilbao, @ykroys, @yetsimar, @revivemyheart, @mafalda2018, @lucianav, @slwzl, @Sacra97, @numa26, @lisfabian, @miguelmederico, @letza, @graciadegenios, @mau189gg, @darkfemme, @nameless16, @Carolinacardoza, @irenenavarroart, @angelica7, @ceparl, @valeryc, @baesed, @antoniarhuiz, @Askabal, @marybellrg, @joseantpp, @miriannalis, @eglois, @Luis96xd, @antoniojoseha, @sugarelys, @mariale07, @maryed, @yazp, @suanky, @maleidamarcano, @javyeslava.photo, @Isabelpena, @acont, @franzzonline
---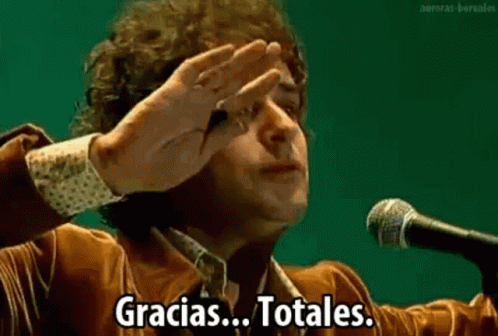 ---

---

---

|

|

|

|

|

Banner and separator created by me in Canva | Icons are part of Icons8 | English translations made with DeepL