Do you feel reluctant to carry out more transactions on Uniswap DEX because of high GAS charges on Ethereum Neowrk these days? Looking for a non-custodial DEX with spot as well as derivative trading features without the hassle of spending GAS fee? Here's comes the news!
Cryptocurrency derivatives Exchange FTX is launching the world's first completely decentralized spot & derivatives exchange within next couple of weeks.
And unlike others, it won't be on Ethereum blockchain though it will be able to support all ERC20 tokens on its Exchange. Of course, it will have wrapped ETH, ERC-20s, BTC, BCH, LTC, BSV and ZEC on it.
Yes, it will have cross-chain capability to trustlessly swap assets between chains without involving any centralized entity.
It's called Serum.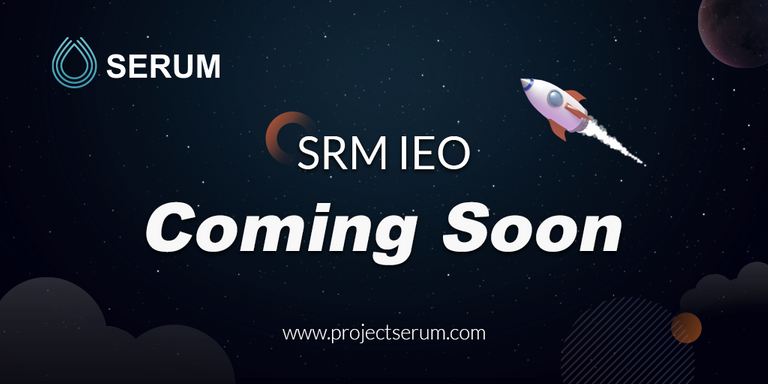 It claims to support the best technologies of Centralized Exchanges but with decentralized oracles. It will also support automated market making bots to provide depth to its Orderbooks. It also hopes to solve onchain stablecoin dilemma without depending on any centralized bank. It's doing that by introducing a diversified SerumUSD. A basket of stable coin is created as SerumUSD.BASK and it takes the median of one. Read more on it in its White Paper.
Did you notice, I said Orderbooks? Yes, unlike Uniswap Exchange, Serum will have CLOB (Central Limit Order Book) on its interface.
Serum is being launched on the ultra fast Solana blockchain.
It's native token SRM and MSRM (mega SRM represents 1 milion SRM and is a must have for running a master node) will be available through an IEO on FTX Exchange. Detials of which will be released tomorrow.
Project Serum boasts of a long list of well known partners including Kyber Network, 3 Commas, CoinGecko, Tomochain, Solana, Multicoin Capital. Genesis Block, CMS, FTX and many more. Fouders of Compound, Tomochain, FTX, Business Development Head of BitMax etc. are on the list of its Advisors.
Although I ain't participating in this IEO, I'm keeping an eye on this project. Here is its White Paper, if you too wanna give a look.
Holding SRM or MSRM entitles you for 50% or 60% discount on fee respectively. All net fee collected is burnt. So it should contribute to token scarcity and help its prices in the long run.
Are you any excited for this project?