ICO blockchain is one project where development and partnerships are being worked out continuously without any hype. Yes, there was time when ICON blockchain was heralded as "Ethereum of Korea" or "Network of Blockchain Networks"; but people soon forget such attributions. But ICON & ICONLOOP team kept working tirelessly.
While most blockchain projects are trying to gain mass adoption through encouraging development of several dapps and onboarding users to those dapps, ICON has followed a top down approach. It's not focussing on those gaming, gambling or defi dapps which every blockchain is after, to show the usecases and high transaction thoroughput; but on usecases that affects everyday life of commonman.
If you know about ICON blockchain ecosystem (ticker ICX), you must have heard the names like ICONLOOP, BROOF, MyID Alliance, VisitMe, ICONICK, BTP etc.
ICONLOOP is working in close association with South Korean government and top corporates. ICONLOOP's solutions on private chain are linked to ICON's public chain through BTP. It's trying to address the problem faced by people of the need to repeatedly providing their identity with KYC documents, official letters, students' degree certificates etc. at various places, by establishing a Distributed Identity system (DID) in South Korea. But merely developing a solution isn't enough. Every organization and government department should agree to adopt a common blockchain standard before it could become practical.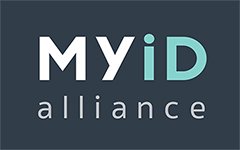 Last November, with MyID Alliance, it announced an alliance of several major players of South Korea. Today, MyID alliance has about 73 members that includes large corporates (like Samsung, LG etc.), top banks & financial institutes, major cryptocurrency exchanges in South Korea, insurance companies, etc. With new members joining hands regularly, it hopes to increase its membership count to 100 by this year end.
COVID-19 Contact Tracing over Blockchain with Data Sovereignity
Today, MyID is formally launched with its first comercial service - a mobile app Zzeung in Jeju Island.
Jeju Island is a popular tourist place in South Korea with 15 M visitors every year. These visitors will be required to interact with ICON blockchain through Zzeung app for private and secure COIVD 19 contact tracing. Visitors data will be kept private unless one is discovered to be Covid 19 positive. On discovering a COVID-19 case, a rapid epidemiological investigation and tracing can be made possible by an authority like Jeju's crisis response team.
Check further details in the official English press release/news here.
By September, the operation will be expanded to all 8 districts of this island. Similarly other dapps like BROOF are already being used by top South Korean universities to award degrees to students over blockchain. Seoul is being developed into smart city with blockchain integration by 2022. Several departments have already started integrating blockchain based solutions.
No doubt, ICON has become the top blockchain in South Korea. With projects like these, millions of users will be interacting with ICON blockchain in the near future. Does all these tell you something about the potential price of ICX? (Also keep in mind that staking rewards are already enabled on ICX). Let's talk.