If like me, you too do some small transactions on Ethereum network then you must be wondering why Gas charges have become so high in past few months. Of course, we know that we need to pay higher Gas fee to the miners when the network is congested but why is Ehthereum blockchain has became so congested?
Everyone used to tell me that it's because of the DeFi craze. Yes, Defi has become the buzz word of the year 2020, locking over 3 billion worth of assets. But we shouldn't forget that the total amount transferred by a transaction is independent of the transaction fee. Then what's clogging the network?
Could it be some Ponzi?
When correlating Ponzi schemes with Ethereum network congestion, some confusion arises about the incident of moving a huge 789,500 ETH from Plus token ponzi scheme operators by splitting the transaction into dozens of addresses. But this many transactions can't congest the whole network. In fact,it was the other way round. Those transactions couldn't complete because of lower gas fee accompanying them.
The more relevant case is of re-emrgence of Russian ponzi scheme MMM. However, we don't know the nature of this new ponzi scheme but since it belongs to MMM address, we suspect it to be some ponzi. With about $5.89M worth of PAX tokens accumilated in this account in a short period and which is constantly rising, A researcher Frank Topbottom pointed that this address was clogging the network back in April: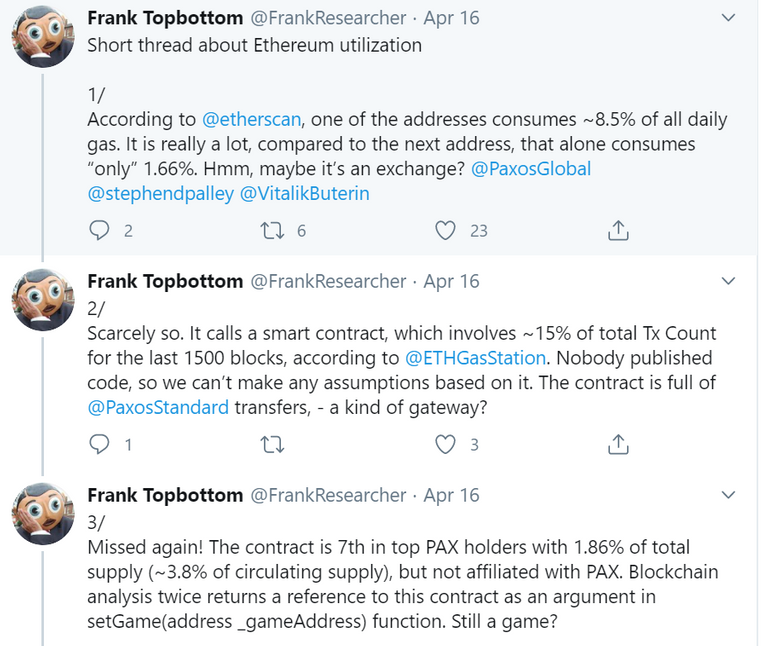 Over a million transaactions of zero or negligible amount flooded MMM Global address with low transaction fee and henced marked "pending".
Ponzi schemes generally create a contract address on Ethereum blockchain and ask some small amount to be sent to it for registering the address through their smartcontract. These tansactions may need 4x the computational power than normal transactions.
Heard of this new ponzi called Forsage?
Forsage seems to be the latest Ponzi on Ethereum that is contributing to netowrk congestion. I am not linking to thieir website or their project video here. Disguising themselves as some "international crowd funding platform", they are a typical multi-level chain scheme with two models X3 & X4 to grow your network.
They also clog the network through numerous negligible amount transactions. Here's how Crypto Briefing explains about its smartcontract:
A look at Forsage's smart-contract shows that it only has two methods that a user can call: "buyNewLevel" and "registrationExt." While the first method consumes around 150,000 Gas units like other DeFi smart contracts, the second consumes almost four times as much.
Forsage is currently the top Dapps according to the no. of transactions in ETH dapps on Dapp Radar:

It also seems to be the top 2 ETH spender according to ETH Gas Station: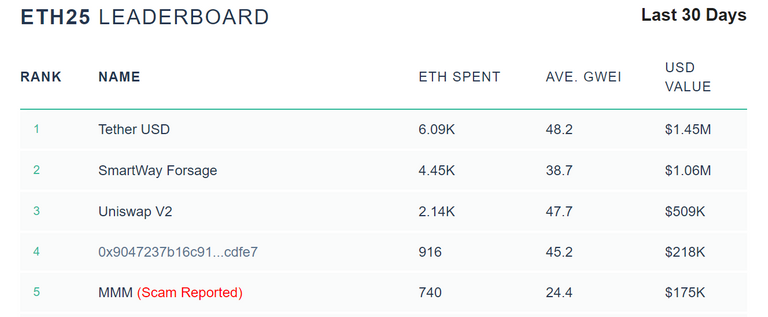 Although MMM is already marked in red as Scam Reported by ETH Gas Station, Forsage is still not marked as such. But Dapp Radar has categorized it as "High-Risk".
Whether there are ponzi schemes or not, Ethereum is a neutral decentralized blockchain and should be able to scale up to accommodate all kinds of transactions without burning a huge hole in pockets of small users like me. With these hopes, I'm excitedly waiting for ETH 2.0.