India based startup Neo Network has been a huge success in the DeFi field. With over 45 M in total locked value, it is the #5 DeFi protocol globally and leading one in Asian market.
Launched by Varun Deshpande, Siddharth Verma and Ratnesh Ray in 2018, Nuo Protocol is built upon Ethereum blockchain. So it supports only ERC20 based crypto assets (including wrapped BTC).
But with the recent success of DeFi products, it has become out of reach of retail investors as it has caught the interest of big institutional investors & whales. These investors don't care to pay a gas fee as high as $100 for a single transaction to move their funds. So these productts are becoming infeasible for the use of small investors. Of course, second layer networks and ETH 2.0 can solve this but the wait is becoming longer and longer.
On the other hand, current crypto products are still not user-friendly for mass adoption of cryptocurrencies. Compared to 85M investors in India who invest in mutual funds & stocks, only half a million had crypto wallets at the time of 2017-18 BTC bull run. Today, one estimate suggests, only about 100,000 crypto users are active in India. This makes India the biggest market among large economies that is ready to be tapped.
So Nuo Capital is focussing on Asia market starting with building a fiat on-ramp product in India and launching Nuo.Exchange on the Independence Day i.e. 15th August.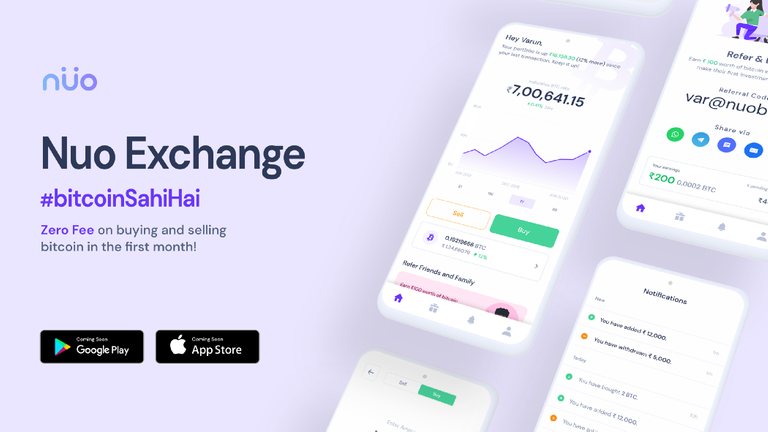 Nuo Exchange has partnered with two leading Indian crypto Exchanges - WazirX and Bitbns for sourcing liquidity of crypto assets.
They are focussing on providing a great user experience to average investors by making investing in crypto as easy as investing in stocks or mutual funds. Investment can be made through multiple channels like debit card, netbanking, bank transfer or using a UPI app like Google Pay or PayTM.
KYC process will also be automated for instant verification using Aadhaar card. If a user faces any difficulty, they will be providing live chat support for instant help.
As an introductory offer, all crypto investments until September 2020 will be zero-fee.
And cherry on the top is they are offering guaranteed random rewards through scratch cards for every investment. Reward will be in proportion to the size of investment subject to some minimum rewards for every crypto purchase.
To completely focus on this new product, it has paused all new orders for Lend, Borrow, Margin Trade and Swap on Nuo Network from 3rd August, 10 am PST. Check their official announcement regarding this here