Welcome to the Daily Crypto News: A complete News Review, Coin Calendar and Analysis.

Enjoy!
As bitcoin struggles to hold the $10,700 price range Uniswap's September volume set records but appears to be declining.
Bitcoin (BTC) trading around $10,757 as of 20:00 UTC (4 p.m. ET). Slipping 1% over the previous 24 hours.
Bitcoin's 24-hour range: $10,621-$10,924
BTC above its 10-day moving average but below the 50-day, a sideways signal for market technicians.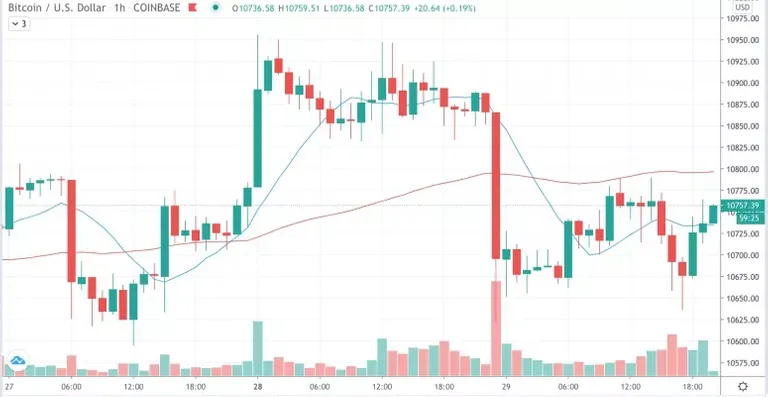 Katie Stockton, analyst for Fairlead Strategies, says cryptocurrencies like bitcoin are affected by traditional markets, particularly equities, which are considered "risk-off" or liquid assets that can easily be sold during a market slide.
"Bitcoin has been attuned to the day-to-day moves in risk assets, but the end result of the intraday volatility is a consolidation phase on the chart," said Stockton. "Short-term momentum has improved with equities, so I expect the consolidation to give way to a move that leaves support near $10,000 intact."
Indeed, U.S. Treasury yields have dropped in 2020 – the two-year maturity is at its lowest yield in over 10 years.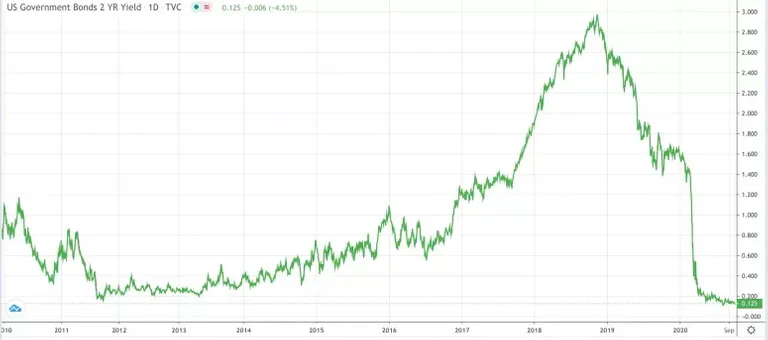 Uniswap volume dips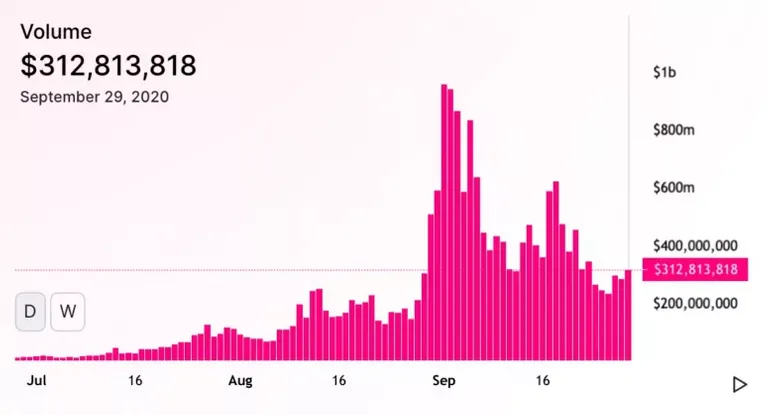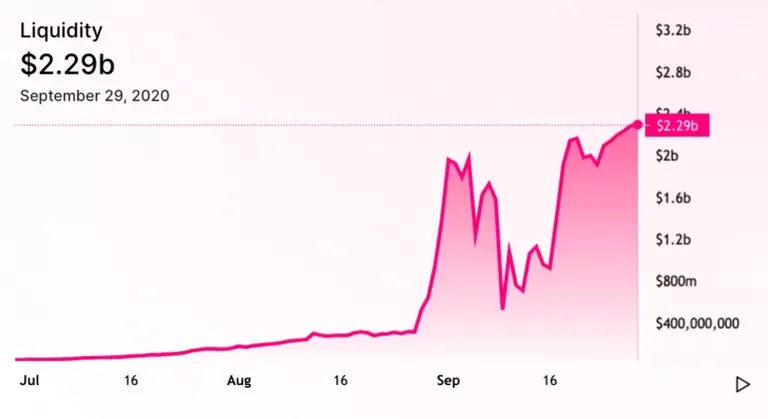 Over the last few months, DeFi protocols including Yearn.Finance, Compound, Synthetix, and Chainlink have seen their token prices go through the roof, sparking talk that the long-awaited bull market might be here.
The DeFi boom is built on Ethereum and propelled ETH's price rise from $100 in March to $470 in August.

To better understand what's going on here, let's look at a rolling 7-day metric using the ratio of assets making new 30 day highs less a ratio of those making 30 days lows. The chart shows bearish levels not seen since the selloff in March of this year — but thankfully still a long way off the depths of crypto winter in 2018.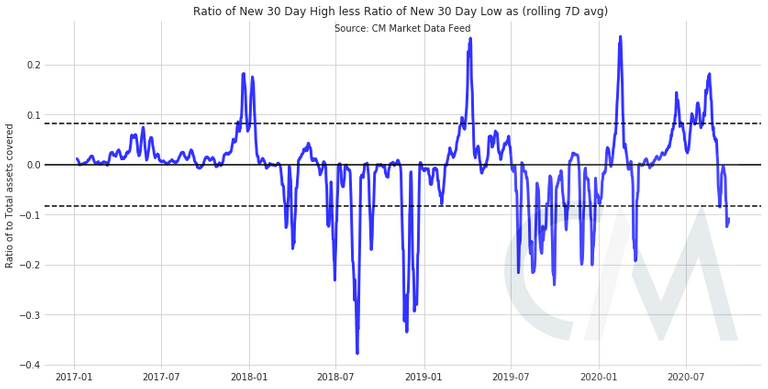 Binance CEO Changpeng "CZ" Zhao acknowledges the contradictions inherent in trying to tap into the fast-growing business of decentralized finance, or DeFi, while trying to defend his company's reign as the world's largest cryptocurrency exchange.
The company's new foray into DeFi, Binance Smart Chain, attempts to replicate some of the features of the Ethereum blockchain that have proven fertile for developers building decentralized, blockchain-based trading and lending applications that theoretically could one day challenge traditional lenders and Wall Street trading firms. But DeFi could also threaten big cryptocurrency exchanges like his own.
Link to the Coindesk Video
At this stage, with planned tokenization of both gold and the local currency Norwegian krone (NOK) in the works, Norwegian Block Exchange (NBX) is set to prioritize regional growth over global expansion, NBX Co-Founder and Managing Director Stig Kjos-Mathisen told Cryptonews.com.
"The next year, NBX will focus on offering trading pairs, services, and products that are attractive to the Nordic market," NBX's Kjos-Mathisen said, adding that they view "a strong foothold in the Nordics" as an important stepping stone on the way to offer global services.
A recent update from the company, affiliated with troubled low-cost airline Norwegian Air, showed that the average trading volume is well below USD 1m per month.
Among the regionally-focused products are both gold and a tokenized NOK, which will open up access to crypto lending and borrowing protocols for stablecoins pegged to other currencies than the USD, the executive said. He added that the company sees this as an important goal for the exchange, given "how vulnerable today's payment infrastructure is."
Coinbase CEO Brian Armstrong sent his employees a letter telling them to get in line with a new company "culture shift," offering those unwilling to do so a "generous separation package."
Armstrong sent the letter, which CoinDesk obtained, to Coinbase employees on Wednesday, stating the time has come to have a "difficult conversation" over his recent clarification of Coinbase's mission.
A person close to the situation and speaking under condition of anonymity confirmed the letter was real and said Coinbase recognized certain employees weren't comfortable with the new direction.
Armstrong wrote that Coinbase had "an apolitical culture" in an open letter published Sunday that said the exchange would not engage in "broader societal issues" or entertain employee discussions about these issues.
🗞 Daily Crypto Calendar, September, 30th💰

"We will be conducting a live #RPD coin burn, reducing our total supply by 5,000,000,000."
"Launch interest bearing accounts, credit and lending within the wallet," during Q3 2020.
"Create assets veiled in cryptographic secrecy and send them across the galaxy, through the vast amounts of dark matter, and back."
"... With plans to launch a testnet in September."
"XRPL Labs expects to release the 0.7.0 beta version in late Q3 of this year..."
"... Hopefully allowing for a smooth first testnet launch at the end of September."
Last Updates


➡️ Be paid daily to browse with Brave Internet Browser
➡️ A secure and easy wallet to use: Atomic Wallet
➡️ Youtube
➡️ Twitter
➡️ Hive
➡️ Publish0x
➡️ UpTrennd
➡️ Read.cash
➡️ LBRY
➡️ Check out my video on Unstoppable Domains and get 10$ off a 40$ domain purchase
➡️ Get 50$ free by ordering a free Visa Card on Crypto.com using this link or using this code qs4ha45pvh


20% of this article rewards wil go to the @hodl-fund account in order to support HODL Community Initiatives.
Find out more about HODL Community: Crypto Social Community and by following our community account @hodlcommunity

If you would like to delegate some HP to our community and support us; we give you back 90% of the curation rewards on a daily basis ! APR > 12% !
500 HP - 1000 HP - 2500 HP - 5000 HP
Make a good APR Curation by following our HIVE trail here