Welcome to the Daily Crypto News: A complete News Review, Coin Calendar and Analysis.
Enjoy!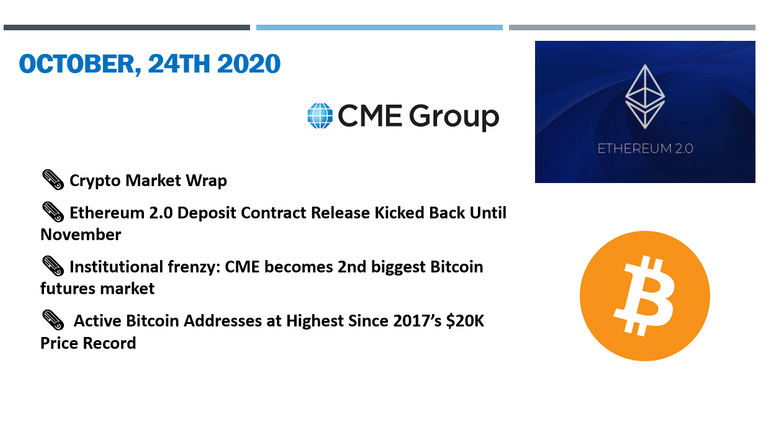 Bitcoin has pulled back from 2020's highs while ether slips as DeFi cools off.
Bitcoin (BTC) trading around $12,919.97 as of 20:00 UTC (4 p.m. ET). Slipping 1.36% over the previous 24 hours.
Bitcoin's 24-hour range: $12,731.06-$13,192.25.
Bitcoin's price had a minor pullback Friday after hitting fresh new 2020 highs that put it above $13,000 in the past week. However, analysts and traders said they were not surprised at all by the recent moves.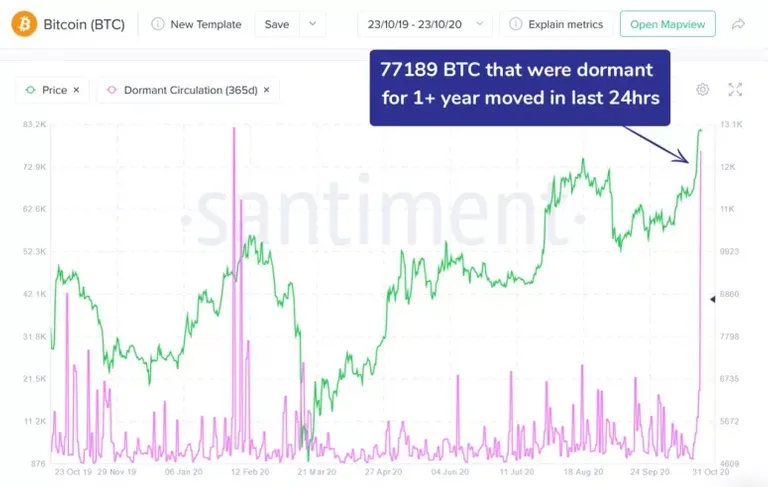 "A renewed activity of long-term BTC investors often means increased price volatility up ahead," Dino Ibisbegovic, market analyst at Santiment, told CoinDesk. "Similar spikes – particularly during price rallies – have typically earmarked periods of price consolidation or short-term corrections in the past."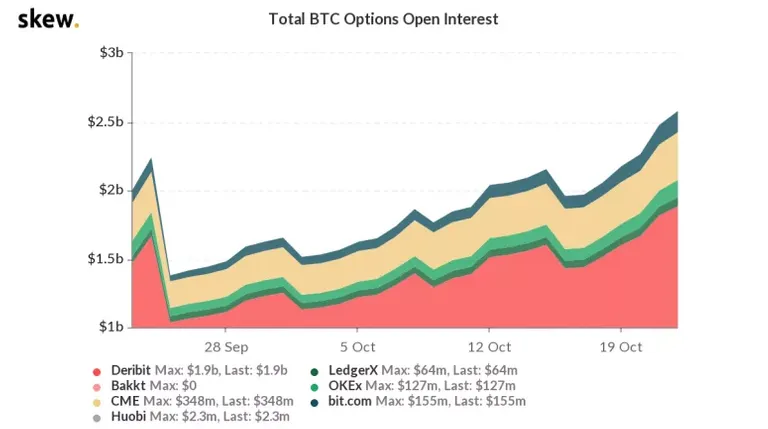 Ether slips as DeFi cools off
Priced in bitcoin, the token started to reverse some of the gains made mid-Thursday when ETH/BTC spiked 4% in two hours, down 2% from the daily high and trading at 0.0317 BTC per ether and continuing the downward trend since the week's open for bitcoin-based trading pair.
Ether's decline against bitcoin may signal a continued cooling of alternate cryptocurrencies (altcoins). Taking to Twitter, leading markets data provider Skew noted ether's downward trend, asking rhetorically, "Altseason on pause?"
The Ethereum 2.0 deposit contract is a few weeks away at least, according to Ethereum Foundation researcher Danny Ryan.
Speaking Thursday on the Bankless podcast, Ryan said the deposit contract won't go live until it receives a thumbs up on an audit of a critical crypto library, BLST, performed by cryptography audit firm NCC Group.
"This library is critical to creating keys, signing messages. Critical, in early phases, [means] that if you use this library, they need to be secure; if you use it to generate your wallets, it needs to have good randomness; and if you are signing your deposits which have a signature associated, it needs to be correct," Ryan said. "Given that how critical this library is, and given that, if there is a fundamental error in this library we could fck some sht up in terms of genesis deposits, that is the blocker," he said.
The Chicago Mercantile Exchange (CME) just became the second-biggest Bitcoin futures exchange in open interest behind OKEx, buoyed by rising institutional demand.
The CME Bitcoin futures market overtook Binance Futures to become the second-biggest Bitcoin (BTC) futures exchange by open interest. The data shows that the institutional volume is rapidly gaining a larger share of the cryptocurrency market.
On Oct. 10, Skew reported that the CME Bitcoin futures market's open interest rose sharply by 1,500 contracts. Since then, within three days, the price of BTC surged 9% to over $13,000.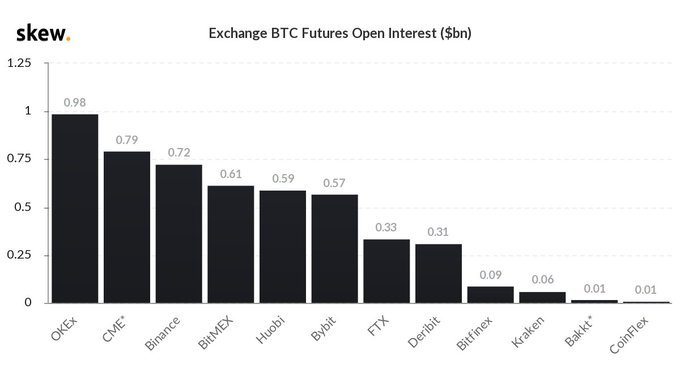 A clear spike in institutional demand for Bitcoin in a short period
For many years, the Bitcoin futures market was dominated by two key players: BitMEX and OKEx. In the past year, new-generation futures exchanges began to swiftly expand, which led Binance Futures, Bybit, and Huobi to compete against the likes of BitMEX.
The CME launched its Bitcoin futures contracts on Dec. 17, 2017. Within a span of three years, it evolved into the second-largest BTC futures exchange by open interest, Skew reports.
Would the institutional frenzy continue?
High profile investors, like Chamath Palihapitiya, the CEO of Social Capital, believes more banks and institutions would soon support Bitcoin. He said:
"After PayPal'a news, every major bank is having a meeting about how to support bitcoin. It's no longer optional."
Active user participation in Bitcoin's network has accelerated to levels last seen in December 2017, when the cryptocurrency printed record highs near $20,0000.
The number of active entities, or clusters of addresses controlled by a single network participant, jumped to 388,697 on Thursday, the highest since Dec. 9, 2017, according to data source Glassnode.
The metric has more than doubled in the past five days alongside bitcoin's rally from $11,350 to $13,300.
"It shows active participation in bitcoin is growing," a spokesperson for FCA-regulated crypto index provider CF Benchmarks told CoinDesk.
"Against the backdrop of PayPal's announcement this week, it makes a lot of sense that interest in bitcoin is once again intensifying to heights not seen since late 2017," the spokesperson added.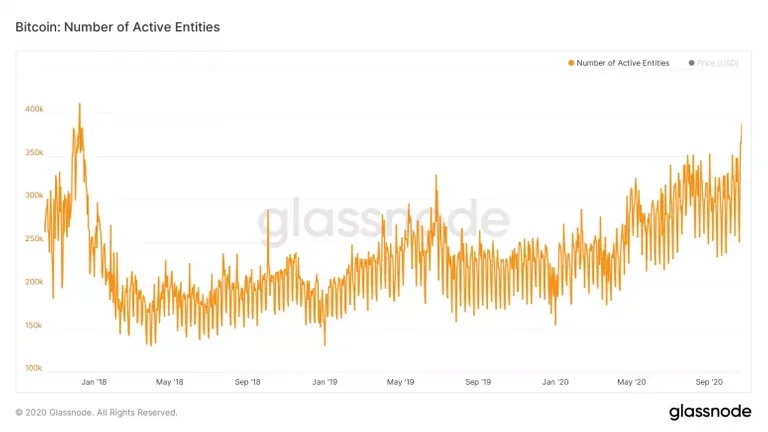 🗞 Daily Crypto Calendar, October, 24th💰

Blockchain specialists, crypto enthusiasts and UVU holders - will be invited to Poland for 1st meetup.We will show our results and features.
"We are pleased to announce that @AaveAave AAVE token will be listed on 24th Oct 2020. Pair: #AAVE/#USDT"
"We are pleased to announce that @renprotocol REN token will be listed on 24th Oct 2020."
"Live on @THETAtv this Thursday & Friday. Q&A exclusively available during the @BlockDownConf at theta.tv/blockdown"
"We are pleased to announce that EOS @block_one_ will be listed on 24th Oct 2020."
"OXT/BTC, OXT/USDT trading will be effective on October 24, 2020."
Last Updates


➡️ Be paid daily to browse with Brave Internet Browser
➡️ A secure and easy wallet to use: Atomic Wallet
➡️ Invest and Trade on Binance and get a % of fees back
➡️ Youtube
➡️ Twitter
➡️ Hive
➡️ Publish0x
➡️ UpTrennd
➡️ Read.cash
➡️ LBRY
➡️ Check out my video on Unstoppable Domains and get 10$ off a 40$ domain purchase
➡️ Get 50$ free by ordering a free Visa Card on Crypto.com using this link or using this code qs4ha45pvh


20% of this article rewards wil go to the @hodl-fund account in order to support HODL Community Initiatives.
Find out more about HODL Community: Crypto Social Community and by following our community account @hodlcommunity

If you would like to delegate some HP to our community and support us; we give you back 90% of the curation rewards on a daily basis ! APR > 12% !
500 HP - 1000 HP - 2500 HP - 5000 HP
Make a good APR Curation by following our HIVE trail here