Welcome to the Daily Crypto News: A complete News Review, Coin Calendar and Analysis.
Enjoy!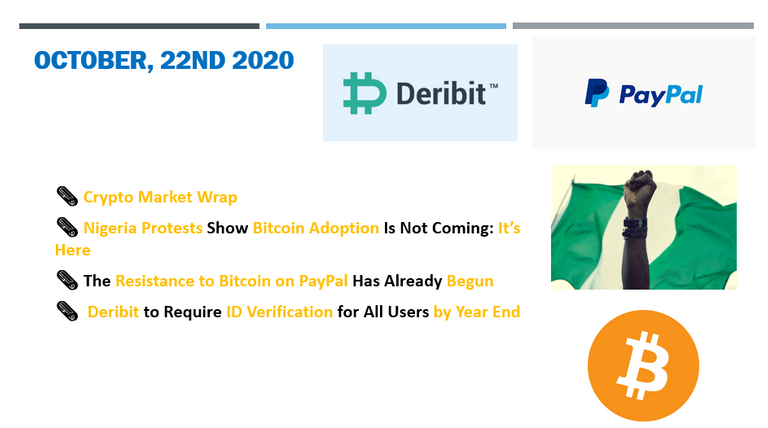 Daily Crypto News Video coming in an hour, below is yesterday's.
On Oct. 21 Bitcoin (BTC) price overtook the $13K mark to reach $13,217 after traders took out key resistance levels at $11,900, $12,000, and $12,500 in the last 48-hours. While there are various technical reasons behind the abrupt upsurge, there are three key factors buoying the rally.
The three catalysts are a favorable technical structure, PayPal enabling cryptocurrency purchases, and Bitcoin's rising dominance rate.
PayPal's crypto announcement adds to BTC's momentum
Earlier today, PayPal officially announced that it is allowing users to buy and sell cryptocurrencies, including Bitcoin.
"We are eager to work with central banks and regulators around the world to offer our support, and to meaningfully contribute to shaping the role that digital currencies will play in the future of global finance and commerce."
"Bitcoin passing $13,000 today, a 16-month high, demonstrates that this trend is only picking up pace. That PayPal, a household name, has received a conditional BitLicense is likely propelling bullish sentiment. Today is significant as a signpost for further price appreciation in the future… the point by which mainstream media and 'mom and pop' retail investors may soon start to show interest in the asset, as they did in late 2017."
Bitcoin dominance is rising
In the past week, Bitcoin has outperformed alternative cryptocurrencies, decentralized finance (DeFi) tokens, and Ethereum.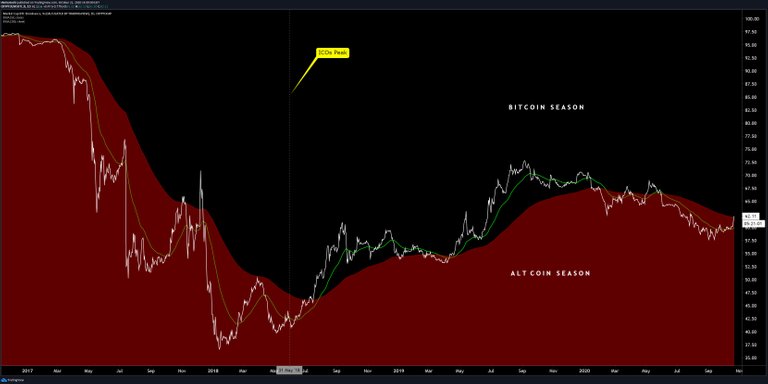 BTC shows a bullish high time frame structure
Throughout October, traders have pinpointed the favorable technical structure of Bitcoin on the higher time frames.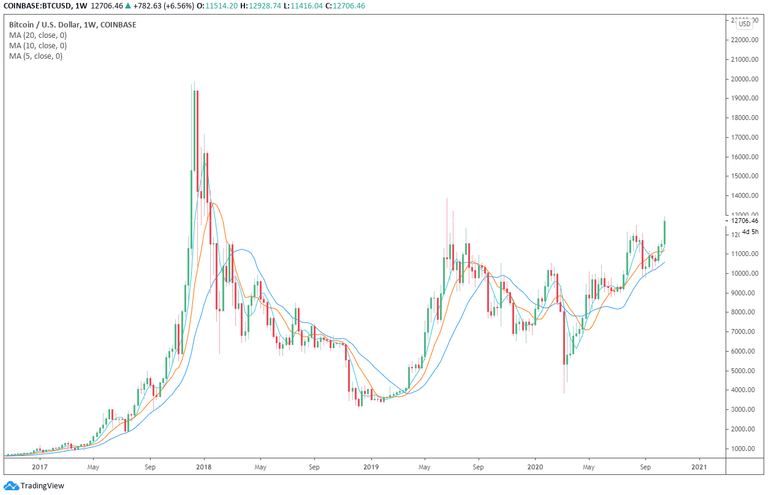 As protests sweep across the country, with multiple regions placed under curfew, Nigerians are using social media and bitcoin in their fight against police corruption.
Nigerians called for the disbandment of the special anti-robbery squad (SARS) in 2017, and the government supposedly complied. But after reports of SARS officers allegedly killing a young boy in southern Nigeria surfaced on Oct. 3 of this year, protests erupted again. The police unit stands accused of illegal killings, extortion and torture of innocent civilians: many of its victims over the years were young men between the ages of 18 and 35.
On Oct. 9, Yele Bademosi, CEO of Binance-backed payments app Bundle, took to Twitter to share his own brutal encounter with SARS. Youths marched through the streets of Lagos while the hashtag #EndSARS went viral on social media, leading to protests in countries with large Nigerian diaspora populations including the U.K., U.S., Canada and Germany.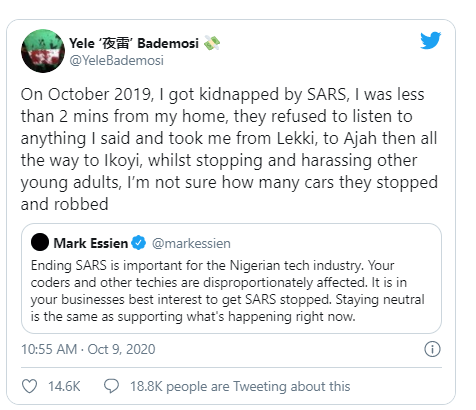 The next day, Bademosi's firm set up crypto wallets to help raise funds for the protests, highlighting projects already underway. Local activist groups such as the Feminist Coalition had already started raising funds in multiple fiat currencies to help sustain the protests.
Scale of Adoption
In late 2018, Ahmed Rasheed, 29, opened a bitcoin wallet for his unborn daughter in Nigeria's southwestern state of Oyo.
The previous year, after a friend had introduced him to crypto, he quickly amassed $720, the equivalent of his six months of his then-salary as a physics and mathematics teacher. He received the crypto through airdrops, where projects deliver small amounts to wallets for free, usually as a marketing strategy.
Remittances
Mayowa Tudonu, a software engineer who is building crypto exchange products on the Ethereum blockchain, helped Africa-based digital payments platform InterSwitch to develop a cross-border payments system. Tudonu calls remittances a "core application" of blockchain that can severely disrupt international payments.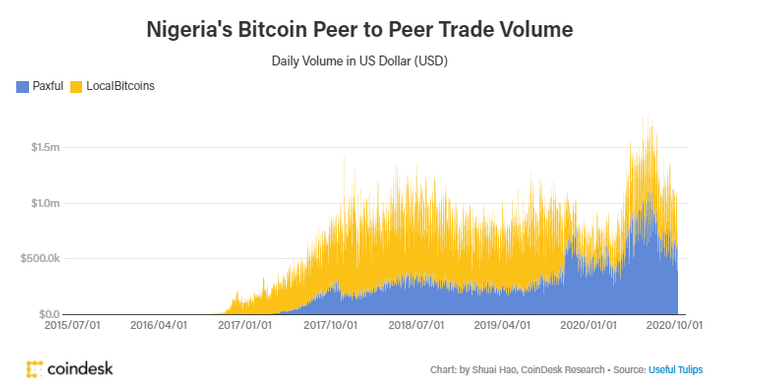 Education
Software developer Tudonu began building Ethereum-based digital payments infrastructure after completing a course on Ethereum development with ConsenSys in 2018. He told CoinDesk he was one of the high scorers, and has since gone on to build a successful career in the industry. Tudonu often mentors Nigerian developers interested in breaking into blockchain.
PayPal is introducing a feature for buying and selling crypto.
The price of Bitcoin shot up at the news, with speculation that mass adoption is around the corner.
However, PayPal is stripping several salient Bitcoin features from its product.
News broke this morning that PayPal, the company that kickstarted the online money transfer industry, will start allowing users to buy Bitcoin via its app and website.
Some have hailed the move as a decisive moment for Bitcoin adoption and cryptocurrency markets have responded favorably, with the price of BTC briefly hitting $13,000 today. But others think PayPal's forthcoming feature is a bad look for the world's largest cryptocurrency, primarily because of what it lacks.
PayPal's new feature will allow users in the United States to buy, sell, and hold Bitcoin, Bitcoin Cash, Ethereum, and Litecoin on its platform.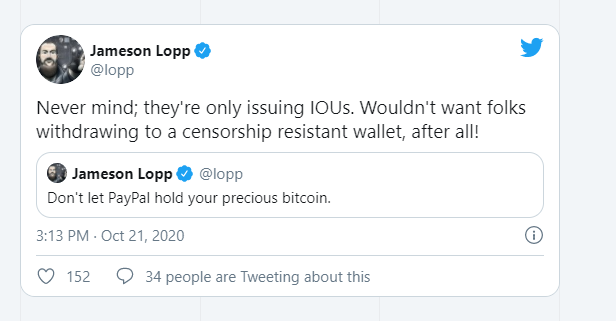 Following a similar move by one of its rivals, popular cryptocurrency options exchange Deribit will require all of its users to be ID verified before the end of the year, according to a report by The Block.
The largest crypto options exchange by trading volume will ask its users to submit government-issued photo identification, such as a passport or driver's license, as well as a proof of residence, under its revamped know-your-customer (KYC) program.
The move comes less than a day after rival exchange BitMEX announced it was accelerating its own planned mandatory ID verification requirement. Charged by the U.S. government with facilitating unregistered trading, BitMEX said all of its customers would need to verify their identities by Nov. 5, three months earlier than the original deadline.
While Deribit currently uses a two-tiered KYC system that allows withdrawals up to one bitcoin (BTC) or 50 ether (ETH) without a photo ID or proof of residence, the change in policy will eliminate the tiers and make the requirements uniform across users.
🗞 Daily Crypto Calendar, October, 22nd💰

"We are happy to share with you that Wanchain mainnet client nodes will undergo a hard fork next week."
"Join @Fetch_ai and @Cambridge_Uni in our Supply Chains deep dive and community Q&A!"
"Participate in the Incentivized #Testnet Programme | When? Launching October 22nd"
"DIA trading will be effective on October 22, 2020. The following pair will be supported: DIA/BTC, DIA/USDT."
"Live on @THETAtv this Thursday & Friday. Q&A exclusively available during the @BlockDownConf at theta.tv/blockdown"
Gene Source Code Token (GENE)
"Trading pair: $GENE/USDT | Trading at 14:00 (UTC+8), Oct.22"
"Join Jonathan on Oct 22nd for the 4th weekly company update of the series, where he will be discussing sales and partnerships."
Last Updates


➡️ Be paid daily to browse with Brave Internet Browser
➡️ A secure and easy wallet to use: Atomic Wallet
➡️ Invest and Trade on Binance and get a % of fees back
➡️ Youtube
➡️ LBRY
➡️ Twitter
➡️ Hive
➡️ Publish0x
➡️ UpTrennd
➡️ Read.cash
➡️ Check out my video on Unstoppable Domains and get 10$ off a 40$ domain purchase
➡️ Get 50$ free by ordering a free Visa Card on Crypto.com using this link or using this code qs4ha45pvh


20% of this article rewards wil go to the @hodl-fund account in order to support HODL Community Initiatives.
Find out more about HODL Community: Crypto Social Community and by following our community account @hodlcommunity

If you would like to delegate some HP to our community and support us; we give you back 90% of the curation rewards on a daily basis ! APR > 12% !
500 HP - 1000 HP - 2500 HP - 5000 HP
Make a good APR Curation by following our HIVE trail here