Welcome to the Daily Crypto News: A complete News Review, Coin Calendar and Analysis.
Enjoy!
Bitcoin's price passed $12,000 for the first time since September as Ethereum fees dipped.
Bitcoin (BTC) trading around $11,910 as of 20:00 UTC (4 p.m. ET). Gaining 1.8% over the previous 24 hours.
Bitcoin's 24-hour range: $11,673-$12,058
BTC above its 10-day and 50-day moving averages, a bullish signal for market technicians.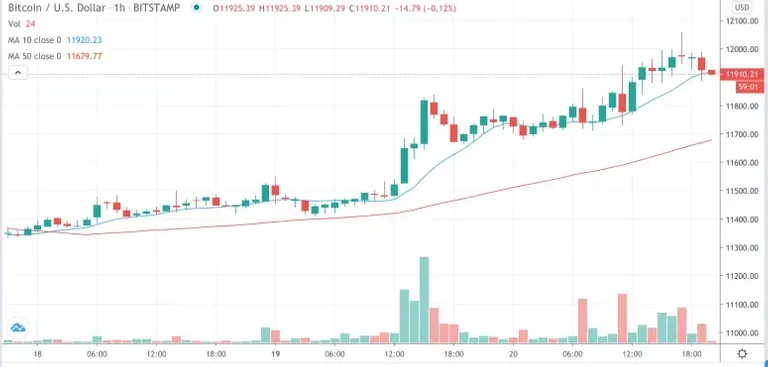 Bitcoin dominance, a metric that calculates the cryptocurrency's share versus other assets on the market, has been trending up since the start of October. The last time dominance was at this level was at the end of August.
"Although there is positive sentiment around BTC, bull runs usually lead to a bear market in alt coins," noted Melvis Langyintuo, a market strategist for the San Francisco-based cryptocurrency exchange OKCoin.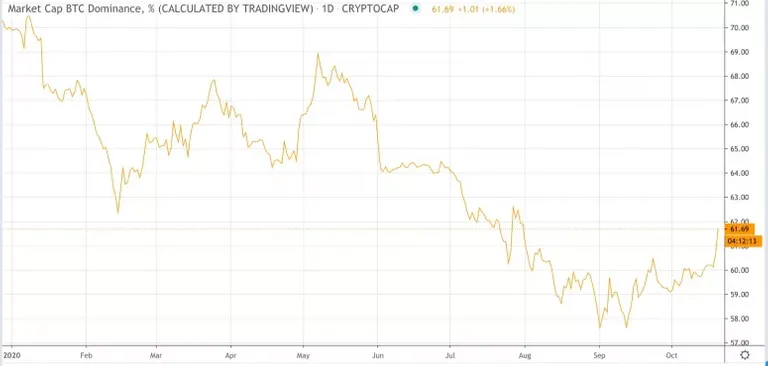 Ethereum fees get cheap – for now
Cryptocurrency traders showed significantly less enthusiasm as bitcoin traded at $12,000 Tuesday compared to when bitcoin reached the same level nearly two months ago, based on futures funding rates from multiple exchanges.
When bitcoin traded near $12,000 throughout August, finally reaching the key level mid-month, funding rates for perpetual futures turned acutely positive across leading derivative exchanges, reflecting the market's bullishness.
As bitcoin revisited $12,000 Tuesday, however, funding rates reacted differently, staying flat or turning negative, indicating a lack of the same bullishness two months ago.
A mechanism unique to perpetual futures contracts, funding rates are set by the market and vary over time as traders put on and take off positions. When the market is bullish, funding rates turn positive, and traders taking long positions pay short sellers. When the market is bearish, funding turns negative, and short sellers pay.
Funding rates across Binance, Bitfinex, BitMEX, and Deribit futures markets started turning negative Saturday and Sunday as bitcoin started trading above the low $11,000 levels, according to data aggregated by Glassnode. As bitcoin tapped $12,000 Tuesday, rates stayed negative or went flat.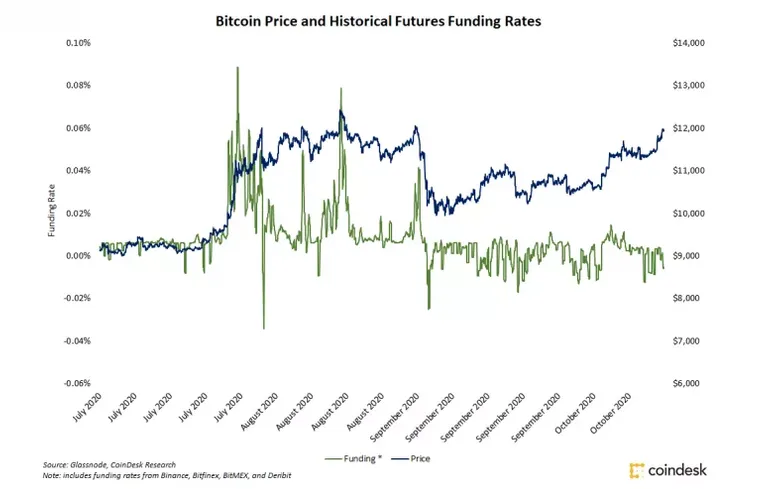 Project Sand, the Bahamian central bank digital currency, launched today.
It's used for domestic transactions.
It uses distributed ledger technology, but isn't similar to Bitcoin.
The Central Bank of the Bahamas today launched its own blockchain-based central bank digital currency (CBDC), making it one of the first countries in the world to do so.
Called "Sand Dollars," the tokens are cryptographic representations of the Bahamian dollar, minted and regulated by the nation's central bank, that are integrated with the Caribbean island nation's payments networks.
Today marks the "gradual release" of the Sand Dollar, although a representative from the nation's central bank told Decrypt that its 385,000 citizens can set up Project Sand accounts today and process transactions.
BitMEX is accelerating the rollout of its User Verification Process.
Users will have until November 5, 2020 to be fully verified.
Cryptocurrency exchanges have come under increasing pressure from regulators to add robust KYC procedures.
Crypto exchange BitMEX is making changes to the rollout plan for its User Verification Programme KYC procedures, accelerating the date for users to be fully verified to November 5, 2020. Full verification by this date will be necessary for a user to continue trading on the platform.
BitMEX's User Verification Programme (UVP) was introduced on August 28, 2020. As part of the UVP, individual users are prompted to upload a photo ID and proof of address, take a selfie, and answer several questions that relate to the source of their funds and their trading experience. BitMEX says this takes approximately five minutes to complete, and many of their customers have already completed the process.
🗞 Daily Crypto Calendar, October, 21st💰

"After a very successful crowdfunding presale session, we are ready for wCCX public sale!"
Muneeb Ali, Blockstack PBC CEO and Co-founder will be representing Blockstack at the event.
"USDC: Wednesday, 21 October at 12:00 AM UTC"
Aunit (AUNIT), B2BX (B2B), Binance Coin (BNB), Binance GBP Stable Coin (BGBP), Binance USD (BUSD), Bitforex Token (BF), General Event (CRYPTO), Universa (UTNP), Waves (WAVES)
A major international event on blockchain, cryptocurrencies, and mining in Russia and Europe.
Taking Defi to the next level with Bitcoin.
Mandatory software upgrade: ZEN 2.0.22 released. Update prior to block #831936 (around the 17th of November).
Last Updates


➡️ Be paid daily to browse with Brave Internet Browser
➡️ A secure and easy wallet to use: Atomic Wallet
➡️ Invest and Trade on Binance and get a % of fees back
➡️ Youtube
➡️ Twitter
➡️ Hive
➡️ Publish0x
➡️ UpTrennd
➡️ Read.cash
➡️ LBRY
➡️ Check out my video on Unstoppable Domains and get 10$ off a 40$ domain purchase
➡️ Get 50$ free by ordering a free Visa Card on Crypto.com using this link or using this code qs4ha45pvh


20% of this article rewards wil go to the @hodl-fund account in order to support HODL Community Initiatives.
Find out more about HODL Community: Crypto Social Community and by following our community account @hodlcommunity

If you would like to delegate some HP to our community and support us; we give you back 90% of the curation rewards on a daily basis ! APR > 12% !
500 HP - 1000 HP - 2500 HP - 5000 HP
Make a good APR Curation by following our HIVE trail here