Welcome to the Daily Crypto News: A complete News Review, Coin Calendar and Analysis.
Enjoy!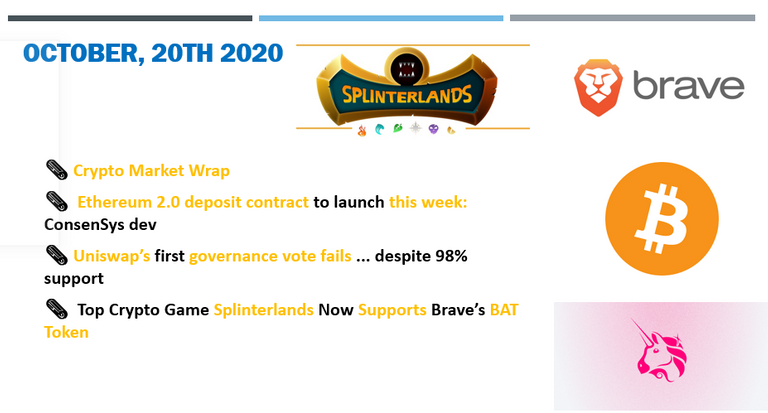 Bitcoin traders hit the buy button Monday while a DeFi project gains $135 million in BTC locked since the start of September.
Bitcoin (BTC) trading around $11,689 as of 20:00 UTC (4 p.m. ET). Gaining 2.2% over the previous 24 hours.
Bitcoin's 24-hour range: $11,409-$11,839
BTC above its 10-day and 50-day moving averages, a bullish signal for market technicians.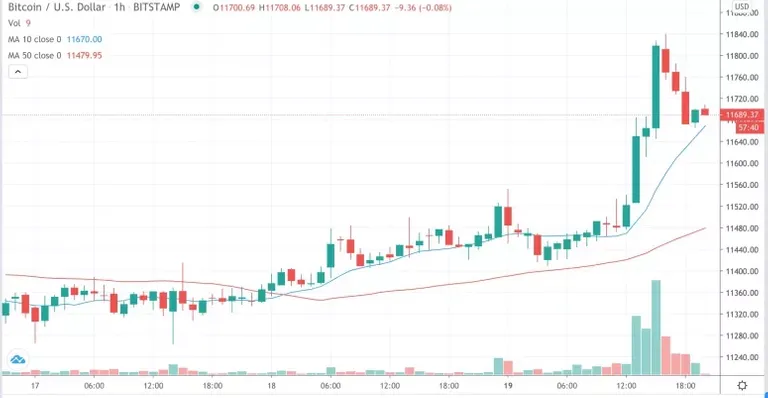 While bitcoin trading volumes and transactions have been quiet as of late, momentum, in the form of bitcoin spot volume, has been higher than usual Monday. Volumes on major USD/BTC are at $473,739,764 Monday, already higher than the past month daily average of $348,110,579.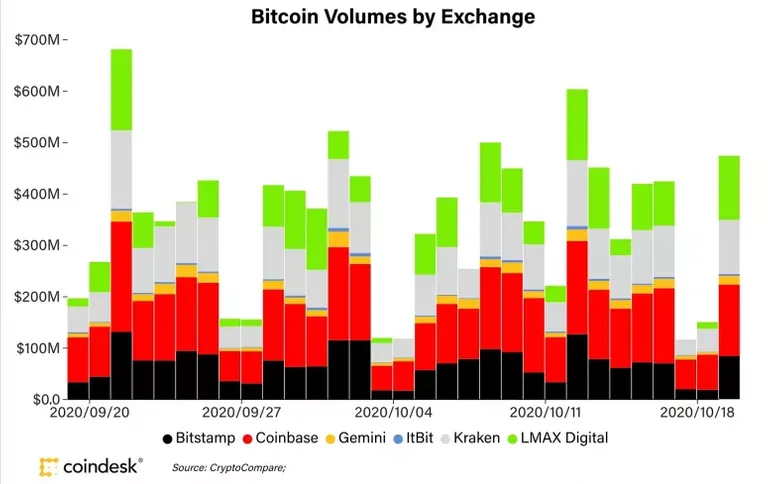 John Willock, CEO of crypto asset manager Tritum, said he sees bitcoin's price passing $12,000 again soon. "Definitely $12,000 is easily in sight," he said. "The potential for U.S. fiscal stimulus that is broadly anticipated is likely to result in more price surges in haven/hedge assets like bitcoin and gold."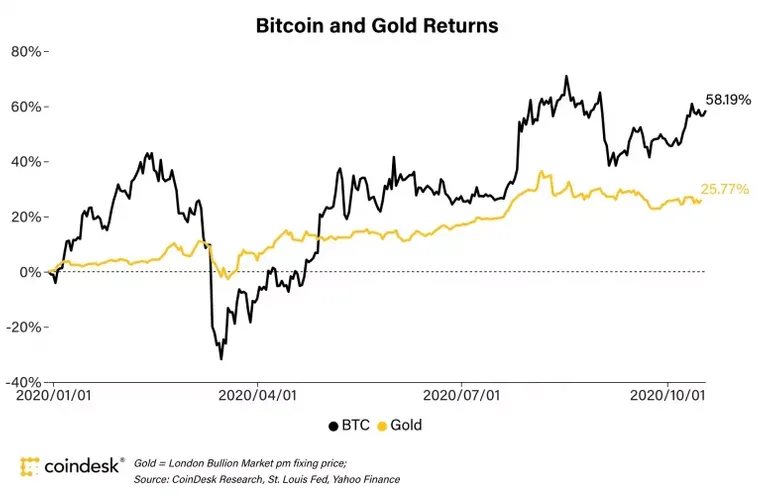 Investors plow BTC into Harvest Finance on Ethereum
The decentralized finance, or DeFi, space is still attracting bitcoiners looking to increase profits. The project Harvest Finance, which allows users to deploy crypto automatically to popular DeFi projects, has gone from almost zero BTC in early September to surpass 10,000 BTC Sunday.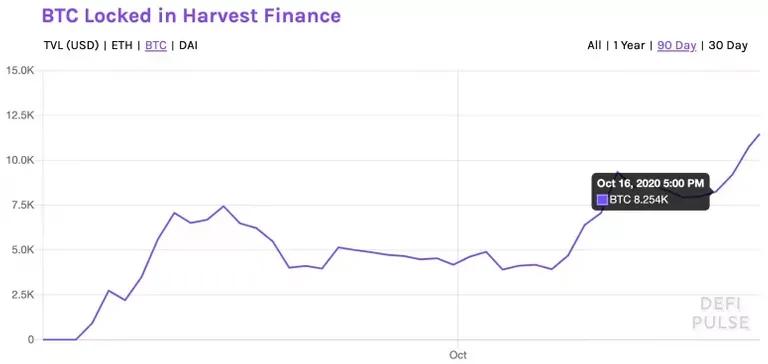 When asked about the bitcoin being parked in protocols like Harvest Finance, Brian Mosoff, chief executive officer of investment firm Ether Capital, remarked on the lower volatility and the potentially lower trading returns for bitcoin versus ether.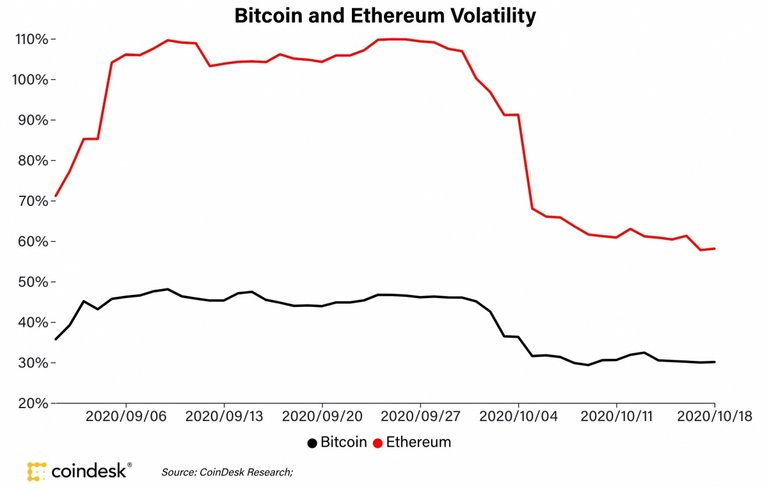 ConsenSys developer Ben Edgington has published an update that predicts the ETH 2.0 beacon chain genesis will happen within the next six to eight weeks.
In a post announcing the launch of 'V1.0.0 release candidate 0', Edgington revealed the protocol's deposit contract address feature should be announced this week. The deposit contract allows ETH to be sent between Ethereum and ETH 2.0, and is one of the few remaining updates needed to facilitate the roll-out of ETH 2.0 phase 0:
"As I understand it, we are good to go: deposit contract in the next few days; beacon chain genesis 6-8 weeks later."
Uniswap's first governance proposal has ended in defeat, with votes in favor falling a whisker short of the required threshold.
The first governance vote for decentralized exchange (DEX) Uniswap has ended in failure, despite the proposal attracting overwhelming support of 98% of votes cast. Despite this, it fell roughly 1% short of the 40 million votes threshold needed for approval by the close of voting.
The poll ended earlier today with almost 39.6 million UNI staked in favor, compared to roughly 700,000 opposed. DeFi blogger Danger Zhang ('@safetythird') described the vote as "the DeFi equivalent of winning the popular vote but losing the electoral college."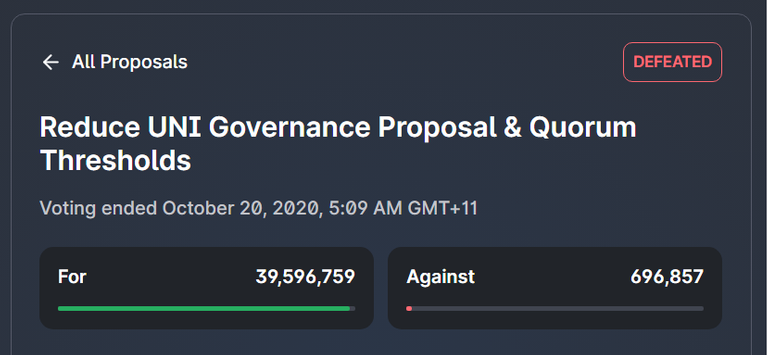 Ironically, the proposal sought to reduce the number of tokens needed to submit and pass proposals. It was put forward by open-source lending protocol and major UNI token holder, Dharma,
Currently, proposals can only be made by entities holding at least 1% of UNI's circulating supply (10 million UNI, worth around $30 million), and need to surpass 40 million total votes (worth $130 million) to pass. Dharma's recommendations would lower the thresholds so holders of at least 3 million ($9 million) UNI could suggest upgrades, and only require 30 million supporting votes ($100 million) for a proposal to pass.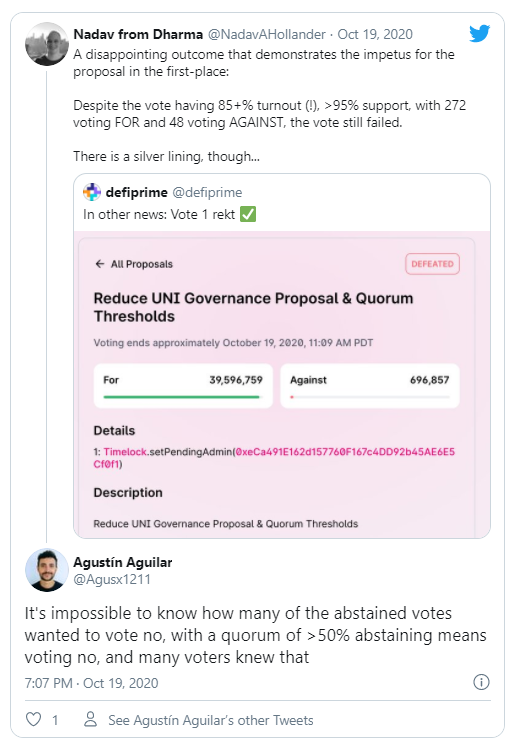 The partnership also means Splinterlands will implement Brave as its official browser while Brave will advertise one of the most popular crypto games out there.
Web browser Brave has entered a partnership with crypto game Splinterlands.
The partners will collaborate on marketing initiatives across both products.
Splinterlands will also implement Brave's Basic Attention Token for buying credits.
Privacy-centric and crypto-friendly web browser Brave today announced a partnership with blockchain-based competitive card game Splinterlands, which will see the two allies collaborate on marketing initiatives and integrations across the two products.
Brave will be the official web browser of Splinterlands, with the developers planning content to detail the benefits of the browser while also recommending that players use Brave to play the web-based game.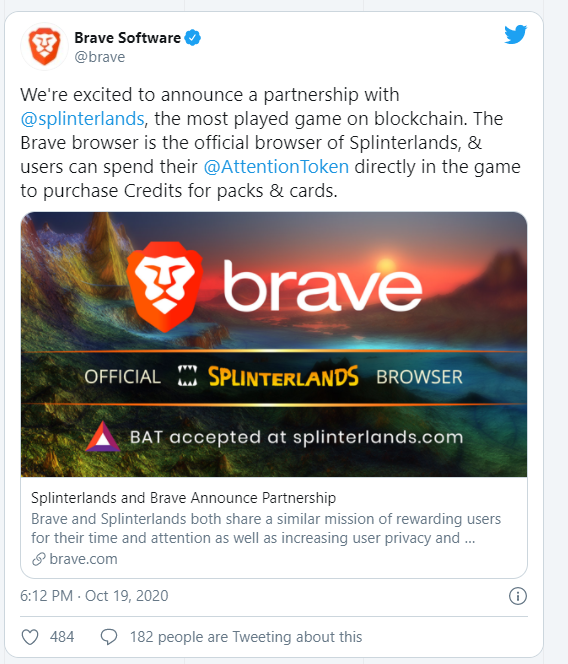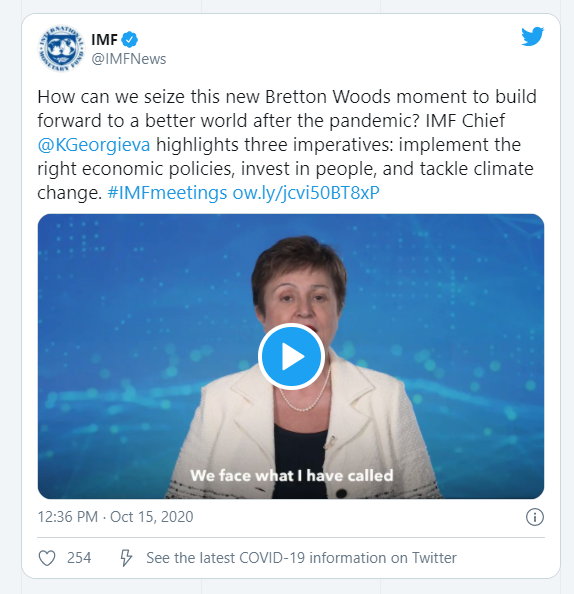 🗞 Daily Crypto Calendar, October, 20th💰

"LINK: Tuesday, 20 October at 12:00 AM UTC"
Muneeb Ali, Blockstack PBC CEO and Co-founder will be representing Blockstack at the event.
"A 48 hour vote with a 50% support threshold will be open on Tuesday, October 20, for ANT holders to decide."
"1/ IDEX 2.0 drops on Oct 20th! 2.0 is so much more than scaling: it's the top-tier trading experience traders demand, with low-latency..."
"Join @HMsheikh4 @pretzelsnake @MariaMinaricova and @jonathan6620 to learn more about Fetch.ai at this Twitter AMA with..."
Last Updates


➡️ Be paid daily to browse with Brave Internet Browser
➡️ A secure and easy wallet to use: Atomic Wallet
➡️ Invest and Trade on Binance and get a % of fees back
➡️ Youtube
➡️ Twitter
➡️ Hive
➡️ Publish0x
➡️ UpTrennd
➡️ Read.cash
➡️ LBRY
➡️ Check out my video on Unstoppable Domains and get 10$ off a 40$ domain purchase
➡️ Get 50$ free by ordering a free Visa Card on Crypto.com using this link or using this code qs4ha45pvh


20% of this article rewards wil go to the @hodl-fund account in order to support HODL Community Initiatives.
Find out more about HODL Community: Crypto Social Community and by following our community account @hodlcommunity

If you would like to delegate some HP to our community and support us; we give you back 90% of the curation rewards on a daily basis ! APR > 12% !
500 HP - 1000 HP - 2500 HP - 5000 HP
Make a good APR Curation by following our HIVE trail here