Welcome to the Daily Crypto News: A complete News Review, Coin Calendar and Analysis.
Enjoy!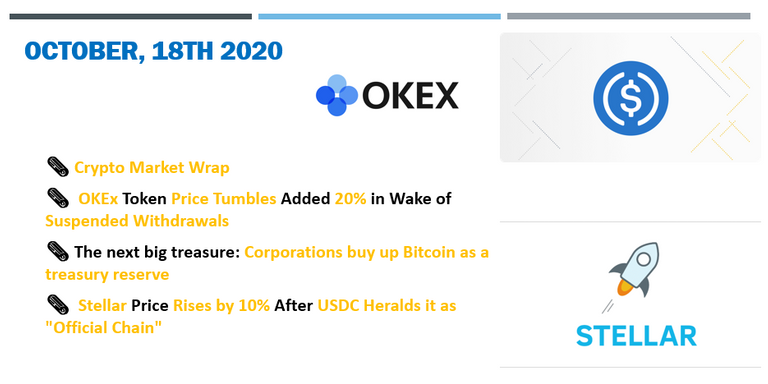 Youtube Video Coming Up after my morning run !
Bitcoin (BTC) options aggregate open interest has increased to $2 billion, which is 13% below the all-time high. Although the open interest is still heavily concentrated on Deribit exchange, the Chicago Mercantile Exchange (CME) has also reached $300 million.
In simple terms, options derivatives contracts allow investors to buy protection, either from the upside (call options) or downside (put options). Even though there are some more complex strategies, the mere existence of liquid options markets is a positive indicator.
For example, derivative contracts allow miners to stabilize their income which is tied to a cryptocurrency's price. Arbitrage and market-making firms also utilize the instruments to hedge their trades. Ultimately, deeply liquid markets attract larger participants and increase their efficiency.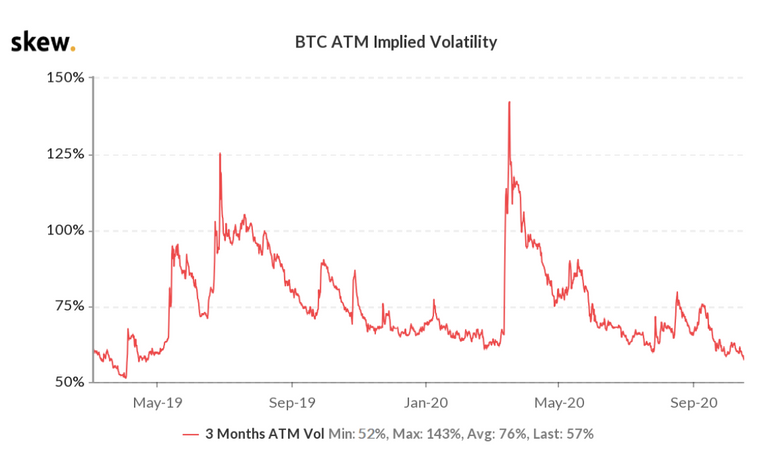 Indicators signal a wild price swing in the making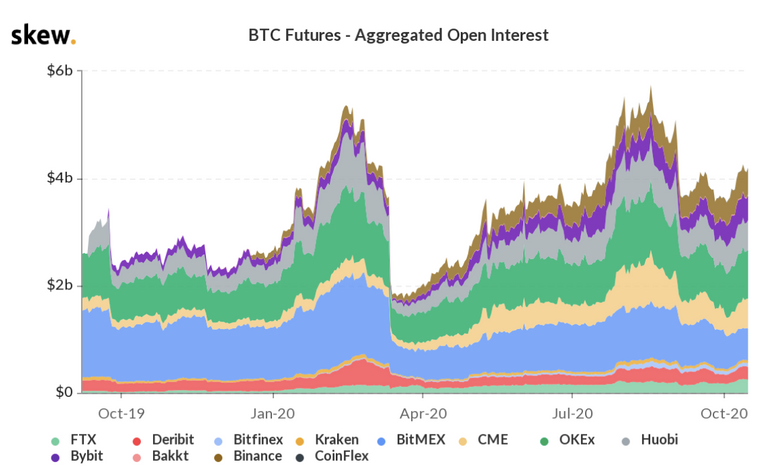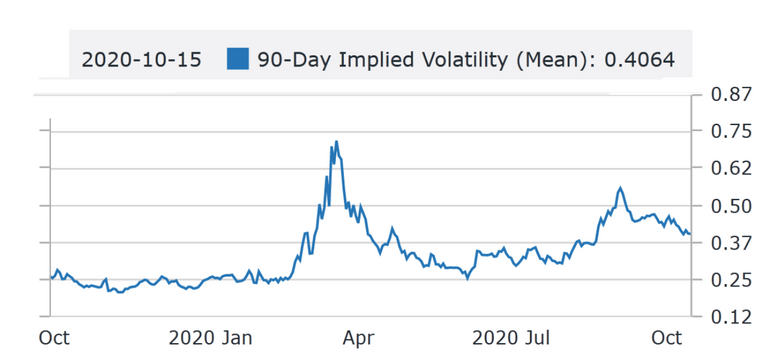 OKB, the native exchange token for OKEx, has lost nearly an additional 20% of its market value Saturday, bringing its total drop to roughly 30% since the second-largest cryptocurrency derivatives exchange suspended withdrawals early Friday morning due to a keyholder being "out of touch".
OKB traded hands just around $5.90 before the news. At last check, the token is now priced at roughly $4.10.
OKEx CEO Jay Hao took to Twitter to reassure his clients "All your funds and assets are safe." Also on Weibo, Hao explained that the circumstances that have kept the keyholder out of touch with his company would not affect business.
The continued drop of OKEx's native token indicates that the fears of many traders have yet to be assuaged.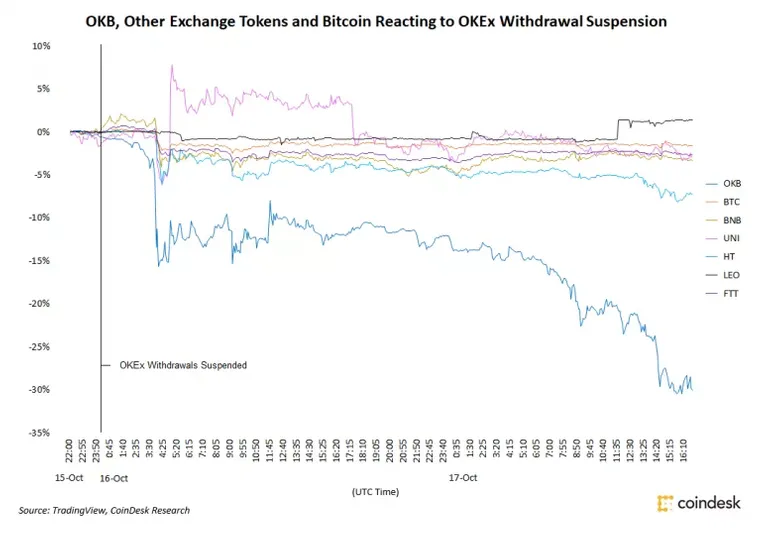 October is a time for surprises. On Oct. 8, right on cue, mobile payments giant Square, which boasts a market cap of $86.6 billion, announced that it had invested $50 million in Bitcoin (BTC). Five days later, asset manager Stone Ridge Holdings, which manages over $10 billion in assets, disclosed that it had purchased more than 10,000 BTC, worth around $114 million, as part of its treasury reserve strategy.
They both followed MicroStrategy, a Nasdaq-listed asset manager, which made known last month that it had accumulated $425 million in Bitcoin, making BTC the principal holding in its treasury reserve strategy.
"These firms probably see Bitcoin as a hedge or insurance against current market conditions. [...] With these companies entering the markets, it opens the floodgates and establishes some form of confidence for the rest to follow."
What is a significant investment size?
What could be considered a significant crypto investment for a large hedge fund or institutional investor? "Given the volatility and where the asset class stands today, we have consistently recommended a 50 BP (basis point)-to-2% allocation for suitable investors," answered Cappelli. As Bitcoin and the overall asset class matures, that allocation could grow further.
USDC is the second the largest US dollar-pegged stablecoin. It's coming to Stellar. Did that just cause a price boom?
Good news for Stellar owners today, who through no effort of their own increased the value of their holdings by 10% in the past 24 hours. The value of a single Stellar, or XLM, is now $0.08.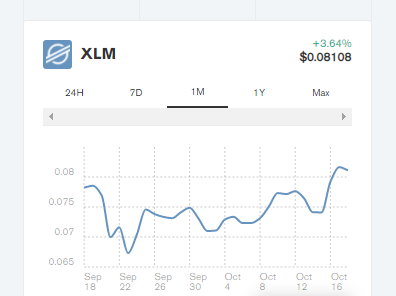 The price hike could perhaps be attributed to Thursday's announcement that USDC, the US dollar-pegged stablecoin led by Coinbase and Circle, will integrate with the Stellar blockchain at the start of next year.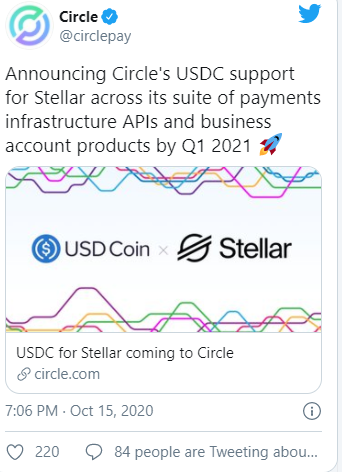 This makes the Stellar blockchain, which is powered by the eponymous cryptocurrency that just rose by 10%, a popular choice for businesses seeking to integrate USDC. USDC is the only major US dollar-pegged stablecoin supported by the Stellar blockchain.
🗞 Daily Crypto Calendar, October, 18th💰

The new platform from the DYNMT Token team will be live on 18 October. Full details will be revealed through social media on the day.
"Beam Community Call!... Date: 18th of October, 2020 Time: 10:00 AM EST"
"Join the $PIVX alliance AMA voice chat at discord.pivx.org on 10/18/2020 1:00 pm EST to discuss what a #SENT & #PIVX Alliance can..."
Bancor Network Token (BNT)
"Voting on Bancor v2.1 is live! The vote will last 3 days & conclude this Saturday, October 18 at 13:30 GMT."
"#MXC_Exchange Will List @UniLend_Finance on Innovation Board and Hold Trading Contest with 60,000 $UFT #Giveaways"
Last Updates


➡️ Be paid daily to browse with Brave Internet Browser
➡️ A secure and easy wallet to use: Atomic Wallet
➡️ Invest and Trade on Binance and get a % of fees back
➡️ Youtube
➡️ Twitter
➡️ Hive
➡️ Publish0x
➡️ UpTrennd
➡️ Read.cash
➡️ LBRY
➡️ Check out my video on Unstoppable Domains and get 10$ off a 40$ domain purchase
➡️ Get 50$ free by ordering a free Visa Card on Crypto.com using this link or using this code qs4ha45pvh


20% of this article rewards wil go to the @hodl-fund account in order to support HODL Community Initiatives.
Find out more about HODL Community: Crypto Social Community and by following our community account @hodlcommunity

If you would like to delegate some HP to our community and support us; we give you back 90% of the curation rewards on a daily basis ! APR > 12% !
500 HP - 1000 HP - 2500 HP - 5000 HP
Make a good APR Curation by following our HIVE trail here