Welcome to the Daily Crypto News: A complete News Review, Coin Calendar and Analysis.
Enjoy!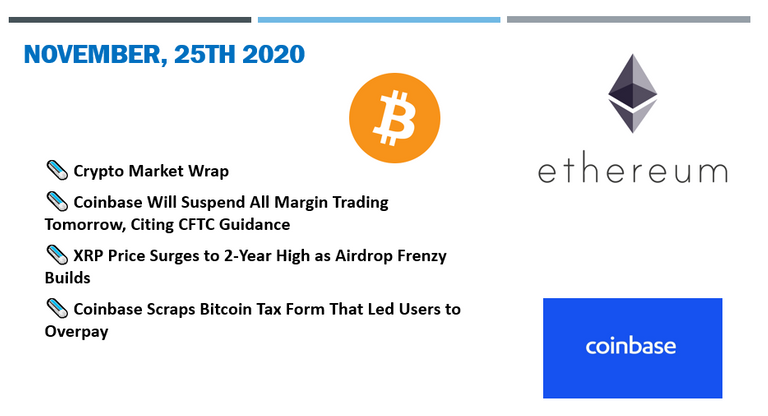 How high can bitcoin's price go? Analysts say the higher the price, the more investors will plow in. Meanwhile, increasing ether options volume on Deribit is likely making derivatives more expensive.
Bitcoin (BTC) trading around $18,987 as of 21:00 UTC (4 p.m. ET). Gaining 3.2% over the previous 24 hours.
Bitcoin's 24-hour range: $18,059-$19,392
BTC below its 10-day moving average but above 50-day, a sideways signal for market technicians.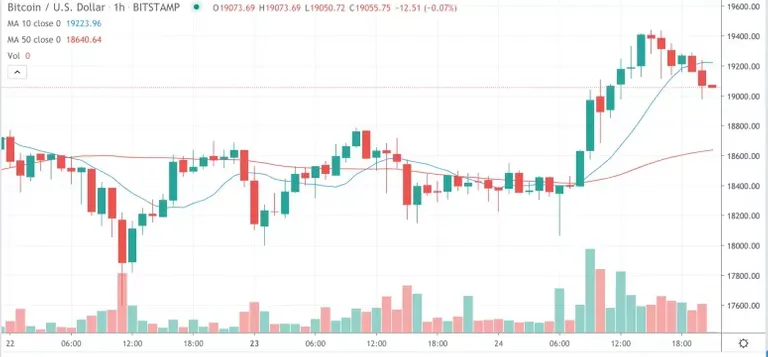 At over $1.6 billion as of press time, momentum in the form of USD/BTC volumes on five combined major exchanges is set for another banner day. Tuesday is shaping up to be the second highest in the past month as billion-dollar volume days for the five exchanges are becoming more common.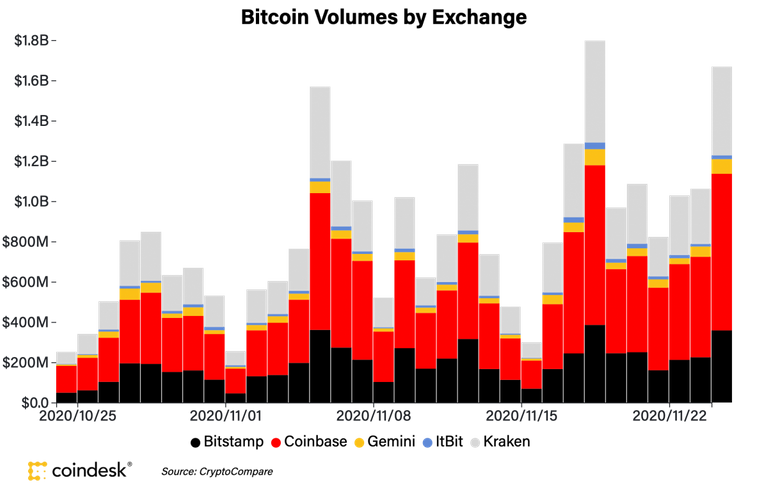 Since starting the year uncorrelated with the S&P 500 – which is denoted as "0" in the chart below – bitcoin's performance has more closely matched stocks after March's crash when assets dropped amid COVID-19 concerns. The correlation coefficient of the two on a 90-day basis is now around 0.3.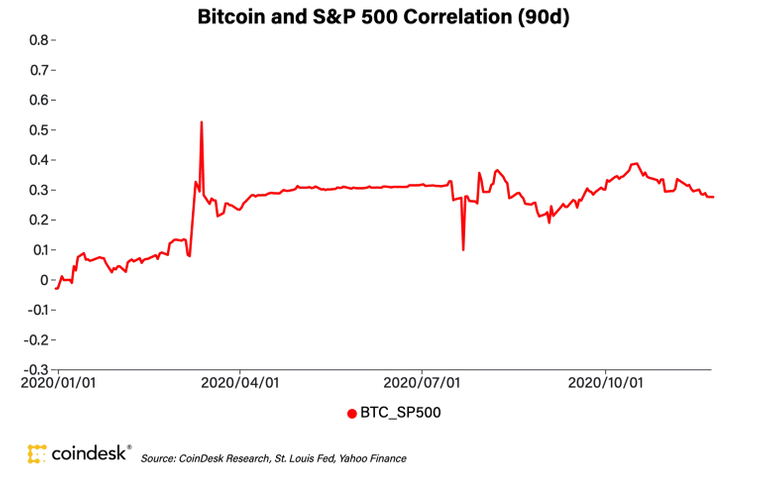 ETH options heating up
With 198,247 total contracts traded, Monday was the second-biggest day in 2020 for Deribit ether options contracts, according to data aggregator Genesis Volatility. The top day was Sept. 1, when total contracts reached 201,815.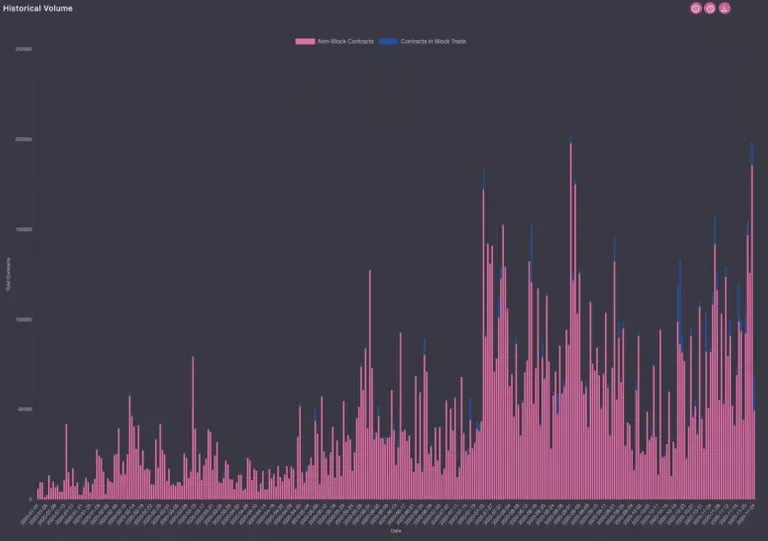 Crypto exchange Coinbase plans to end all margin trading effective Nov. 25, 2020, due to recent regulations by the Commodity Futures Trading Commission (CFTC).
The San Francisco-based trading platform announced Tuesday that it would prevent customers from placing new margin trades beginning at 2 p.m. PT (22:00 UTC) on Wednesday, while simultaneously canceling any open limit orders.
Coinbase will end the margin trading feature entirely next month, once existing positions expire. When customers trade on margin, they're effectively borrowing funds from the exchange or broker to cover the cost of an investment in an asset such as a security or a cryptocurrency. This allows traders to leverage their positions, thus amplifying profits – or losses.
'Actual delivery'
Coinbase appears to be saying that it is difficult, if not impossible, for it to comply with a CFTC requirement that neither it nor any affiliated entity can have any sort of control over a cryptocurrency once it's been delivered in accordance with the terms of a margin contract.
XRP has chalked up an impressive rally to two-year highs in the last few days, and a coming airdrop may be driving the gains.
Trading around $0.70 at the time of writing, the world's third-largest cryptocurrency by market value is up 130% from lows near $0.30 seen on Saturday. Prices reached a high of $0.79 earlier on Tuesday, the highest level since May 10, 2018, according to the CoinDesk 20.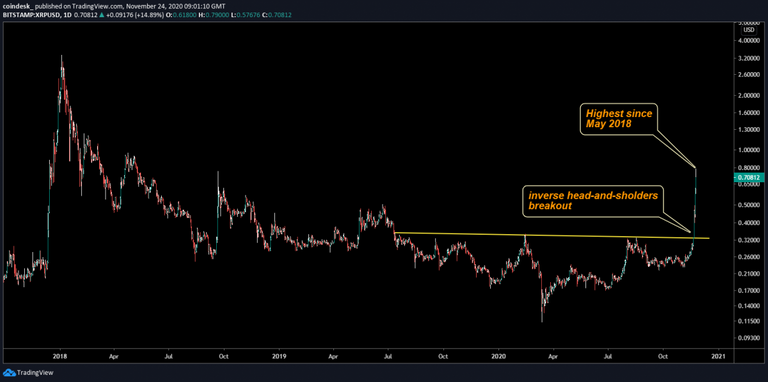 The free distribution of 45 billion spark tokens, based on a snapshot of XRP addresses on Dec. 12, is supported by Ripple's investment arm RippleX (formerly Xpring).
"The impending airdrop is supercharging the XRP bull market and whipping mindshare of one of the largest crypto communities into a frenzy," according to Jehan Chu, a managing partner at Hong Kong-based blockchain investment firm Kenetic Capital. "With the imminent launch of Flare, a smart contract utility fork of XRP, the pair will attempt to challenge Ethereum's dominance in decentralized finance and decentralized applications."
Nearly 2.3 billion XRP, worth nearly $1 billion, have been transferred to cryptocurrency exchanges since Saturday. That's more than three times the average daily inflow seen in 2019, according to blockchain intelligence firm Chainalysis.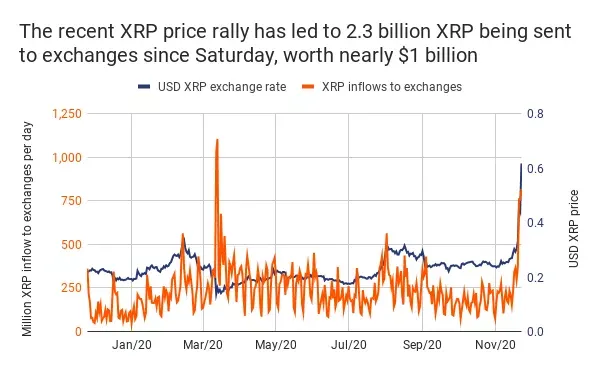 Coinbase is abandoning a tax form that provided insufficient information required to pay crypto taxes for another form, which also misses out crucial information.
Coinbase is scrapping an old tax form.
Its new form will go to anyone who made at least $600 from certain Coinbase products.
The old form was plagued with issues, but the new one is far from free of them, a crypto tax expert told Decrypt.
As spotted by Shehan Chandrasekera, head of tax strategy at crypto tax firm CoinTracker, Coinbase updated a help page to inform customers that it is abandoning its old tax form that provided customers with total proceeds of trades executed on the platform in favor of one that only includes information about money earned from Coinbase's interest-bearing products.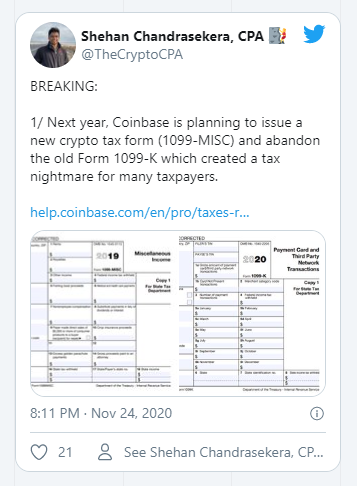 🗞 Daily Crypto Calendar, November, 25th💰

ZEN 2.0.22 Mainnet Hard Fork activation - expected around Nov 24/25 - Block 835968.
New development strategy for the project's blockchain ecosystem! Link: t.me/veros_invest | 16:00-18:00 +3 UTC.
Launch of the development of an innovative VEROS Exchange with fixed asset growth.
LINKSWAP, farming pools, and related deliverables will be live on the Ethereum mainnet along with all of our launch pairs on November 25th.
Wabi founders answering your questions and sharing news, announcements in Wabi Telegram group.
Last Updates


➡️ Be paid daily to browse with Brave Internet Browser
➡️ A secure and easy wallet to use: Atomic Wallet
➡️ Invest and Trade on Binance and get a % of fees back
➡️ Youtube
➡️ Twitter
➡️ Hive
➡️ Publish0x
➡️ UpTrennd
➡️ Read.cash
➡️ LBRY
➡️ Check out my video on Unstoppable Domains and get 10$ off a 40$ domain purchase
➡️ Get 50$ free by ordering a free Visa Card on Crypto.com using this link or using this code qs4ha45pvh


20% of this article rewards wil go to the @hodl-fund account in order to support HODL Community Initiatives.
Find out more about HODL Community: Crypto Social Community and by following our community account @hodlcommunity

If you would like to delegate some HP to our community and support us; we give you back 90% of the curation rewards on a daily basis ! APR > 12% !
500 HP - 1000 HP - 2500 HP - 5000 HP
Make a good APR Curation by following our HIVE trail here