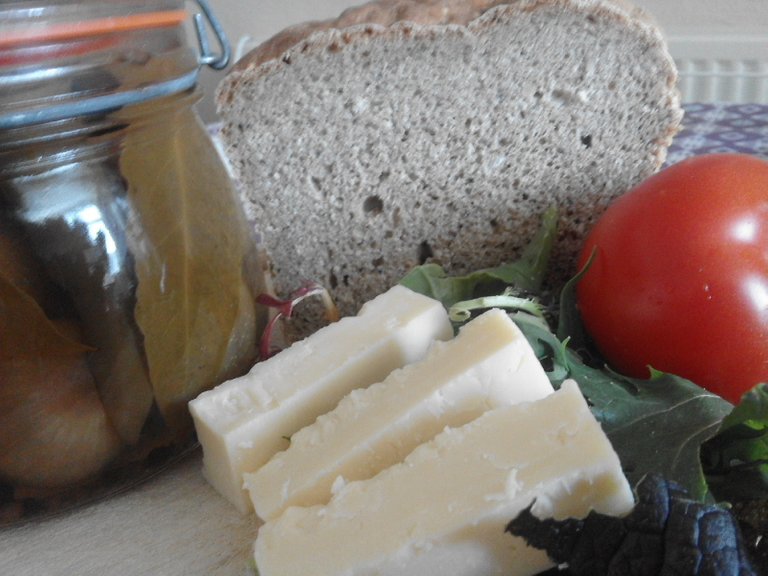 Sturdy Stout Yeoman's Bread - dense, very tasty, good with cheese and pickles. I made it with a mix of light rye flour and rustic country flour with malted grains and seeds.
I happened to have a bottle of Guinness Extra Foreign Stout to hand. The bread takes 100ml, which left another 230ml for me to enjoy as I was baking. The recipe recommends dark rye flour, I used what I had a combination of light rye flour and rustic country flour with malted grains and seeds.
It's a jolly nice bread, with a dense cake-like crumb. It reminded me of the sort of bread my mum used to make when we were children. It's strong enough for sandwiches and even very thinly sliced bread is very robust and doesn't fall to pieces. The only thing that I would do differently is add a little more salt.
250g Shipton Mill Light Rye Flour
250g Bacheldre Watermill Rustic Country Bread Flour
7g dried active yeast
5g each salt and sugar
100ml stout or porter
200ml tepid water
15g oil (I use light olive oil)
Mix the dry ingriedients together and make a well in the centre; mix the water, stout and oil and pour in. Combine together until you have a sticky dough, adding a little more tepid water if needed. Kneed for a bit if you like (I usually do a few minutes), shape into a ball, place back in the bowl and cover and leave in a warm place to rise about an hour (should have doubled in size or thereabouts). Kneed again and place in a 800g loaf tin, or two small ones, or shape as you wish and place on a baking tray. Cover and allow to rise again - probably for about an hour. Meanwhile, heat the oven to about 230 degrees. Bake for 25-30 minutes, turning down the heat to about 200 after 10-15 minutes.
Yeomen and Yeomen of the Guard
Yeomen were the early middle-class in medieval times in England. They were small landowners or people of authority in aristocratic households or civil areas - they might be stewards, sherriffs or bailiffs, for example. They might have large houses and lands in their own right, but were not part of the gentry. I imagined them as "gentlemen farmers".
The Yeoman of the Guard are the Queen's bodyguard. They are the oldest military corps in England and were created by King Henry VII at the Battle of Bosworth Field, the deciding battle in the Wars of the Roses between the Lancastrian and York dynasties. They still wear red and gold uniforms from the Tudor period, although today the Yeoman have a purely ceremonial role, bodyguarding having become a much more sophisticated arrangement these days.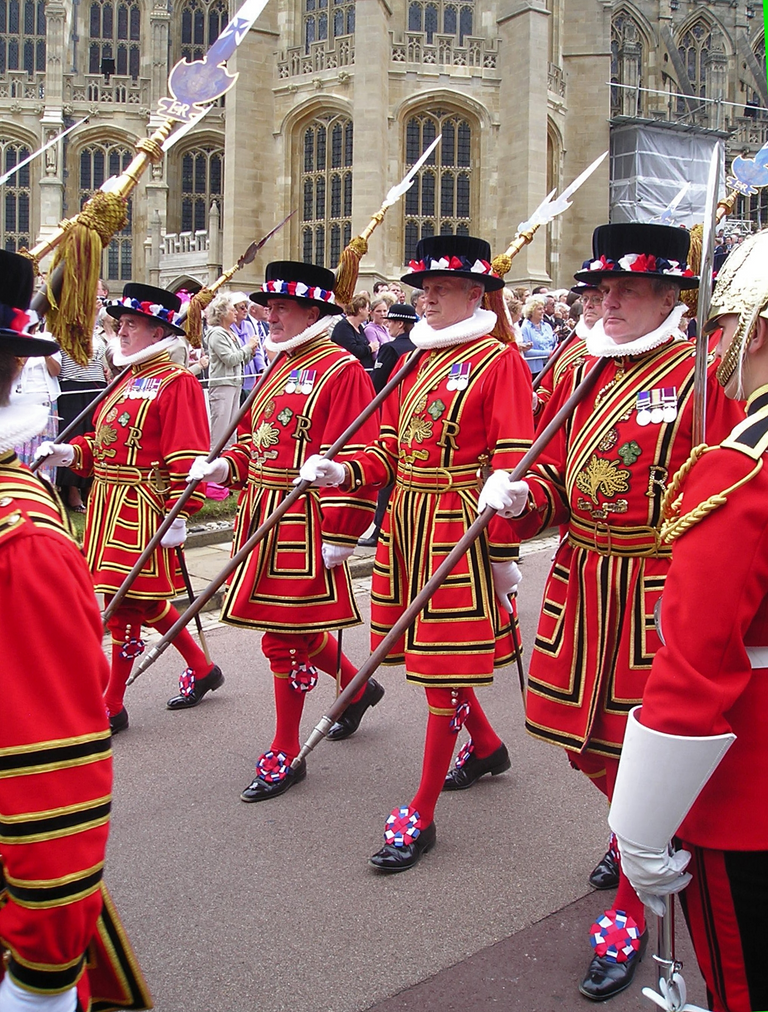 Source Yeoman of the Guard