---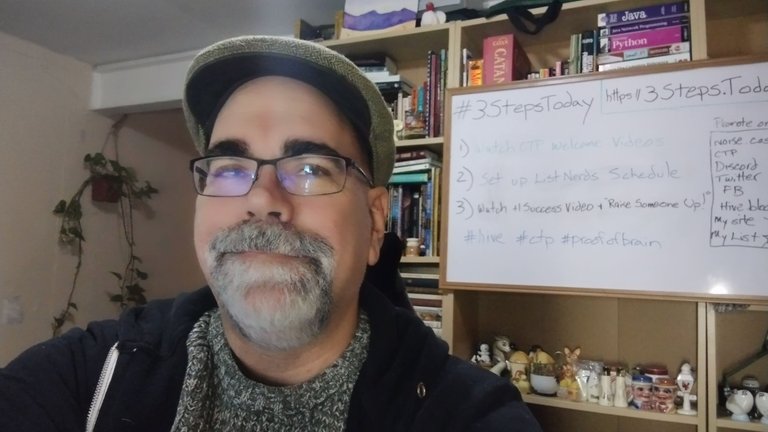 Welcome everyone to my second time through the #3StepsNoExcuses journey! I am super-excited to be kicking off my second time through the 30-day journey. :)
This time through I'll be leveraging a couple extra resources as I create videos.
@ThreeSteps Hive blockchain account
All of the blogging and posts made about this entire journey will be done using the @threesteps account. I created this account specifically for the #3StepsNoExcuses journey last time I did it, so that I could upvote the posts by anyone going through the challenge as a way to encourage, build community, and reward good content.
The @ThreeSteps account receive some great delegations and began growing quickly, since I was upvoting content. Since I stake 100% of the CTP, Hive, Leo, PoB this account earns, it's a great way for me to increase the account's curation powers. Woohoo!
https://3Steps.Today - My main website. This houses all of my 3 Steps content. My first time through I posted my updated to the Hive blockchain only. This time I will be doing something different. All the #3StepsToday content will be created on my main blog first, then copied to Hive. Last time I did this in reverse order. Doing it this way will ensure that I get my post onto the blockchain AND my blog.
More blockchain goodness - with @ctpchat daily posts, @ctpsb amazement, etc. there's even more additional resources to leverage and work with as we go through these steps. I'll try to rope in others and work with others within the CTP tribe as I go through this process, since we're all about community.
What you can expect in each daily update:
A short list of the three steps,
My results and thoughts about each step.
A link to my 3Steps Today email course funnel so I can grow my list.
Current amount of CTP, Hive, PoB, Leo the @threesteps account owns.
My results from the first time through were pretty awesome, and I can only imagine that it will just get better this time around.
Best of all, I will be making videos of this whole process so my subscribers have multiple ways to get the help they need going through the 3 steps each and every day.
We're doing all of this on the blockchain, so there's no fudging the numbers. I'll have the totals of CTP, Hive, PoB, and Leo that the @ThreeSteps account has. Ready?
With that, here's....
Login to ClickTrackProfit and watch all of the "Welcome" and "Tutorials" videos.
Open List Nerds and configure the scheduled emails.
Watch Plus 1 Success video "Raise Someone Up!" then go do just that.

1. Login to ClickTrackProfit and watch all of the "Welcome" and "Tutorials" videos.
To get started, login to ClickTrackProfit. Don't worry, if you don't have a login, all of that is available below in the sign up form at the end of the post. :)
Once you're logged in to CTP, click on Training > Lessons. This will bring you to the heart of CTP training.
At the top you'll see the 4 emails in the welcome section. Easy. Those are a great introduction to CTP.
Then there's the Tutorial section, with some easy to watch videos on the different sections of ClickTrackProfit and what it's all about.
I've been using their services for quite a while, and consistently I am happy with the training and coaching I receive from the warm folks at CTP. You just can't lose with that group.
After watching a few videos, you should have a better understanding of what CTP is and how it works. If not, reach out to me and I'll help however I can.
With that it's on to List Nerds.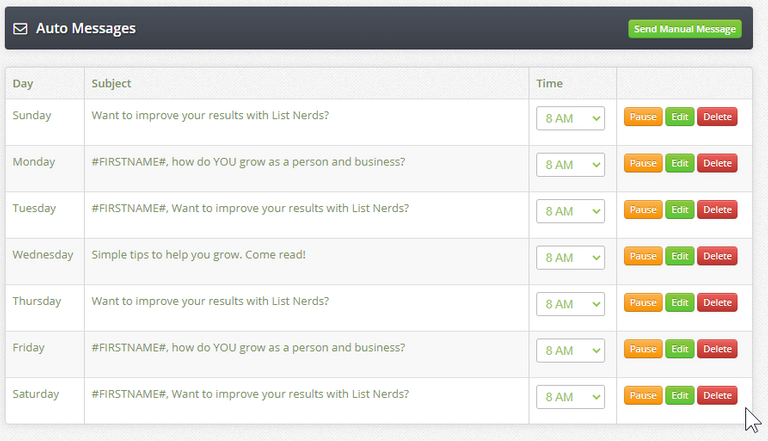 2. Open List Nerds and configure your scheduled emails.
The last time I did this 30 day challenge I was upgraded to the business level. Now I am. :)
Therefore I am going through this again and this time, working on really tightening my auto-emails.
I like the fact that I have a weekly set of emails that I can hone, and then they are automatically sent when I need them to be, and I don't have to worry about forgetting to send them. I appreciate that touch.
As you can see from the screenshot above, some of my emails use a first-name substitution, and the others don't. They are the exact same email body, but without the first-name substitution. I am doing some split testing to see which ones do the best for me.
Either way, make sure you configure your emails and un-pause them. If you're not an upgraded member at List Nerds, then let's work on your email subjects.
On the left, click on "Mail History". This will bring up your email history from any emails you've sent prior.
When looking over this list, do you see any subjects where you could have improved in some way?
We'll get much better at our email writing as the next 30 days progresses. For now, logging in and knowing where to review your previously sent emails is a good start. :)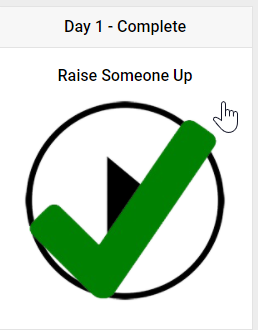 3. Watch Plus 1 Success video "Raise Someone Up!" then go do just that.
Login to Plus 1 Success, and once logged in, take a look at the Videos section. (If you're not upgraded you can still read the ebook pdf for each day).
Watch the Day 1 video, "Raise Someone Up". Out of all 3 site (CTP, List Nerds, +1 Success), I think it's this one that I enjoy the most.
Today's video is no exception.
Raising someone else up is a great starting point on our 30 day journey.
I'll take this opportunity to do so now.
I'd like to raise up Chris Scicluna (@mba2020)
Chris has been really on fire with writing, commenting and upvoting here on the blockchain and is a joy to work with. Chris, this one is for you.
With that, have a wonderful day. Go start promoting your online business with the new tools you now have in-hand.
That's it! Cya tomorrow. Please reach out to me if you have questions.
-Rob
robw.marketing@gmail.com
https://robwillmann.com/about/
P.S. One last item:
I have created a 30 day free email course on the #3StepsNoExcuses journey mentioned above, and I'd really like to hear what you think about the content. You can sign up by clicking this link and then confirming your email address. The course lines up with the daily steps, and I'd love to hear your thoughts.
Also, I've created an account on Hive blockchain called @ThreeSteps. It's a curation account that upvotes quality content on the blockchain. Mention this account in your post and I'll swing by and take a look. This is a community tool to increase earnings of people who write good content. I will specifically look for and upvote # 3StepsNoExcuses and # 3StepsToday posts first. I upvote quality content, and stake 100% of the Hive, CTP, and #leo this account earns. That way votes from this account increase as fast as possible.
---
▶️ 3Speak