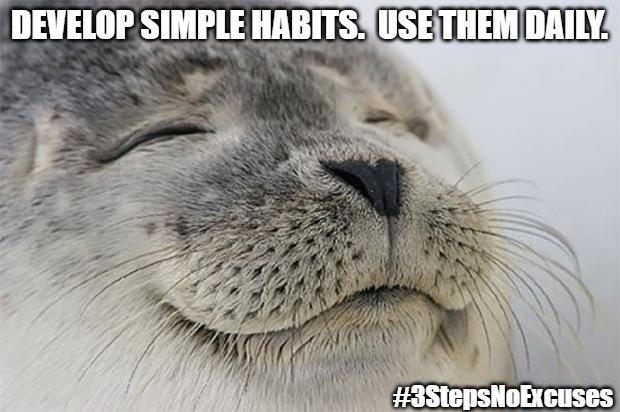 The #3StepsNoExcuses 30-day journey rocked my world.
Great things happened as a result of me working on this. There's a lot of it, so this may take a bit. Here we go:
30 Days of Doing 3 Simple Tasks
Overall, the last 30 days have been a success for me. I committed to doing 30 days of posting and following tasks. Since I know this would eat into my time with the family, I made sure I had my wife Tammaney's blessing.
Over the 30 days we used primarily three services\tools: ClickTrackProfit, ListNerds, and Plus1Success.
Each one offered a different face to the 30 days, and I am glad to have the diversity in what I was doing.
ClickTrackProfit
The training we went through was excellent. Covering the basics of content curation, podcasting, the "power of 3", the $2.74 method, Hive blockchain, building your brand, you name it! It's small yet powerful bite-sized pieces of content that were easy to watch. I'm a big fan of CTP obviously, and managed to also pick up some referrals to CTP (8 wonderful folks.)
List Nerds
OK, so to be honest, I wasn't a huge user of List Nerds before this. I would sometimes forget when my mail date was. I upgraded to the business level where I can now email daily, and really started using the service. I've gotta say that of all the viral mailers I use (and I use many) this one is now my favorite. The interface is just so easy to use.
Plus 1 Success
This is BY FAR my favorite part of the 3 steps. I like being an encourager and working on 'meta'-skills that can be applied across many disciplines. Plus 1 Success fits the bill. With the handy pdf AND the wonderful videos Jon O. made, this is a great product. I enjoy using it because it's the area of business I think I need the most support and help in: consistency and continuity. I have plenty of good ideas and work hard, I just need to stick with something simple that works.
With those 3 tools, we spent 30 days improving our craft as marketers. I feel much more 'sharp' when it comes to my marketing skills and what I am trying to accomplish. Mission accomplished.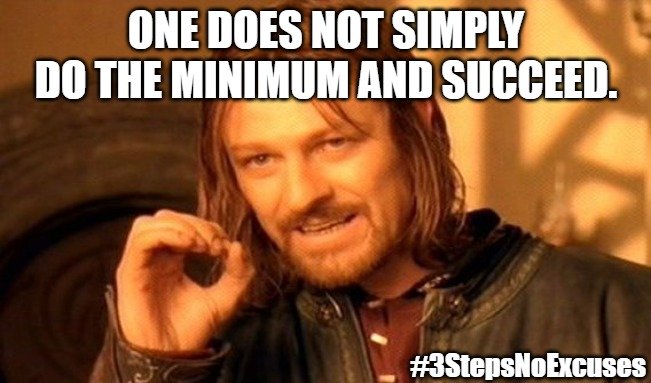 After 30 days, what did I have?
Besides the stats at the bottom (which is what everyone wants to read), here's the other areas where I think big wins were scored:
I created a New E-Course
With Jon's blessing, I wrote about the 30 days I've participated in the #3StepsNoExcuses journey. Each day I documented the 3 steps and my results with them along with some running commentary.
I fed all of this into my autoresponder email series, and created a lead capture page. Now that we're at 30 days, so far I've gained 29 subscribers, or nearly 1 new subscriber per day.
That's wonderful! I am thrilled with that out of all the other metrics I have below. These folks are now going through the free e-course I made from these steps. Can't wait to see what they can accomplish.
New Domain: 3Steps.Today
I registered my new domain: https://3Steps.Today/
This is for the new E-course I created, all of my 3 Steps posts, and my future efforts in this area. I haven't started wholesale migrating my content onto the new blog, but I do have it hosted, paid for for the next year, and ready for all of my #3Steps content. :)
This domain is such a win for me. I was wondering how I was going to turn the 30 days into something more, and it occurred to me early on that I could create the course and host it.

We're all in this together. Everyone needs someone to upvote their content, right? Welcome @threesteps!
I created this account specifically to upvote #3StepsNoExcuses, CTP tribe, CTPTalk posts, etc. What really helped was getting some high-powered delegations:
For Hive I received:
The 1000 Hive delegation was rather cool. I purchased that one from hive.dlease.io. I paid a few hive for it, but the best part was getting a large vote on one of my posts that paid for the delegation to the account. I still have 18 days left on the lease, so expect some good upvotes.
On the CTP side, this account receives:
@clicktrackprofit 10000
@robwillmann 3531.264
I also purchased some LEO and staked it so that when I upvotes posts that cross over into the #leo side of things, there's staked LEO to increase the vote power.
The support that this account received from the community is tremendous. So far I've managed to upvote quite a bit of the content created. I didn't upvote the stuff from early on in our journey because I hadn't created the account yet. :)
Going forward, this account will still be used to upvote high quality content on the Hive blockchain.
Followers were added all OVER the place
The social media aspect of the past 30 days really kicked my butt. I needed it though in order to be consistent and build good habits. I managed to use Twitter, email, Noise.Cash, Telegram, Discord, and live webinars to be seen and get my name and brand out there.
Here's what happened:

Twitter: +15 followers, and over double the tweet impressions.
I managed to increase the number of tweets I produce, and the number of followers I have went up significantly. For the longest time, I was stuck around 45 followers. After 30 days, I am at 61 followers, or +15. That's one more every other day. Nice!
I tried to tweet more consistently, and work on being eye-catching and offering something decent each tweet. I began doing videos on Twitter as well, which I'll cover later. Overall, super happy with that. It seems that it helped me break the deadlock I had on that account. I wasn't tweeting because I was discouraged and wasn't seeing results.
This course had us use tools like Twitter that I hadn't used in a while. Now I do. Mission accomplished.

My List of subscribers
Holy Underwear, batman! I gained 29 subscribers to my new e-course. Fantastic.
I've heard continuously that the money is in the list and to build my own list. What's created with this e-course is a great way for people to be introduced to all three products and given easy, step-by-step instructions on what works. I am especially happy with the new folks on my list.

Noisecash Followers
Noise.cash is a new social media platform where you can tip and be tipped with BCH (Bitcoin Cash) crypto. I love this. I started posting info about the 3 steps on here and was happy with the results.
I now have 82 followers. I forgot to screenshot my number when I started, but it was WAAAAY lower.
Hive followers
I hit 100 followers on this journey (today as a matter of fact). Superb! Thank you, everyone!
$19.46 in Earnings from Noise.Cash.
I'd just started with Noise.Cash not long before the challenge started. I amassed a small amount of BCH (~$2.70 USD) in my bitcoin cash wallet. Right now my BCH wallet has $22.16 in it. So with some basic math, that means I've earned $19.46 in my BCH wallet from Noise.Cash, and since this 30 day journey started, it's all I've written about.
This is Too Much Data! Just give me the summary.
Alright, here's the TL;DR: This rocked. Here's the numbers.
Followers:
Twitter +15
NoiseCash: +82
Subscribers on my course: 29!
Hive: I didn't start counting before, but I have 100 followers now. :)
Referrals:
ClickTrackProfit: +8 (19 total)
Plus 1 Success: +3 (4 total)
List Nerds: +5 (15 total)
Earnings just from #3StepsNoExcuses content and promotion:
BCH: $19.46
CTP Tokens: 1988.59
Hive:51.22
Other Improvements:
My New Domain: 3Steps.Today
My New Free 30 day course: https://lllpg.com/3SNE-simple-steps/hived30
New curation account: @threesteps
The most important part? The Relationships!
Building strong relationships with my fellow marketers and the collaboration has been brilliant.
**While the numbers are great, it's the relationships that matter. **
I've made many friends on here, and strengthened bonds that already existed. I appreciate everyone who has worked on this, and hope that I was able in some way to assist YOU on your journey toward #3StepsNoExcuses.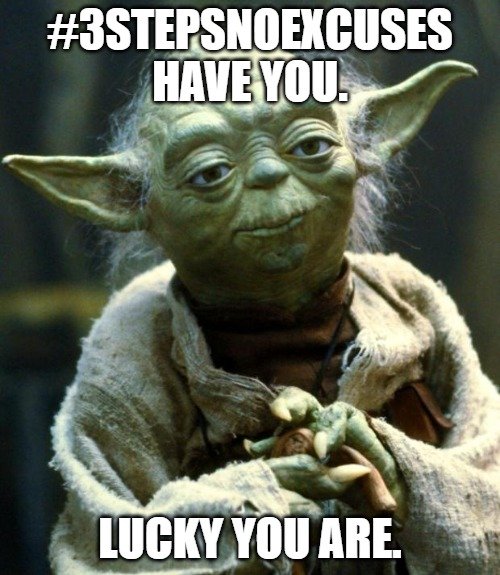 What's Next?
I have been completely overwhelmed at this community, the response to our efforts to promote this, and what happens when you truly do 3 simple steps a day.
After this is done, many people may go back to 'the usual'.
Not me.
The last 30 days have helped propel me into business ownership and reconsider Hive and how I use this blockchain.
We have such powerful tools at our disposal, that there's really no reason anyone can say that these simple steps don't work, or that they can't make it in online marketing today.
I think you can expect more posts, more upvotes, more engagement, additional ideas for projects, and a determination to +1 my way to victory.
Peace and Love,
-Rob
robw.marketing@gmail.com
https://robwillmann.com/about/
P.S. One last item:
I have created a 30 day free email course on this very same # 3StepsNoExcuses journey, and I'd love to have you valid feedback on my e-course. I'd really like to hear what you think about the content. You can sign up by clicking this link and then confirming your email address. The course lines up with the daily steps, and I'd love to hear your thoughts.
Also, I've created an account on Hive blockchain called @ThreeSteps. I upvote content related to # 3StepsNoExcuses. This is a community tool to increase earnings of people involved in the # 3StepsNoExcuses challenge. I upvote quality content, and stake 100% of the Hive Power and CTP this account earns. That way votes from this account increase as fast as possible.