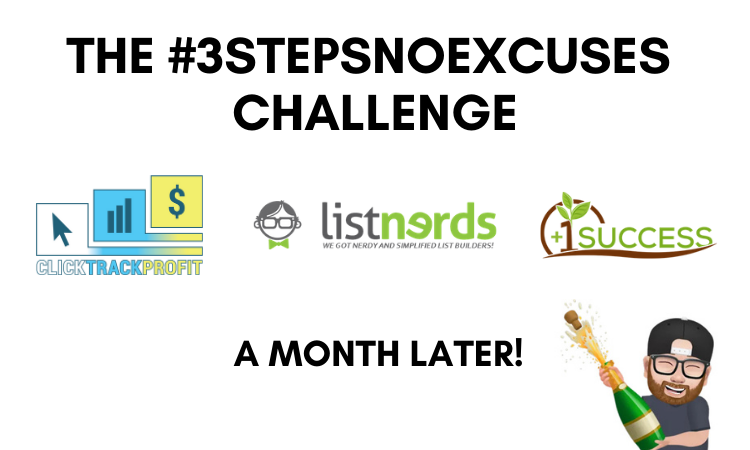 It started with a crazy idea 4 weeks ago...
Develop a plan, that anyone could follow...That if they did...Would dramatically change their experience when it comes to building businesses online.
No money out of pocket required, just hard work and 'stick-to-it-ness'!
The game plan was based off this graphic: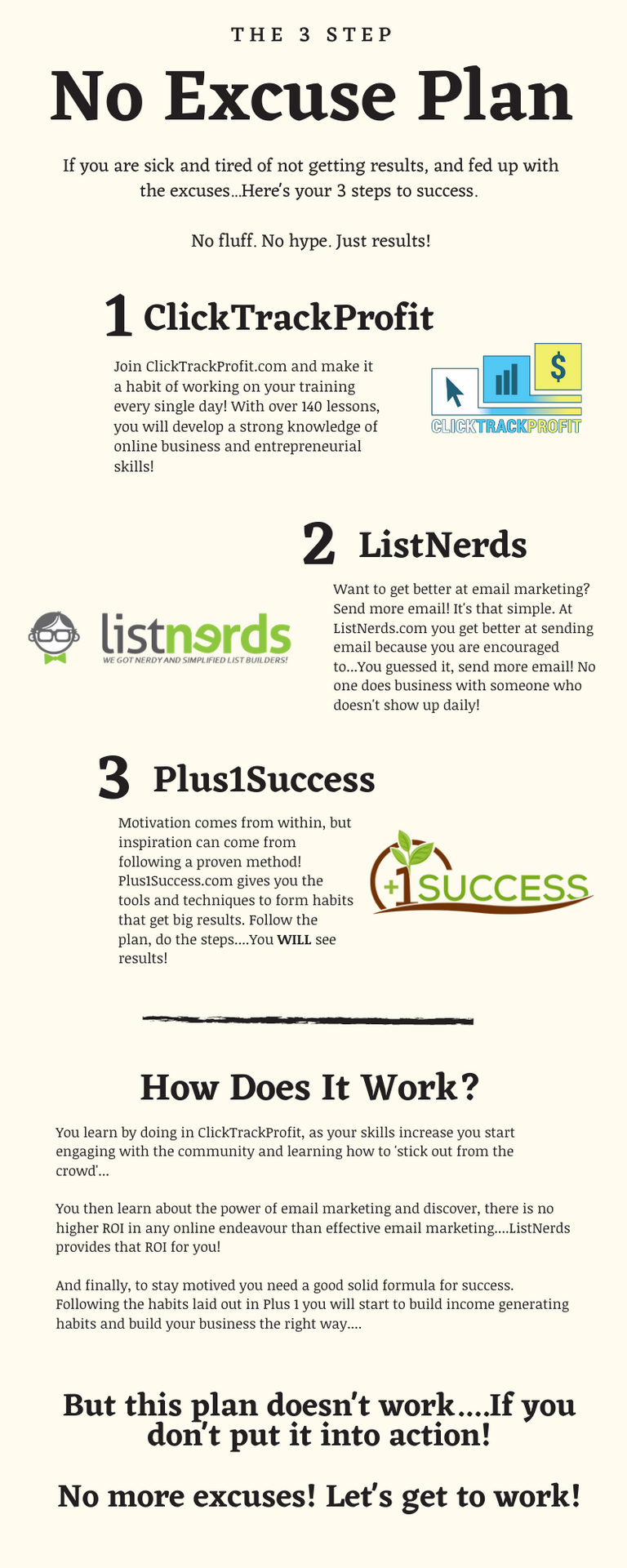 Every day, for 30 days...Participants would do '3 steps' in the following programs:
ClickTrackProfit - We went over the entire 'Click', 'Track' & 'Ctptalk' modules. Plus about a dozen lessons inside the 'Profit' module! While it may have been a refresher for a lot of the members who took part, I found it quite enjoyable to revisit some of the tips that were shared.
ListNerds - We're big on email marketing, and ListNerds is designed to help you...Write better emails :) So for 30 days, we worked on our emails and saw what we could do to improve CTR and open rates...But most importantly, build the relationships with our lists!!
Plus1Success - And we needed some daily motivation to see it through the 30 days! And Plus1 was made for it :) 30 tips spread over the month which helped us build habits into our daily grind!
And we created PDF's for each day, for members to follow along and get more value for the challenge if they decided to take part!
Plus we have uploaded them here for future reference....
Day 1
Day 2
Day 3
Day 4
Day 5
Day 6
Day 7
Day 8
Day 9
Day 10
Day 11
Day 12
Day 13
Day 14
Day 15
Day 16
Day 17
Day 18
Day 19
Day 20
Day 21
Day 22
Day 23
Day 24
Day 25
Day 26
Day 27
Day 28
Day 29
Day 30
So now that the challenge is 'complete' what do we do next?
Note: Just because the 'challenge' has been completed for those that started on Day 1...Doesn't mean it's over for everyone else. Heck, if you want to start the challenge yourself now, simply bookmark this post as a reference for the PDF's and follow along :)
We've been also upvoting content using the #3StepsNoExcuses tag inside of CTPtalk and on Hive as well. Plus sharing a few extra rewards for those that have completed the challenge!
@robwillmann stepped up huge and created a unique account, specifically for highlighting participants in the challenge:
This account got some Hive delegation as well as plenty of CTP delegation too, and has been supporting the participants in #3StepsNoExcuses
Did I ever mention how much I love the CTP community????
So if you are just learning about the challenge...And it interests you...Don't believe a thing I say ;)
Ask the community!
Simply find the tag on the blockchain and ASK the participants, what their results have been like...What did they benefit from the most when it came to the 30 days of action!!!!
And most importantly...If you have completed the 30 day challenge...Do. Not. Stop!!!
You have begun to build those habits but dive deeper!!! Keep taking action each and every day and 2021 is guaranteed to be your most rewarding year in online business ever :)
---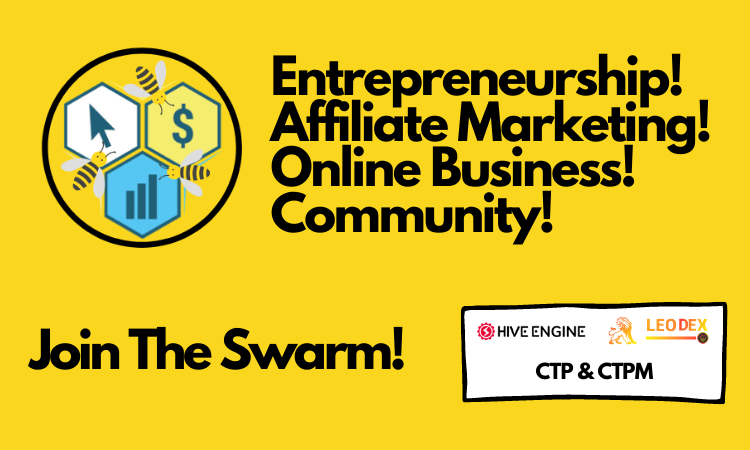 Our Token:
https://hive-engine.com/?p=market&t=CTP
Our Miner:
https://hive-engine.com/?p=market&t=CTPM
Vote for our Witness Node On Hive-Engine: