It's Friday the 28th of August and this means we are now entering the FINAL weekend of the "surfer Rewards" promo where we are giving away 10 lucky winners some CTP Token prizes!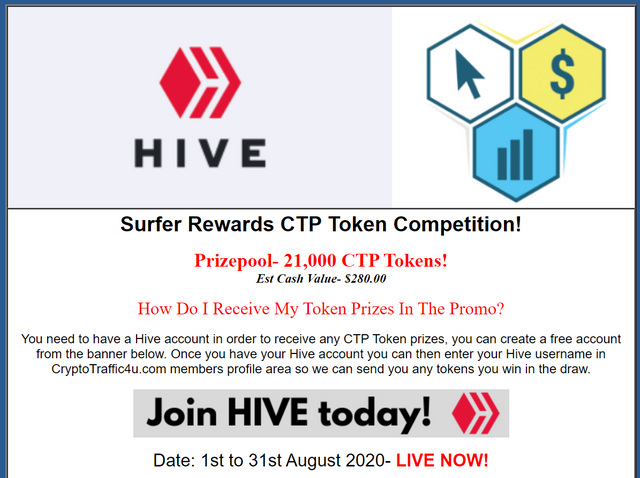 10 Top Traffic Exchanges have joined together to create this fantastic promo for members to generate traffic to their websites, claim "Surfer Rewards" prizes at each TE and FREE entries into the 21,000 CTP Token prize draw.
CTP Tokens can be used to make purchases on a huge range of advertising and affiliate marketing websites including Ad Exchanges, Traffic Exchanges and Viral Mailers. The can also be staked to increase upvote ratings and interest on their content created on CTPTalk. You can even trade them in for Hive!
In order to enter the prize draw you must claim the special "Surfer Rewards" prize by surfing 75 pages at each TE in a single day. You can complete this promo 1 time every day until the end of the promotion.
This means you can still claim 4 entries!!
That's right only 4 days left, so if you have not yet completed this promo then the time is running out for you to be included in the draw.
As the saying goes, You gotta be in it to win it!
So-far since we launched the promo on the 1st of August we have received A total of 113 claims from current members that have completed this promo. However chances are still high due to just 1 prize per person and we have less than 20 different persons complete the promo so far!
Get your name in that box because there is still chances to WIN BIG!
For full details check out the information page below
https://www.cryptotraffic4u.com/splashpage.php?splashid=2&rid=1
Best of luck to our participants. We will aim to have the drawing and payouts completed before the 3rd September. Stay tuned 🤓
P.S - We are now already working on a brand new Halloween Special "Surfer Rewards" promo which will run for the month of October. @elizabetamt has already started a great job with creating graphics and is now take names of TE's that would like to participate! You can see her Blog below to find out more to get your site name in for participating, but be quick as these will fill up fast.
You can check out here blog here - https://ctptalk.com/ctp/@elizabetamt/for-all-site-owners-who-own-traffic-exchange-site