Coming up for the month of October we have a brand new competition starting where members can claim daily rewards in the awesome Halloween Special surfer rewards party!
Currently we have a prize pool of 10,000 CTP Tokens up for grabs which will be drawn around the 1st of November for all of our participants.
All you need to do is claim the special surfer rewards prize after surfing 75 pages at each of the 10 participating Traffic Exchanges in a single day to claim an automatic entry in the prize draw! And for each day you claim you will gain 1 extra entry in the drawing.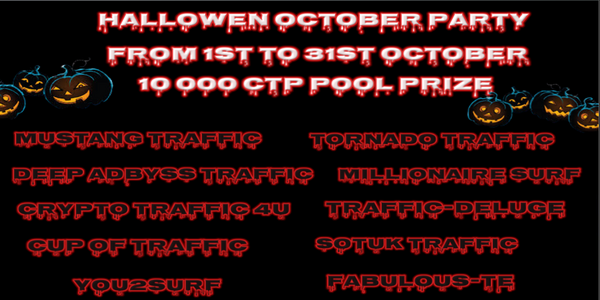 Get ready for this awesome spooky promotion now which will start this Thursday the 1st of October! The list of participating Traffic Exchanges can be seen from the image above!
Good Luck everyone and keep an eye out for our updates which we will post on CTPTalk.com
Special thank you to all the TE admins for donating to the prizepool and helping to get this promo ready for you all to compete in this October.
Also a special thank you to @elizabetamt for helping to get some admins onboard and for creating some awesome graphics and splash page which can be found at the mustangtraffic.online affiliate area. Due to work commitments I probably would not be able to organise it all myself.
Good Luck everyone and we hope you enjoy this brand new competition! :)