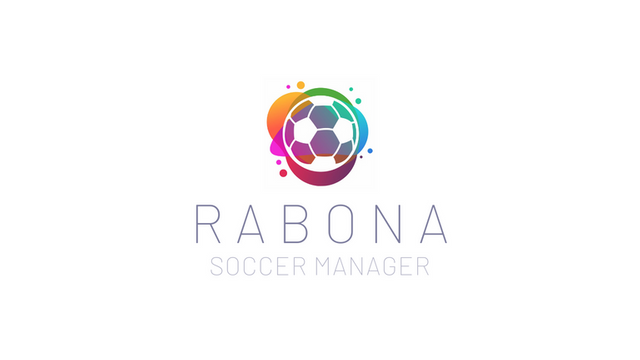 I can't be less excited at how FC Creativians have steadily grown with the Rabona game experience over the past 23 weeks and I see the team get stronger and stronger in the coming weeks. I had an auxiliary team Excel FC and got it dumped as it had shown no signs of going forward despite the huge investment I had pushed in there at the very start. I could get back to getting it fixed in the future if I had the time but sure it would have accumulated over a million deficit RBN.
If I'm not mistaken, Rabona game is still at the beta stage and hopefully when the later upgrade would be made to a full blown game, things would have greatly changed. My journey with FC Creativians started with just 40 average Overall strength and I've seen upward and downward movements over the weeks. That happened because I wasn't well schooled at the factor combination that provides the most optimum strategy for the growth of the team.
More excited is the fact that we have a whooping 1.5 million fans following Internationally. I know there are teams with over 100 m fans. We are getting there and are certainly going to reach that spot soon.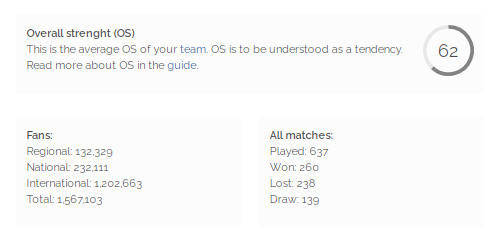 Seeing a steady stay at the 62 OS shows a healthy growth while I look forward to scaling towards 65 OS. The present average strength of the team means that the OS of each player falls within the range of 55 and 75. It's been a keen observation that goal keepers have always earned the highest OS for my team from inception. At present, there are 2 Goal keepers with over 75 OS. A single defender stands at 70 while 2 attackers passes the 70 OS mark.
The midfielders are predominantly at 50+ OS and I'm still making my study to know why it happens thus. Scouting good players at recent times has been the most reason to have sustained this high reputation. This must be understood that as player OS increases, his salary also increases depending on the player's Cleverness. However, when a player is scouted, depending on the Youth Academy level of the team, the salary would always start at 400 RBN.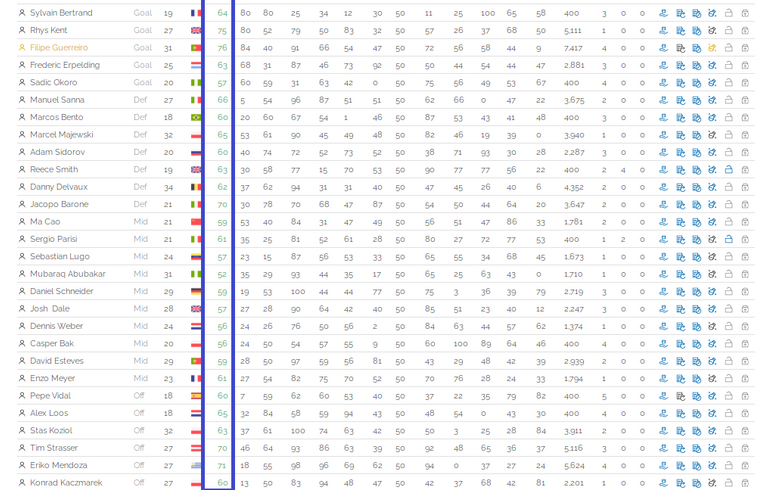 So far, we have a good spot at the 5th position in the table ranking after playing 7 matches. I am hopeful that finishing at top 3 spots is possible and possible leading the table. The matches so far played have been well balanced in terms of wins and goals accrued.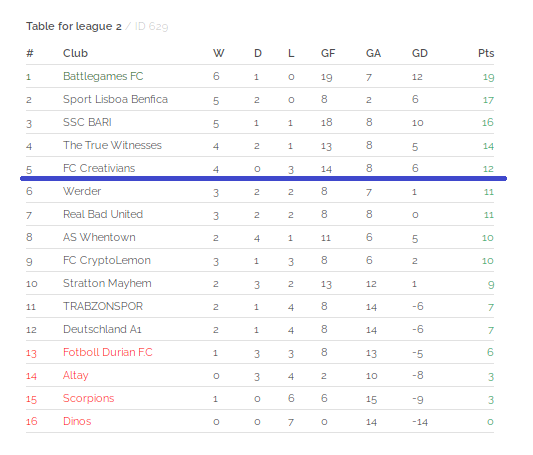 I'm not relenting to give in my best in terms of my team management and asset development. I can't wait to participate in the higher league 1 and subsequent Cups and other tournaments that are coming.
Join us with my referral link https://rabona.io?ref=uyobong and catch the fun while earning with Soccer games on Hive.