Just two days ago, the 22nd Season of Rabona soccer game built on the Hive blockchain was brought to end and it excites me to have keenly survived relegation yet again. It was another tough season I had experienced. My team had started so well but along the line, things toppled.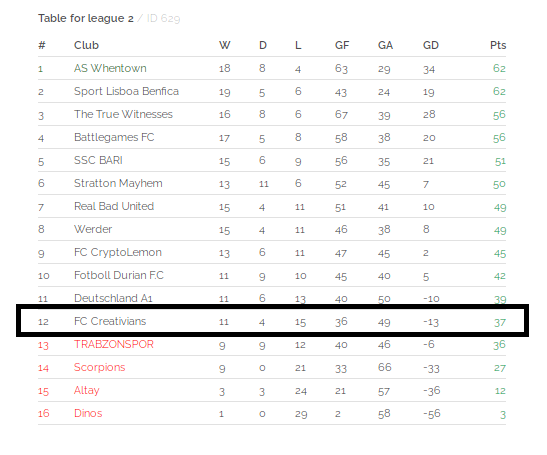 With just 1 point up the relegation line, I was so nervous especially when I had conceded more goals with a higher GA than the club just below mine on the league table. It's cool to e qualified for Season 23 on the same league. Thank goodness, my player rating have rigorously increased as we ebgin the new season and I hope they perform better.
For FC Creativians, 11 wins out of 30 matches was so poor. In fact, the losses were more this time. It was somewhat unexpected as team had ranked at 63 Overall Strength (OS) and had some decent players doing the job. At this point, I think, there's much to do with upgrading my players as well as scout some better ones at a cheaper rate. Maybe, I'll look into peer-to-peer player purchase.
Stepping up higher with my Youth Team level would mean so much increase on my match expenses an possibly increasing by 20%. That's a huge one when compounding over time. On the other hand, trying to keep a balance with maintaining a good RBN earning at the end of each season to meet up with my 100 RBN target over the next 30 days.
If you're yet not playing Rabona game, you're wrong. The future looks brighter each passing day for the game and I'm giving my very best to ensure I get positioned among the top RBN token holders before the start of Bank of Rabona.
I'll be glad to make it to League 1 in the next strike.