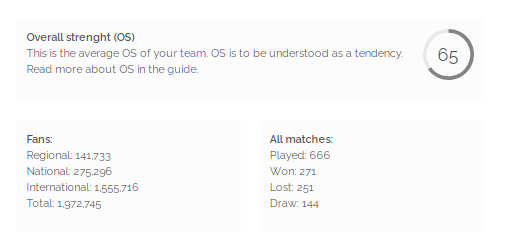 I'm getting to loving the Rabona game better as each day unfolds, especially, as my team is able to make some tangible improvement which also leads to the overall improvement of the financial economy of the company. After I had lost some players over the last season for failure to re-engage their contract before the last match, I was also able to secure some super players afterwards. The present combination of players in my team builds the overall team reputation to 65 OS.
This growth comes with simultaneous winnings which help to attract more fans to the team. Presently, FC Creativians can boast of 1.97 million fans and passing the 2 million milestone looks realer. Happy to see the team sit on the second position on the league 2 table with 13 points after 6 matches played.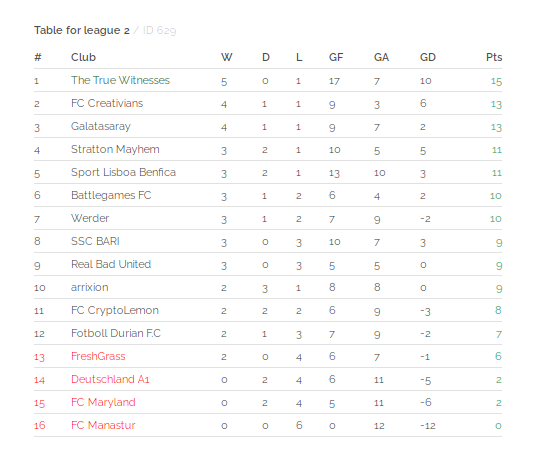 I am very optimistic about playing the higher League 1 by next week after finishing on top position. I wish to see the boys on top performance in the next coming matches to secure the top spot with some convincing points. On the long term, I am pushing the team to reach an OS of 70 while managing the matchly player salary below 100k RBN. I don't know how possible that would be but I think it's possible.
Being able to have a fleet of players with high reputation (70+) but scouted at 400 RBN price is the next business opportunity I am keenly looking forward to investing in. Rabona game would turn out big in the next few weeks when the two major developments are put in deployed to production. Still so interested in holding at least a 100 million RBN either by purchase or by earning in before Bank of Rabona comes live.
It's been fun all the way while the bags would get filled in the near future. Start playing Rabona with $5 and using my referral link: https://rabona.io?ref=uyobong