We reach another milestone today with the 300th edition of our little prediction game so a huge thanks to everyone who has ever taken part, and whats makes it extra special is that just one person got both correct score and first goalscorer last night as Swansea came away from their first-leg play-off semi-final against Barnsley with a slight advantage. All will be revealed at the end!
But first, we need to choose a game for today and guess who are playing each other again...

nathen007's Prediction
This could be a very different proposition to the FA Cup Final on Sunday as there will be revenge needed and a baying crowd to contend with at the Bridge. Chelsea will desperately want the points to try and ensure one of those coveted Champions League spots, and with Liverpool breathing down their necks, this could all come down to a test on their bottle.
Pressure is off Leicester, but they will want to take the piss and give Chelsea another lesson. Chelsea haven't beaten Leicester in the League in their last 6 games so this could all be very tight.
Having said all that, I fancy Chelsea to take this which will add some spice to the final day of the season on Sunday!
Prediction: Chelsea 3 : 1 Leicester - First Goalscorer: Tammy Abrahams (with a point to make!)
Simply write the name of the FIRST GOALSCORER and the CORRECT SCORE as a comment. The competition closes 5 minutes before kick-off which is 20.15 BST
The Small Print
In the first goalscorer competition, own goals do not count. In the correct score competition, it's the score after 90mins. Extra time and penalties do not count and the pot for each competition will roll over if there is no winner. If more than one person chooses the same first goalscorer or correct score, the prize is shared and everyone gets a little upvote! It seems I also need to add, one entry per person. Don't forget the new rule that only people with a rep of 45 or above are eligible to enter unless they have been approved. The bonus will be added to any winnings ONLY if Leeds United win and/or Man U lose and all payouts will never exceed 50% of post payout. Other bonuses paid out at my discretion.
The Winners were...
The day belongs to @friendlymoose who got both the 0-1 away win
AND Ayew as the first goalscorer so a huge well done to him as he walks away with 11500 + 500 tokens! Well done mate. Thoroughly deserved.
Appearance fees go out to the rest of the crew, @ty4utoyin, @jersteemit, @tobywalter, @saachi, @harpreetjanda, @jfang003, @zellypearl, @yeckingo1, @cetyoung, @ralph75, @corporateay, @numpypython, @etiboy56, @tokutaro22 and @chrisparis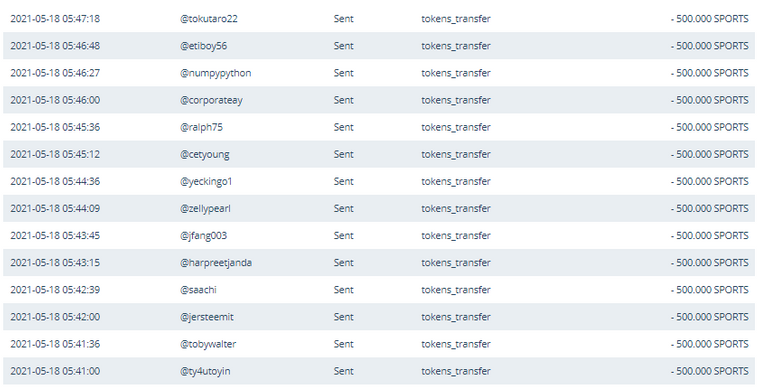 That's it for today! Have a great day and good luck with tonight's game guys!
Marching On Together