So that's one English team into a European final and let's be honest, Man. City never really looked troubled after that early first goal went in. The nerves settled and it was just another day at the office.
First-ever Champions League final for Man. City but not for manager Pep Guardiola, he's won it twice before as Barcelona manager. PSG will rue not having their talismanic striker, Mbappe available but even with him, they'd have been outclassed. The final will be interesting and we will know their opposition later today when...

This one hangs finely balanced as Chelsea host Real Madrid with the score standing at 1-1 from last week's game in Spain.
The big news is Ramos will be back for Madrid and other than Chelsea's Mateo Kovacic, there are no big injury problems for either side. This is all going to be about quality and who wants it more. Real are on fire at home, closing in on the La Liga title, and winning this game will bring them into their first Champions League final since 2018.
My feeling is, Chelsea are too defensive and in trying to hang on, will be overpowered by what I consider to be a more skillful and all-around slightly better quality team. Of course, since Tuchel's appointment, Chelsea have stepped it up a notch but it still remains to be seen whether they will be able to compete with one of Europe's greats.
Prediction: Chelsea 1 : 2 Real Madrid - First Goalscorer: Benzema
Simply write the name of the FIRST GOALSCORER and the CORRECT SCORE as a comment. The competition closes 5 minutes before kick-off which is 20.00 BST
The Small Print
In the first goalscorer competition, own goals do not count. In the correct score competition, it's the score after 90mins. Extra time and penalties do not count and the pot for each competition will roll over if there is no winner. If more than one person chooses the same first goalscorer or correct score, the prize is shared and everyone gets a little upvote! It seems I also need to add, one entry per person. Don't forget the new rule that only people with a rep of 45 or above are eligible to enter unless they have been approved. The bonus will be added to any winnings ONLY if Leeds United win and/or Man U lose and all payouts will never exceed 50% of post payout. Other bonuses paid out at my discretion.
The Winners were...
No one predicted the correct score but just one talented individual chose Mahrez as the first Goalscorer so it's a big shout-out to @marvinix who walks off with 5000+500 tokens!
Thanks to everyone else for playing along and @mayorkeys, @friendlymoose, @yeckingo1, @ralph75, @harpreetjanda, @numpypython, @hykss.sports, @savagetobi, @tokutaro22, @jfang003, @jersteemit, @dealhunter and @pusen all take home their 500 token appearance fees.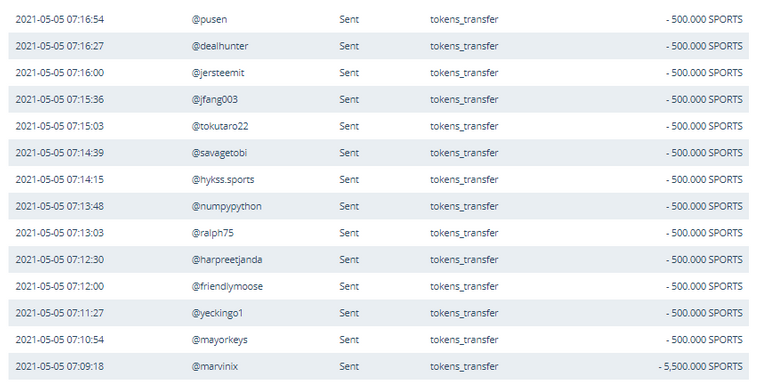 There you go! Check carefully please and enjoy tonight's game at Stamford Bridge. @lebey01, are you going to grace us with a prediction today? ;-)
Marching On Together