I am definitely calling that a game to me last night as I got the first goal-scorer and although not getting the score quite right, did say Porto would win!
And where was Ronaldo? Not on the score sheet which saved me a fortune. Porto did a superb job keeping him on a leash but not such a good job defending their amazing record of not conceding in over 9 hours of CL playing time, and 82nd-minute goal from Chiesa put pay to that.
Over in Spain, Seville were turned over by Dortmund with Leeds'very own born and bred wonderkid, Haaland following an exquisite assist with a brace of goals to give them an upper hand going into the next leg at home.
Are Mbappe and Haaland the new Messi and Ronaldo? I ask!

This had me Googling! So Rangers first and an interesting fact. Steven Gerrard's boys have not actually lost a game in either the Scottish Premiership nor Europa League so far this season which is pretty impressive but I'd suggest that Royal Antwerp will provide a stiffer test than they have had to date. No injuries are being reported and they will be able to call upon former Leeds and Anderlecht man Kemar Roofe after suspension and his experience in the Belgian league may prove to be very useful.
Royal Antwerp, it seems are currently sat in 2nd place in the Jupiler League and have some serious selection headaches due to injuries with top striker, Ze suspended and Mbokani out injured. Their frontline will be 'makeshift' to say the least! Coach, Franky Vercauteren expects to only have 18 fit players to choose from for their first game in a European knockout stage in 26 years!
It's looking like they're shagged before they even start!
Prediction: Royal Antwerp 0 : 4 Rangers - First Goalscorer: Roofe
A brave call by me, especially as Rangers have been known to fluff their lines!
Simply write the name of the FIRST GOALSCORER and the CORRECT SCORE as a comment. The competition closes 5 minutes before kick-off which is 20.00 GMT.
The Small Print
In the first goalscorer competition, own goals do not count. In the correct score competition, it's the score after 90mins. Extra time and penalties do not count and the pot for each competition will roll-over if there is no winner. If more than one person chooses the same first goalscorer or correct score, the prize is shared and everyone gets a little upvote! It seems I also need to add, one entry per person. Don't forget the new rule that only people with a rep of 45 or above are eligible to enter unless they have been approved. The bonus will be added to any winnings ONLY if Leeds United win and/or Man U lose and all payouts will never exceed 50% of post payout. Other bonuses paid out at my discretion.
And the winners were...
ME! As almost no one predicted the Porto win and almost everyone bent over for Ronaldo! So whilst the pots rise there is just Appearance fees to send to @lebey1, @monsterbuster, @jfang003, @pusen, @anderssinho, @hkyss.sports, @friendlymoose, @marvinix, @numpypython, @p15, @chrisparis, @corporateay and @olaunlimited (welcome to the team my friend!)
Shout-outs to the missing players!
@hirohurl, @metzli, @cabinet24, @ralph75 (If I miss anyone, it's not because I'm snubbing you. It's because I'm 54 and an old twat with a shocking memory!)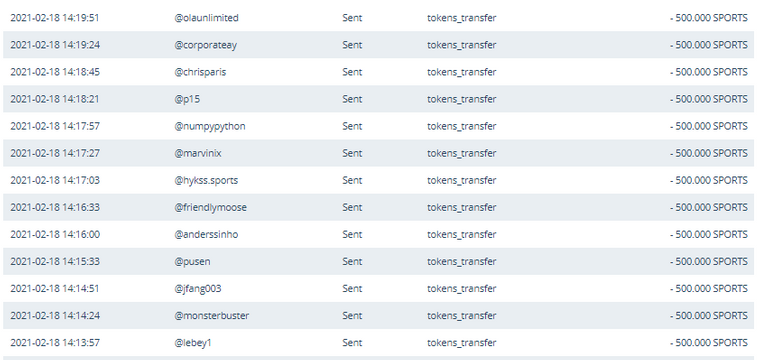 One thing I promised someone I'd do yesterday and forgot is to remind everyone that this isn't the only prediction contest on SportsTalkSocial. If you all catch up with @fitcoin , he runs an NBA and NFL prediction game, also with great prizes and upvotes. Go and fill your boots boys and get him bled dry!
Thanks once again for joining in. We have a great team here and let's all try and support each other wherever our paths cross around the various tribes. It's tough being a little fish on @hive but loads of little fish swim stronger and grow together. Fucking hell that was shit but you know what I mean!!
Best wishes, stay safe and stay sane everyone :-)
Marching On Together