OK, game on, and let's remind ourselves of how it finished last time out with the game between Celta Vigo and Elche. It finished 3-1 and the first goalscorer was Santi Mina and NO ONE got either so finally, I get a day in profit!
A quick word on Leo Finance and in particular, one user. Wanker. There you go, let's move on and what a shame we can't all share a little in Leo, when after all, everyone else seems to post about Non-Hive give-aways but try and give away some Hive based tokens and you get downvoted. Pathetic, but that's life on a POS-based, decentralised blockchain I guess. I hope @godalfa enjoys the fruits of his 'hard work'. I used to downvote him years ago when he set up multiple accounts in the name of his family and farmed the chain with single, almost identical photos on a daily basis which at one time, brought him into Steemcleaners...but anyway, I'm not bitter....
Let's have that quick word again, shall we? WANKER. OK, I feel better now and let's get on to today's action and we see the return of Champions League action with a huge game!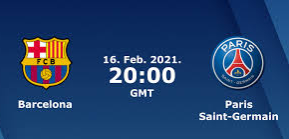 It's been 4 years since that 6-1 thrashing by Barcelona and a lot has happened since then but there is still a lot of needle between these two teams for another reason, and that reason is Messi! He scored a couple at the weekend as Barcelona gave a thrashing to lowly Alaves by 5-1 but the rumours persist on him wanting away and PSG and Man. City have made no secret of the fact they want his signature.
PSG also come into this on the back of a win at the weekend but, and it's a huge but, they will be without their star man, Neymar and along with the loss of defender Di Maria they will face a real struggle against an in-form Barcelona.
Prediction: Barcelona 3 : 1 PSG and who else but Messi to score the first goal
Why do I feel like a lamb to the slaughter again today? lol
Simply write the name of the FIRST GOALSCORER and the CORRECT SCORE as a comment. The competition closes 5 minutes before kick-off which is 20.00 GMT.
The Small Print
In the first goalscorer competition, own goals do not count. In the correct score competition, it's the score after 90mins. Extra time and penalties do not count and the pot for each competition will roll-over if there is no winner. If more than one person chooses the same first goalscorer or correct score, the prize is shared and everyone gets a little upvote! It seems I also need to add, one entry per person. Don't forget the new rule that only people with a rep of 45 or above are eligible to enter unless they have been approved. The bonus will be added to any winnings ONLY if Leeds United win and/or Man U lose and all payouts will never exceed 50% of post payout. Other bonuses paid out at my discretion.
And the winners were...
No one but, as usual, no one goes away empty-handed and @hykss.sports, @p15, @anderssinho, @amr008 (sent to your .rewards account mate!), @jfang003, @chrisparis, @corporateay, @hersi007, @savagetobi and @cabinet24 all pick up their 500 token appearance fees!

and finally.....
@lebey1, get your arse out of bed. Its time for training!
As usual, if I made any mistakes or missed anyone, please let me know in comments.
Marching On Together (without the need for Leo)
(waiting for @arsenal4life to say "thank-you")