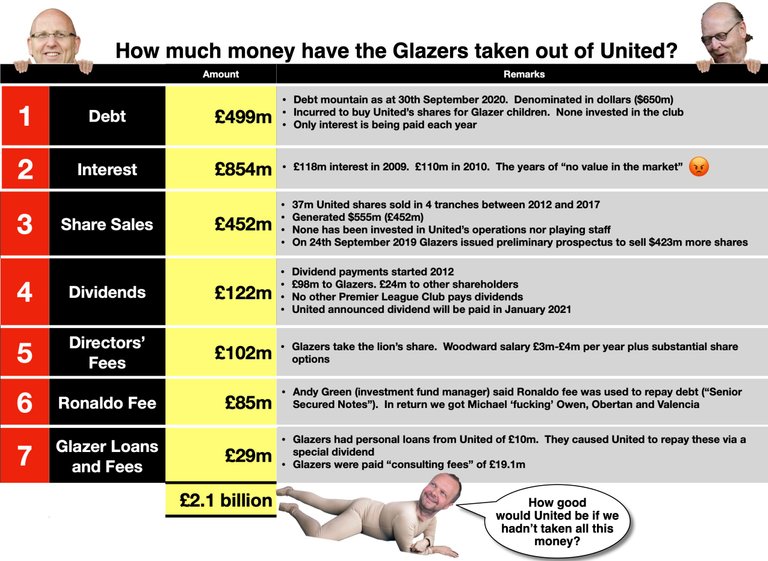 source
yesterday the "fans" prevented the Manchester United vs Liverpool game from going ahead. I just don't get it as surely the club knows the sentiment and how the fans feel about the proposed Super League.
The owners come out and say the fans are the heartbeat of the clubs yet we all know this move could hurt the other 14 clubs from the Premiership not involved. This was purely a business decision and nothing else and today the football clubs are businesses.
When the Glaziers bought the club one could have guessed the reasons why as it was purely a business decision. The same with The Fenway Group buying Liverpool Football Club as they openly admitted the club was a cash cow to be milked supporting the Red Sox Baseball team. Having Solskjaer as manager meets their needs as they are making profits having qualified for Champions League football next year. Winning it is another totally different story but just being involved pays the bills.
When the Glaziers "bought" the club they never actually put their hands in their pockets as they took a loan against the club putting Manchester United into debt. Those loans are being covered by the club and not the Glaziers. If you can get away with buying something for nothing it is a great deal for yourselves and not necessarily the club. As long as the club makes money without them physically paying they will keep it and that is the reality.
Remember how everyone jumped all over Arsene Wenger calling him a failure yet he kept the owners happy. His managerial style was based around the club business not spending fortunes and looking for player deals on the transfer market. Fans saw the lack of silverware as a lack of ambition which it was as that costs money. Wenger was a shareholders dream and Arsenal made money having achieved a run of 17 years under Wenger in the UEFA Champions League.
Understandably fans want trophies and silverware but owners want a decent sustainable business that doesn't cost them money. Not surprising Manchester United haven't won anything as that is not the Glaziers business model as making profit without the crazy buying of players is the only way. The same goes for Liverpool and why Jurgen Klopp pulled off a miracle and the chances of it happening again are very slim unless he is backed financially.