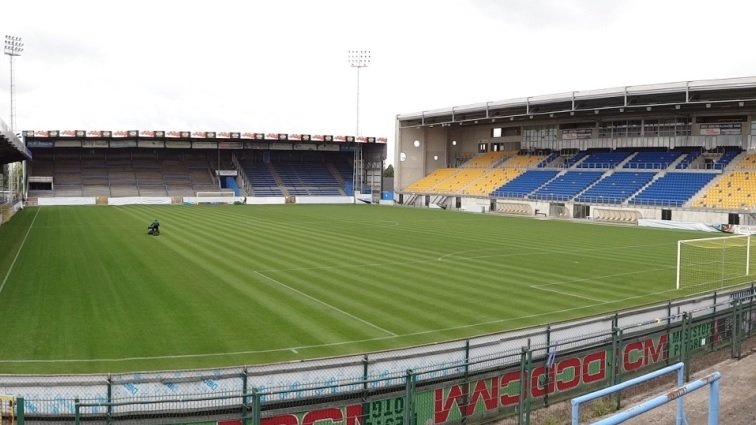 These are previews from matches involving Belgian Teams with all the latest on team news, player form, injuries along with my personal betting angles, ...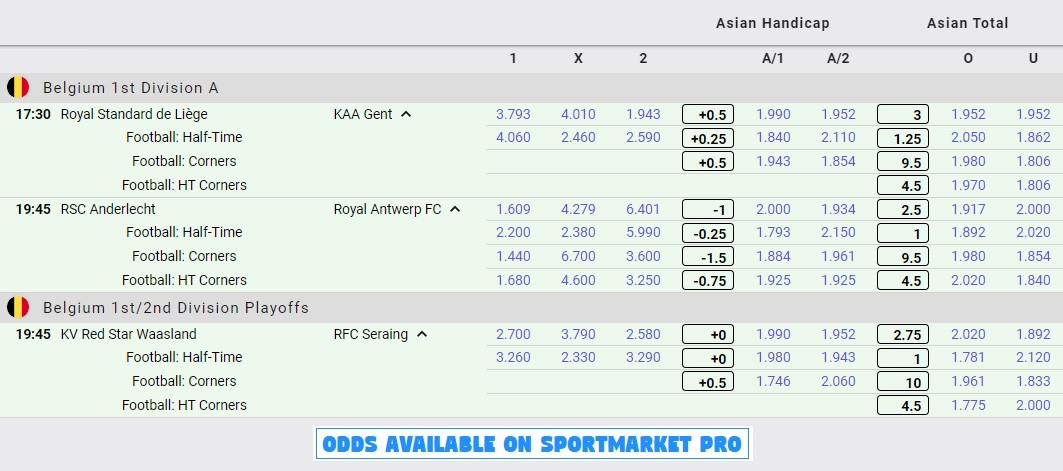 The match yesterday was another example of how crazy these playoff matches can get. The money flow was on Club Brugge who lost 3-0 to Genk and are now left with a 5 point lead instead of 16 points with 4 more matches to go. The 1st half didn't see much action with all the goals coming in the 2nd half again for another match going over in goals. I mostly stayed on the sideline getting in 2 tiny bets on Over 2.5 early as planned and stated in the preview and a late Over 1.75. 3 More matches today and I will be keeping the same cautious approach.
---
Standard vs AA Gent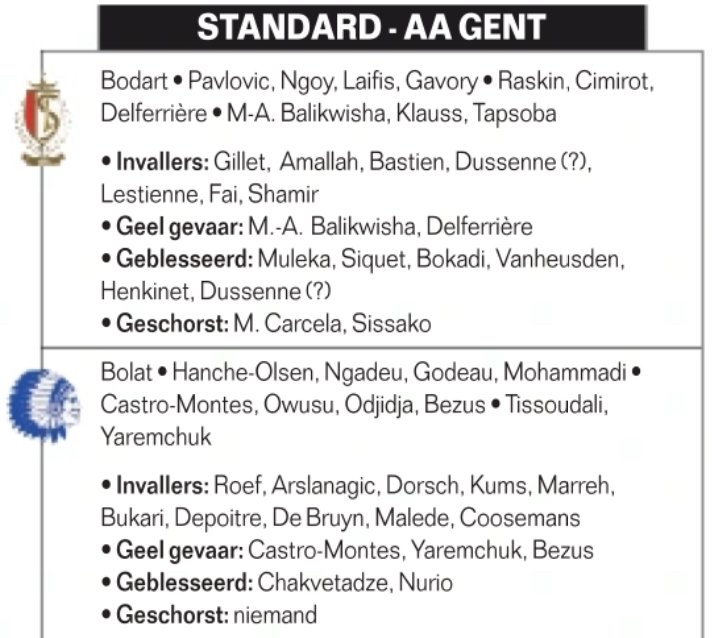 Both teams have put up a disappointing overall performance this season. Standard started the playoffs taking a 6-2 beating against Oostende in another very open playoff 2 match where Standard was just not good enough. AA Gent also played an up-and-down match ending with a fair 2-2 draw. Standard is higher on my list of teams to oppose but the Asian handicap pretty much agrees with it setting them as an even -0.5 favorite as the away team. It's is hard to make sensible predictions on these playoffs, so I mainly look at some trends. Right now it looks like most games start out fairly slow with goals coming in bunches at some point (similar to the match yesterday). So the in-game over is what I'm looking at the most. Standard has some missings while AA Gent should be complete. This same match was played in week 32 which ended in a 2-1 home victory. It was a boring 1st half where neither team was willing to take a risk and a penalty for the 0-1. Standard played more forward in the 2nd half with AA Gent not making use of the space. Standard made a late 1-1 and 2-1.
No Pre-Game Bets
---
Anderlecht vs Antwerp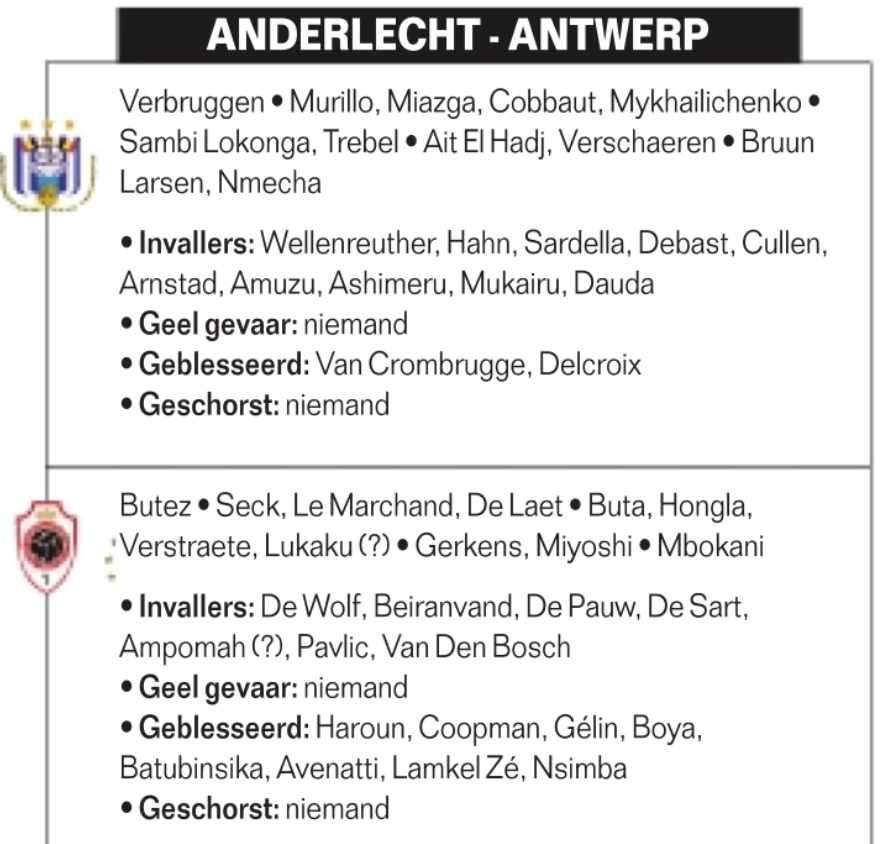 Anderlecht remains a weird team never really playing fun-to-watch matches but going home with the results as both their work ethic and defense is on point. Especially against teams that take initiative, they tend to perform better. Antwerp is in trouble with some new corona cases, some injuries and Refaelov no longer playing. They had a good reaction after getting 0-1 behind last week against Genk turning it into a 2-1 to give it back at the end. I do expect a closed start of the match with Antwerp mostly putting focus on the defense luring on the counter. This could be once again one of those playoff matches where a slow start is followed by goals coming in bunches. I did take a tiny trading position on
1st Half Under 1 @ 2.02
and see where it all goes in-game.
---
Waasland vs Seraing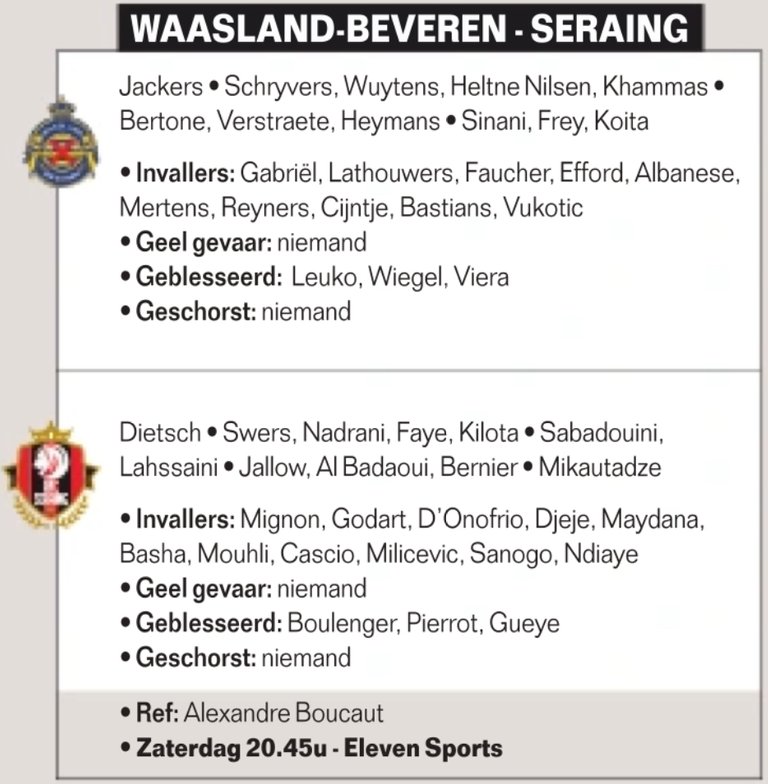 Seraing showed to be a good team last week against Waasland-Beveren went home with a 1-1 score once again giving it away late in the match. This is what they pretty much have been doing all season long, giving it away at some point in the match with the exception of the matches where it really was money time. Waasland has enough with a 0-0 and I do expect them to play with high focus on defense at the start and a scenario of them scoring to give it away or Seraing scoring for Waasland to pull through would not surprise me. Matches like this ending in extra time is always a valid option I do see some value in it taking a 0.18 unit position on
Correct Score 1-1 @ 7.20
. I also took a tiny trading position on 1st Half Under 1 @ 2.12. Waasland +0 is also on my radar but I rather not take the gamble given how sharp money clearly is on Seraing who showed good things in the first match.
---
Late info might change my view on what is written in these previews. I will cover these matches live in our SBC Discord Channel. All my bigger pre-game & Live bets can automatically be followed on Copytip.
---
Pre-Game Preview Bets
I continue to share many of my pre-game bets in all my preview posts. Most of them are smaller bets or trading positions and some of them I took early in the week and might not have the exact same odds available. These bets should just be seen as info and not as something to blindly follow. Record on them so far this season is 222 Bets | +9.63% ROI on Flat Unit bets (See Results) For the Resular Season and +15.17% on 3 bets on the playoffs. Bigger pre-game bets which are rare these days I also tend to take extra on those in BTC.
| | |
| --- | --- |
| Regular Season Results | Playoffs Results |
---

I take all my Pre-Game & Live bets with my Betting Broker Sportmarket Pro who always provide the best offers on the market with a 1 click solution and don't limit winning players offering high limits. For more info check my Sportmarket Pro Review
Season 2020-2021 BTC Bets
| Date | Bet | mBTC | Odds | Result | Betslip |
| --- | --- | --- | --- | --- | --- |
| 24/04/2021 | Racing Genk 1st Half +0 | 2.5 | 1.810 | +0.00 | sportbet.one |
| 11/01/2021 | Standard vs Waasland BTS | 2.5 | 1.86 | +2.15 | sportbet.one |
| 01/11/2020 | Antwerp -0.5 | 10 | 3.50 | -10 | sportbet.one |
| 03/10/2020 | OHL vs Zulte 1H Under 1.25 | 10 | 2.010 | +5.005 | sportbet.one |
---
Full Guides to Decentralized Crypto Bookies I personally use where no KYC is required allowing anonymous betting from any location without individual limits for winning players...
| Month | Bets | Won | Lost | Push | Staked | Profit BTC | ROI |
| --- | --- | --- | --- | --- | --- | --- | --- |
| Jan 2020 | 1 | 1 | 0 | 0 | 0.0100 | +0.01271 | +127% |
| Dec 2019 | 2 | 0 | 2 | 0 | 0.0200 | -0.002000 | -100% |
| Nov 2019 | 2 | 1 | 1 | 0 | 0.0200 | -0.001800 | -9.00% |
| Oct 2019 | 4 | 1 | 3 | 0 | 0.0400 | -0.020800 | -52.00% |
| Sep 2019 | 4 | 3 | 0 | 1 | 0.0400 | +0.028890 | +72.22% |
| Aug 2019 | 10 | 7 | 3 | 0 | 0.1000 | +0.033860 | +33.86% |
| July 2019 | 2 | 2 | 0 | 0 | 0.0200 | +0.018000 | +90.0% |
| Jun 2019 | 0 | 0 | 0 | 0 | 0.0000 | +0.000000 | +0.00% |
| May 2019 | 7 | 0 | 5 | 2 | 0.0700 | -0.050000 | -71.43% |
| Apr 2019 | 5 | 3 | 2 | 0 | 0.0500 | +0.024170 | +48.34% |
| Mar 2019 | 7 | 3 | 3 | 1 | 0.0700 | +0.004120 | +5.89% |
| Feb 2019 | 6 | 4 | 2 | 0 | 0.060 | +0.023210 | +23.21% |
| Jan 2019 | 10 | 0 | 9 | 1 | 0.100 | -0.079640 | -79.64% |
| Dec 2018 | 15 | 4 | 10 | 1 | 0.150 | -0.058880 | -39.25% |
| Nov 2018 | 17 | 7 | 10 | 0 | 0.170 | -0.032170 | -18.92% |
| Oct 2018 | 15 | 6 | 9 | 0 | 0.150 | -0.028290 | -18.86% |
| Sep 2018 | 14 | 13 | 0 | 1 | 0.140 | +0.141820 | +101,3% |
| Aug 2018 | 8 | 5 | 1 | 2 | 0.080 | +0.045470 | +56.84% |
| Jul 2018 | 17 | 8 | 9 | 0 | 0.135 | +0.033590 | +24.88% |
| Jun 2018 | 15 | 7 | 7 | 1 | 0.150 | +0.018200 | +12.13% |
| May 2018 | 2 | 2 | 0 | 0 | 0.020 | +0.023440 | +117% |
| Feb 2018 | 12 | 3 | 8 | 1 | 0.091 | -0.036293 | -39,88% |
| Jan 2018 | 21 | 10 | 10 | 1 | 0.147 | +0.005800 | +3.95% |
| Dec 2017 | 19 | 9 | 8 | 2 | 0.148 | +0.010422 | +7.04% |
| Nov 2017 | 21 | 11 | 10 | 0 | 0.210 | -0.008030 | -3.82% |
| Oct 2017 | 21 | 10 | 10 | 1 | 0.210 | +0.003080 | +1.46% |
| Sep 2017 | 9 | 4 | 4 | 1 | 0.090 | +0.001440 | +1.60% |
| Total | 266 | 124 | 126 | 16 | 2.491 | +0.092319 | +3.71% |